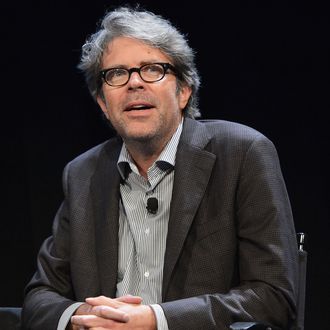 Jonathan Franzen.
Photo: Slaven Vlasic/Getty Images
Jonathan Franzen has always been a guy with a lot of dislikes, particularly when it comes to the internet, technology, and Jennifer Weiner. In a new Q&A with Butler University's journal Booth, Franzen's still got it.

On YA literature:
Most of what people read, if you go to the bookshelf in the airport convenience store and look at what's there, even if it doesn't have a YA on the spine, is YA in its moral simplicity. People don't want moral complexity. Moral complexity is a luxury. You might be forced to read it in school, but a lot of people have hard lives. They come home at the end of the day, they feel they've been jerked around by the world yet again for another day. The last thing they want to do is read Alice Munro, who is always pointing toward the possibility that you're not the heroic figure you think of yourself as, that you might be the very dubious figure that other people think of you as. That's the last thing you'd want if you've had a hard day. You want to be told good people are good, bad people are bad, and love conquers all. And love is more important than money. You know, all these schmaltzy tropes. That's exactly what you want if you're having a hard life. Who am I to tell people that they need to have their noses rubbed in moral complexity?
Who are you? You're Jonathan Franzen!
On Jennifer Weiner:
Jonathan Franzen: It's tricky because there's something about Jennifer Weiner that rubs me the wrong way, something I don't trust…

Interviewer: What is it?

JF: What is it? She is asking for a respect that not just male reviewers, but female reviewers, don't think her work merits. To me it seems she's freeloading on the legitimate problem of gender bias in the canon, and over the years in the major review organs, to promote herself, basically. And that seems like a dubious project that is ideally suited to social media, where you don't actually have to argue, you just tweet. Where is her long essay about this, where she really makes a case? She has no case. So she tweets. […]

Interviewer: Have you read any of her books?

JF: No!
On how Facebook and Twitter aren't art:
TV redeemed itself by becoming more like the novel, which is to say: interested in sustained, morally complex narrative that is compelling and enjoyable. How that happens with pictures of you and your friends at T. G. I. Friday's isn't clear to me. Twitter isn't even trying to be a narrative form. Its structure is antithetical to sustained and carefully considered story-telling. How does a structure like that suddenly turn itself into narrative art? You could say, well, Gilligan's Island wasn't art, either. But Gilligan's Island paved the way, by being twenty-two minutes of a narrative, however dumb, to the twenty-two minutes of Nurse Jackie  … It takes a while for artistic media to mature—I take that point—but I don't know anyone who thinks that social media is an artistic medium. It's more like another phone, home movies, email, whatever. It's like a better version of the way people socially interacted in the past, a more technologically advanced version. But if you use your Facebook page to publish chapters of a novel, what you get is a novel, not Facebook. It's a struggle to imagine what value is added by the technology itself.
Don't worry, there's more.