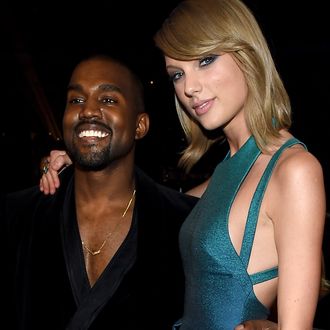 Just two BFFs getting their own appetizers.
Photo: Larry Busacca/Getty
Ever since Kanye West told Ryan Seacrest that he and Taylor Swift were hoping to "get in the studio" together, we've been anxiously awaiting that collaboration. But that was until last night, when the two shared a meal at NYC's Spotted Pig. So now the important question here is, what did they order? Do you think they shared appetizers, or did Kanye decide to get his own salad? Do you think they split one of the Spotted Pig's famous hamburgers, or did they each get their own but then only eat half because that's what rich people do? Do you think that when the waiter offered Taylor the dessert menu, Kanye went, "Oh, uh, I think we'll just take the check," and it was super awkward? She'll just have the blood orange cake to go, please.