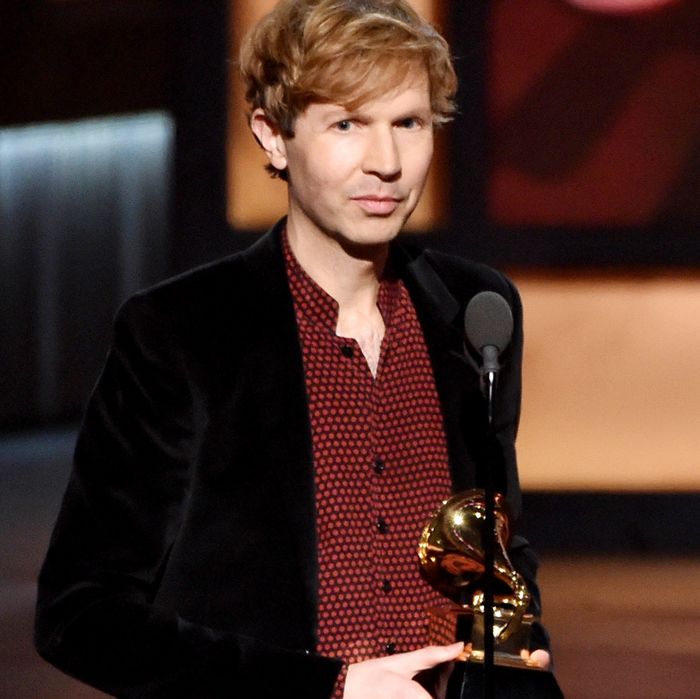 Beck.
Photo: Kevin Winter/Getty Images
Leave it to the Grammys — the only awards show that can make an upset more boring than the widely predicted outcome. No one was surprised that Sam Smith ended up the night's golden boy, taking home three of the four major awards (Song of the Year and Record of the Year for "Stay With Me," along with Best New Artist), but the biggest shock of the night came when Beck's ethereal Morning Phase bested both Smith and Beyoncé for Album of the Year. I never thought I'd use the words "Beck's Morning Phase" and "shock" in the same sentence, but with each year, the Grammys find novel new ways to underwhelm. Maybe it made some kind of sense: Morning Phase was the perfect soundtrack for a night so full of somnolent ballads and snoozy respectability that it almost put one of the producers to sleep. How does Morning Phase stack up against Beyoncé's paradigm-shifting visual album? I mean, it would probably make for a decent lullaby for Blue Ivy.
The Grammys remain so comically behind the times that it seemed like last night's telecast could have been an extended ad for Hot Tub Time Machine 2 — what else can be said of an evening that begins with an inexplicable performance from those hot young upstarts … AC/DC? Of course, this is nothing new. Beck had to mellow out for a few decades before he could nab the big trophy; in 1997, Odelay lost Album of the Year to none other than Celine Dion. Still, year after year we're reminded of and (very) temporarily outraged by the recurring problem with the Grammys: It's disappointing that a show honoring a medium as dynamic and weird and boundary-pushing as pop music has to be so boring and buttoned-up. Stars bring their most "respectable" sides to the ceremony, but last night we were reminded, as ever, that this isn't everybody's best look. Ariana Grande and Katy Perry slicked their hair back and played two of the worst songs on their latest albums, respectively. Relatively muted even as she channeled Jessica Rabbit, Lady Gaga performed a fine rendition of "Cheek to Cheek" with Tony Bennett; Gwen Stefani fared worse as she honked through an ill-cast duet with Adam Levine. Even during the few up-tempo moments, though, the energy stalled. In a seemingly underrehearsed performance of her new diet–"Like a Prayer" tune "Living for Love," Madonna seemed to be channeling that one year at the VMAs when Britney was very tired.
The night was not without winners: Usher, for a tasteful and masterfully sung Stevie Wonder tribute; Kanye West, for a starkly minimalist performance of "Only One"; Rihanna's new vocal coach, for the raggedly soulful voice that she hath unleashed on the world; Charli XCX, for calling out misogyny on the red carpet while dressed as an employee who is about to get fired from Party Down catering; and the entire human race, for getting to see Paul McCartney mouth the word wildin'. But, really — in a turn of events that is now becoming so common in music that I'm sick of typing this sentence — the night belonged to the women. Hozier talked a big game about taking us to church: Mary and Rihanna and Beyoncé and Annie fucking Lennox actually did. There was more rock in one note of Miranda Lambert's fiery performance of "Red Wagon" than in the entirety of Morning Phase, which somehow also took home the televised award for Best Rock Album.
Which leads me to my prayer to the Grammy overlords: Next year, please televise at least one of the rap awards. (There was an almost hourlong interval in which no awards were actually given out, so I think they could have found the time?) For one thing, I can absolutely guarantee you that Kendrick Lamar (who won two trophies for "i," almost making up for last year's egregious snub) would have given a more interesting speech than Beck. But also … do you really not see that this makes you look behind the times at best, and straight-up racist at worst? (At least the Rap Album award went to the more talented of the two white people who were nominated.) But as Kanye reminded us last night when he half-stormed the stage and brought attention to the fact that an innovative black artist once again lost out to an inoffensive white one, the kind of prestige and "respectability" that the Grammys honor is still racially loaded. Although I'm still making my mind up about this whole weird Everybody in Denim supergroup of Kanye, Rihanna, and Paul McCartney, I'm certain that Ye is having some fun with the idea that some listeners still find it sacrilegious that a Beatle and [clutches pearls, faints] a rapper could find some kind of musical common ground. (Still, Rihanna was so revelatory last night that I kind of wish "FourFiveSeconds" could just be her chance to shine by herself, without the co-sign of the two powerful but oddly superfluous dudes flanking her.) Another sentence I'm getting sick of typing: In 2015, hip-hop culture is pop culture. Annual refusal to acknowledge that always makes the Grammy telecast feel like a relic before the night is even over.
I will admit I'm not the world's biggest Sam Smith fan, and I do believe there is something inherently absurd about the industry's highest songwriting honor going to a song that ripped off another one so egregiously that Tom Petty is now the market for another vacation home. But I also don't think Smith was entirely the throwback-friendly safe bet that he's been pigeonholed as: Last night he became the first openly gay artist to win Best Pop Vocal Album. Remember last year, when a straight artist married off a bunch of same-sex couples in what felt in the end like a showy display of his own open-mindedness? It was infinitely more meaningful to hear a young man step up to the podium and say without any kind of statement-making grandiosity, "I want to thank the man who this record is about, who I fell in love with last year. Thank you so much for breaking my heart, because you got me four Grammys." It was enough to jolt you awake, however momentarily.