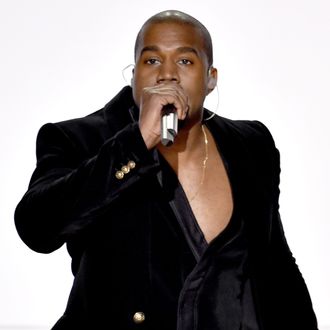 Kanye West at the Grammys.
For his first interview since storming the stage at Sunday's Grammys, Kanye West phoned into "On Air With Ryan Seacrest" Wednesday morning (audio below). As usual, his tangents (including multiple references to himself in the third person) touched on several topics. On his heated comments about Beck's Grammy win in a post-show interview, Kanye explained, "When I said that thing about artistry, I think it came off the wrong way and that was a miswording on my part. Obviously, Beck is one of the most respected artists and respects artistry."
Speaking of stages Kanye rushed at awards shows, he also announced plans to hit the studio with onetime mortal enemy Taylor Swift, saying she told him he should've gone onstage as soon as he returned to his seat. Asked if he'd return to the Grammys next year, Kanye said not unless major changes in its voting system happen. "They're like a broke clock. They're only right like twice a day," he said, proving he really is a dad.