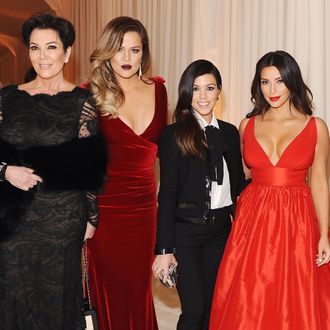 The four eldest Kardashians.
Photo: Stefanie Keenan/Getty Images
Four! More! Years! Four! More! Years! "Page Six" is reporting that the Kardashians have signed a new $100 million contract with E!, which the paper dutifully reports is "the highest in TV history for a reality brand." The contract calls for four more seasons of Keeping Up With the Kardashians, as well as subsidiary series in the [Kardashian 1] and [Kardashian 2] Take [Place] vein. All the K-name Kardashians (except Kanye) are included in the contract; Bruce Jenner, whose journey will be the subject of a separate E! series, is not.