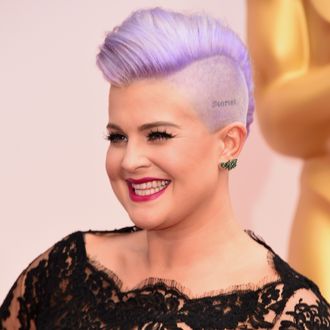 Kelly Osbourne on the Oscars red carpet.
Kelly Osbourne has quit E!'s Fashion Police, reportedly because of co-host Giuliana Rancic's comments that Disney star Zendaya's dreadlocks smelled like "patchouli oil" and "weed" at the Oscars. The network announced her departure in a boilerplate statement, thanking her for her "many contributions" and saying that Osbourne was leaving "to pursue other opportunities." She hasn't released a statement herself.

After Rancic's comments, Zendaya posted a statement on Instagram, writing, "There is already harsh criticism of African American hair in society without the help of ignorant people who choose to judge others based on the curl of their hair." Rancic posted a video apology for her comments, which Zendaya accepted and Osbourne seemed to have. In the initial dust-up, Kelly Osbourne tweeted that Zendaya was a friend of hers and threatened to quit unless the matter was resolved.
Us Weekly reported that there was some backstage rancor, with Osbourne warning Rancic not to make the joke and reminding everyone that Zendaya was a friend. If all of this is true, talk about throwing down for a pal.
And yes, Mommie Osbourne totally supports her daughter.