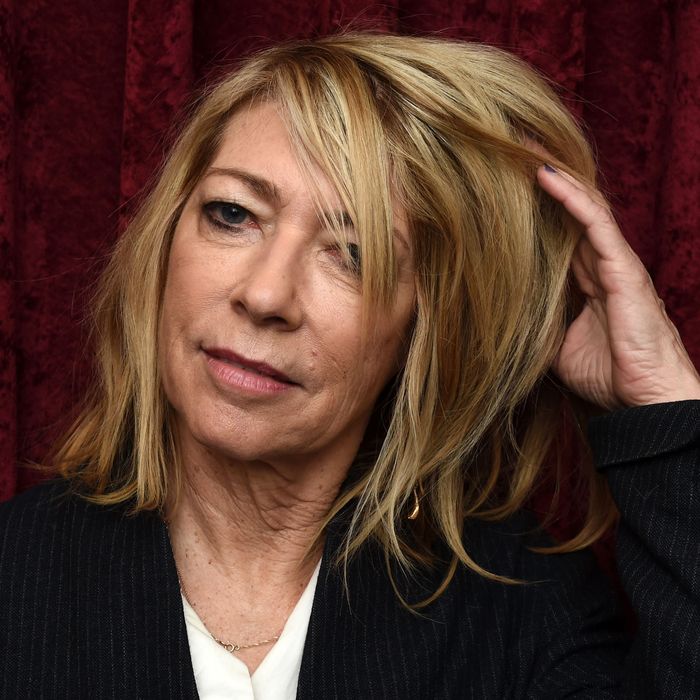 Kim Gordon, February 24, 2015 in New York City.
Photo: Ilya S. Savenok/Getty Images
There's a great song on the first Sonic Youth album called "Shaking Hell." The opening minute and a half — steely, ominous, unsteadily motoric — sounds like a piece of factory equipment malfunctioning in the moments before somebody loses a limb. Then, very suddenly, the machinery jams, the tempo slows to a crawl, and we hear the voice of the bass player, Kim Gordon, at once nervous and bracingly warriorlike: "She's finally discovered she's a …. He told her so!" 
She's a … what, exactly? One of the first times I heard the song I rewound that part a couple times, listening for the phantom noun. Once I came to better understand Kim Gordon, I realized that it wasn't there. Gordon is a master of the beckoning omission, the blank space, the pregnant pause. (She's said she picked up her "idea of space, and in-between-ness, and the importance of phrasing" early, from her parents' jazz collection.) Her lines are cryptic but also legibly caustic — a lot of Kim Gordon lyrics feel like inside jokes with Kim Gordon, jokes that are somehow very pointedly and personally and stingingly about you. Men feel at once enticed and threatened by this quality; they have called her things like "sexy" and "mysterious" and "aloof." Women, though, recognize the code that Gordon speaks as a survival strategy, a way to stay sane and maybe even be taken seriously in this weird world. Keep secrets with yourself, Gordon says with her silence. Do not fill in all the blanks, because the second you do, they'll think they've got you figured out, they'll think you're simple, they'll find a way to reduce you to what they can see. In her new memoir Girl in a Band, she sums up a lesson she learned shortly after Sonic Youth signed their major-label deal with Geffen in 1990: "[F]or high-end music labels, the music matters, but a lot comes down to how the girl looks. The girl anchors the stage, sucks in the male gaze, and, depending on who she is, throws her own gaze back out into the audience." That was always the most warriorlike thing about Kim Gordon: the gaze she throws back — check the cover of the book — is withering.
Over the course of Sonic Youth's staggeringly consistent 30-year run, Gordon was a kind of fairy godmother of the underground. She and the band she started with her husband Thurston Moore made 15 albums, and in the meantime she got to know everybody worth knowing and more or less became the Leonard Zelig of the '90s: There she is backstage giving Kurt parenting advice a little while after Nevermind broke; here she is casting an unknown, Marc Jacobs–for–Perry Ellis–clad Chloë Sevigny in the video for "Sugar Kane"; there she is accompanying a young, wide-eyed Sofia Coppola on a creatively formative trip to Tokyo. Between tours she painted; worked on the clothing line she co-founded, X Girl; and, with Moore, raised an inevitably cool daughter named Coco. Becoming a mom somehow made her more of a badass; decamping to idyllic Northhampton, Massachusetts, somehow made her more of a quintessential New Yorker. She — they — seemed like the exception to every rule. But that illusion shattered in October 2011, when Gordon and Moore announced they were splitting up after 27 years of marriage (and that Sonic Youth was breaking up, too). A generation who'd looked to them as a model for a creatively egalitarian, enduringly punk-rock marriage felt personally betrayed and, worse, as the details began to trickle out, they were all depressingly ordinary. "[I]t ended in kind of a normal way," Gordon said in a revealing Elle profile last year, "midlife crisis, starstruck woman."
But this sudden focus on the more salacious details of her private life also violated some unspoken law of being Kim Gordon — it filled in the spaces she'd so purposefully left blank. In a way, Girl in a Band is an attempt to retain the control of her own story; it somehow manages to be uncharacteristically candid and characteristically withholding. Still, brazenly, Gordon does not hide the fact that her wounds have not yet healed. "Writing about New York is hard," one chapter begins, "… because knowing what I know now, it's hard to write about a love story with a broken heart."
Gordon grew up mostly in L.A. and came of age in the late '60s, "too young to be a hippie but brushed by whatever rebellion and amped-up freedom there was in the air." Her father was the first sociologist to research and name the archetypal cliques of American high schools; her mother was a seamstress who made beautiful caftans that Gordon was sometimes embarrassed to wear to her predominantly preppy school. Her older brother Keller is schizophrenic, though the general vibe of the late '60s led to a late diagnosis; even after he started dressing all in white and carrying a Bible around, his behavior, as Gordon puts it, "didn't seem all that extraordinary, as back then there were lots of eccentric bearded guys dressed in white roaming around L.A." Gordon writes evocatively about California's vastness and vacancy, and you can tell she still has some kind of bleak, Didion-esque nostalgia for the moment when the hippie dream began to unravel. (See also: Sonic Youth's "Death Valley '69," which, for my money, is a far better Charles Manson song than "Helter Skelter.") Gordon transferred in and out of a couple of art schools, made friends with young upstarts like Mike Kelley, and then, one day, an event that could have been a catastrophe turned out to be a blessing: As she was turning out of a driveway, another car slammed into her VW Bug and pinned it against a wall. Gordon's injuries healed quickly, but the $10,000 settlement check that came in the mail changed her life forever. She used it to move to New York.
Like any good New York story, Girl in a Band is an elegy for the year its teller arrived, which, in Gordon's case, was 1980: "When did all of the Chock Full O' Nuts go," she wonders, "or the Blarney Stone bars with the corned beef and cabbage buffet-table lunch deals?" She works odd jobs — graveyard-shift waitress, disorganized gallery assistant, copy-shop girl. Then one night at a show her friend introduced her to a tall, lanky kid from Connecticut with "pillowy lips," and he told her he liked her flip-up sunglasses. In 1981, they started the band. In 1987 — just a few years before Neil Young asked them to open his arena tour because he thought their "Expressway to Yr Skull" was "the greatest guitar song ever written" — they got married.
The middle section of Girl in a Band begins with a kind of disclaimer: "A lot has been written about Sonic Youth, so what follows are the songs, or the albums, or the times that I have the most to say about or remember the best."
You can probably tell by the tone of that one sentence that this was not Kim Gordon's favorite part of this book to write. It's easy to want to blame this — and everything, really — on Moore; having to recall in vivid, literary detail the happier moments of a marriage cannot be fun in the wake of a messy, public divorce. With the exception of an evocative chapter about Murray Street and 9/11, the prose in this section becomes clipped and almost comically flat (on the birth of Coco in 1994: "Yes, she changed our lives, and no one is more important to me. But the band played on."), and in its least page-turning moments, Girl in a Band sometimes reads like a rote list of cool things Kim Gordon did with cool people, with too little in the way of analysis or depth. I don't think this entirely because of the divorce, though. Anyone who's ever interviewed Gordon knows she is constitutionally averse to talking about process and the reception of her work — we shouldn't have been expecting from her 50 pages on the legacy and impact of Daydream Nation. As she puts it, "Self-consciousness [is] the beginning of creative death to me."
I hate to say that the book is at its most riveting when it focuses on the breakup, but it's true. The writing is so cuttingly detailed and elegantly scathing that I would almost believe that "Elena Ferrante" is Kim Gordon's secret pen name. (One can dream.) After Gordon discovered the text messages that revealed Moore was having an affair, and even after they had publicly announced their split, they finished up their last tour as Sonic Youth. Gordon re-creates the moments before their final show at a festival in São Paulo with the perfect dash of emasculating venom: "Thurston double-slapped our bass guitarist Mark Ibold on the shoulder and loped across the stage … I found that gesture so phony, so childish, such a fantasy. Thurston … has never been the shoulder-slapping type. It was a gesture that called out, I'm back. I'm free. I'm solo."
You can watch the entire performance on YouTube, back-slap and all. Sure, there are two sides to every story, but after reading that passage it's impossible not to see that small, haunting gesture through Gordon's eyes.
I sometimes think Kim Gordon was the first Tumblr kid — the aesthetic-minded hipster celebrating what she calls "the darkness shimmering beneath the shiny quilt of American pop culture." She loved Madonna unabashedly and unironically; she wrote a mash note to the late Karen Carpenter in a magazine and later turned it into a beautiful post-punk song. Other times, though, Gordon's anti-self-consciousness credo makes me glad she didn't come up in the digital age — that sense of distance and remove so crucial to her cool would have been harder to preserve. (And, anyway, one shudders to think of the "Kool Thing" think pieces.)
But the glittering, electric, hot-pink power that Gordon wielded in Sonic Youth was something rare and completely of its moment. We get so stuck in our internet echo chambers now, only listening to the people who already share our ideologies and occasionally ganging up on those who don't. Gordon, though, did something braver than just preach to the choir — she fucked shit up from inside the machine. We are talking about a woman who slyly snuck Kathleen Hanna onto MTV, who signed a major-label deal only to write a song about a secretary who'd been sexually harassed at that very record label. Gordon's feminism was the kind that made waves, scrambled frequencies, changed minds. And that's probably because her perspective was never treated as niche "woman's issue" but simply another personality within a complex and beloved band. Gordon's songs about Karen Carpenter's anorexia or sexist bosses were not relegated to the all-girl side project or the less-popular solo album — they were the singles, the second songs on the band's first two major-label albums. No other band of its time treated girliness as egalitarianly as Sonic Youth. Sure, the Pixies had a Kim, too, but they pushed her more and more to the margins with each album. Eventually they just replaced her with somebody else named Kim, as though she were a secretary herself, as though we wouldn't know the difference.
On Monday night, Gordon spoke at BAM, in conversation with the film producer Margaret Bodde. My friend and I wondered how Kim Gordon was going to spend an hour and a half talking about herself, and the answer was that she didn't. Instead, she showed a series of self-selected film clips — Gimme Shelter, an early Stooges gig, Steven Stills at Big Sur fighting a heckler who'd insulted his fur coat — the unifying thread of which Bodde described as "Things Going Wrong in a Rock Setting." This motif delighted Gordon, clearly. She did chat a little bit about her recent gallery shows and her current band with Bill Nace, Body/Head, but mostly she just wanted to share some of her favorite movies with us. The T word was uttered once, when the Stills clip inspired her to reflect a little on the Neil Young tour, on which many things had gone wrong in a rock setting and her ex-husband had smashed a lot of guitars in frustration. She chuckled for a second, and then moved on. She survived. Maybe, in time, a cataclysmic breakup starts to look like an opportunity for a fresh start, another $10,000 car crash.
There's a memorable passage in Girl in a Band about being a teenager in the '60s and experiencing for the first time all those glorious clichés: French New Wave films, hallucinogens, books on eastern philosophy. "From that point on," Gordon writes, "I would never feel sure, or comfortable, about making conclusions or bold, definite statements about anything. Questioning things fit in with 'becoming,' which in turn brought me closer to living in the present and farther away from that idea that you're done, ready formed, or cooked at some preset age like your early twenties." Or your 30s, or your 60s, I want to add, though it would be too direct and obvious a thing for Gordon to say herself. She finally discovered she's a … what, exactly? Bless Kim Gordon for still not giving us the word.