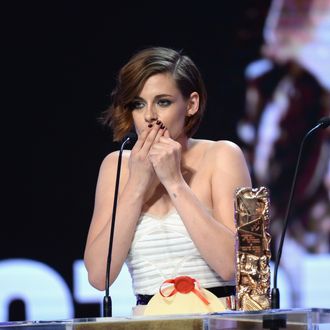 Kristen Stewart accepts the award for Best Supporting Actress at the Cesar Awards Friday Feburary 20, 2015.
Kristen Stewart has done what no other American actress has done before: She won France's equivalent of an Oscar, the César. (American acting greats who have not gotten the award include Jessica Lange and Sissy Spacek. Meryl Streep managed an honorary César, which we all know is not the same thing.) Stewart won Best Supporting Actress for Cloud of Sils Maria, directed by Olivier Assayas, alongside French legend Juliette Binoche and Chloë Grace Moretz. Variety reports that Stewart said, "The reasons why people make films here in France are very different from the reasons why people make movies in Hollywood and I prefer it here a little bit." I mean, we do give her a pretty hard time about that whole Twilight thing.

As you might expect, Stewart's acceptance speech was awkward, off-putting, endearing, and fascinating all at once.