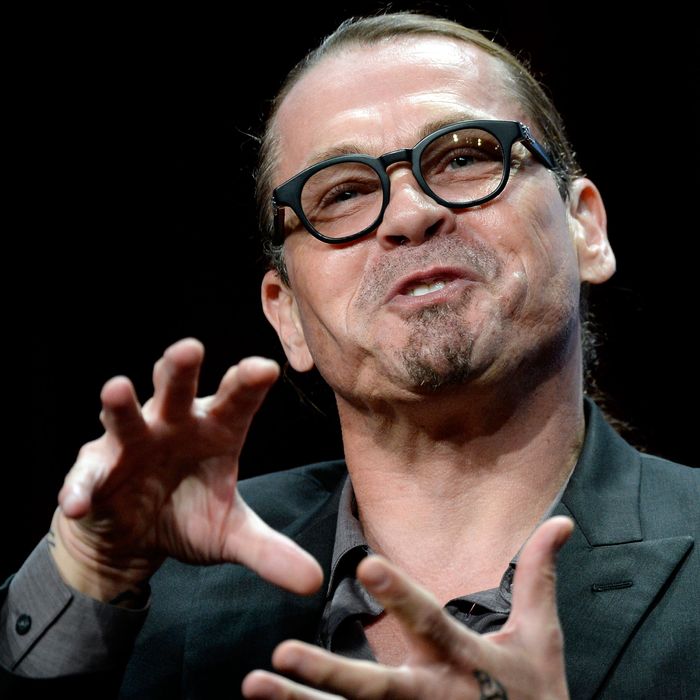 Kurt Sutter
Photo: KEVORK DJANSEZIAN/Corbis
Sons of Anarchy creator Kurt Sutter and his team are in full-on preparation mode for upcoming TV series The Bastard Executioner, a historical-fiction drama set to air on FX.
The show is the brainchild of executive producer Brian Grazer, who said he finds the medieval executioner to be a "fascinating" and "morally complex" profession.
Who better to take that idea and create a series than Sutter? The writer-director just wrapped his seventh and final season of Sons of Anarchy, a show that dealt with a conflicted protagonist who wanted to escape violence, only to be sucked back in time and again. Between Sutter's gift for the "morally complex" and the record ratings the show brought to FX, the blood hadn't even dried on the pavement before FX picked up the series and Sutter his pen for The Bastard Executioner.
Sutter himself will also star as a mute who never shows his face, while the lead role will go to an un-Googleable newcomer. But we'll get to all that in a second. Here's everything we know about the show so far:
The Plot
The show takes place in the 14th century during King Edward II's reign, and centers around a knight "who is broken by the ravages of war and vows to lay down his sword. But when that violence finds him again he is forced to pick up the bloodiest sword of all" (the executioner's).
The Location
The Bastard Executioner will start shooting in Wales on March 19, and the show will film alternately between England and Wales. Sutter and his team were location scouting around Wales earlier this month, with a particular eye to the battle-worn Caerphilly Castle.
From the looks of it, the scenery will be appropriately moody:
Sutter returned to London one week ago, but took off for Cardiff again yesterday.
The Cast
FX released its cast lineup for The Bastard Executioner today, with colorful descriptions for each role:

Sutter himself will star as "the Dark Mute," who rarely speaks or shows his face. Sutter's wife and Sons of Anarchy's iconic matriarch Katey Sagal will play Annora of the Alders: "Prescient, mystical and beautiful. She offers predictions, cures and potions."
The lead role will go to Australian newcomer Lee Jones, who plays the titular bastard, Wilkin Brattle: "Tall, dark, imposing. Emotionally deep, spiritually tortured. Former knight in the charge of King Edward I. He now lives a simple agrarian life."
Sarah Sweeny plays Jessamy Maddox, the executioner's wife: "Pretty, hardened by abuse."
Stephen Moyer of True Blood will star as Milus Corbett: "Street smart and noble savvy. He was one of Ventris' marshals in the army. Now, serves as his Chamberlain, Chancellor and Justiciar." Also, "friend and drinking mate"!
Flora Spencer-Longhurst will star as, wait for it, Baroness Lowry "Love" Aberffraw Ventris: "As cunning as she is kind and beautiful. From a wealthy Welsh family, she married Ventris at 17 to protect her family's land. Her noble duties always in conflict with her Welsh pride."
(Who's this Ventris character? An FX spokesperson told us that role has yet to be cast.)

Sam Spruell will star as Toran Prichard: "Fierce, tenacious. An archer under Madog Llywelyn in the last major Welsh rebellion. He put down the bow and picked up the hoe. Wilkin's best mate."
Darren Evans is Ash y Goedwig: "Wiry, smart. A trapper. An orphan "of the woods." Friend of Wilkin."
Danny Sapani will play Berber the Moor: "A large, educated man. Converted Muslim. A farmer. Friend of Wilkin."
Timothy V. Murphy (Sons of Anarchy) will be Father Ruskin: "Brawny. Gentle, with bottled fury. Former soldier. Left the military for the seminary. Priest, rector and teacher of the court."
Sarah White is Isabel Kiffin: "Tall, slight. Awkward and innocent. Lady Love's handmaiden and trusted confidant."
And special guest star Matthew Rhys! As Gruffudd y Blaidd: "Smart, fearless, of noble blood. The Wolf. Leader of the Welsh rebels, Byth Encil." Breathe easy: FX notes this will not change his role in The Americans.
Who's Behind It
In December 2013, FX ordered the pilot for the show. Grazer, co-founder and chairman of Imagine Entertainment, is joined by Francie Calfo, president of Imagine Television, and Sutter as executive producers. Paris Barclay — who worked extensively with Sutter on Sons of Anarchy — is serving as executive producer and is directing at least the pilot episode. Charles Murray has also signed on to be a writer and co-executive producer (he had the same roles in the sixth and seventh seasons of Sons of Anarchy).
The Title Card Font
Old English?
The Script
The first one is done! But it nearly killed this writer:
The Very Active Hashtag
#TBX
The Inspiration?
Sons of Anarchy was lauded as "Hamlet on Motorcycles," and Sutter kept the Shakespearean blood pumping through the show's veins throughout the series. Considering Shakespeare (likely) wrote The Reign of King Edward III, it's hard to imagine Sutter writing anything less than a modern-day history play full of nods and allusions to Shakespeare's works.
When
Fall 2015, if Sutter gets his wish.
An earlier version of this post stated that The Bastard Executioner would be shooting between the U.K. and Wales. It will be shooting between England and Wales, both of which are in the U.K.