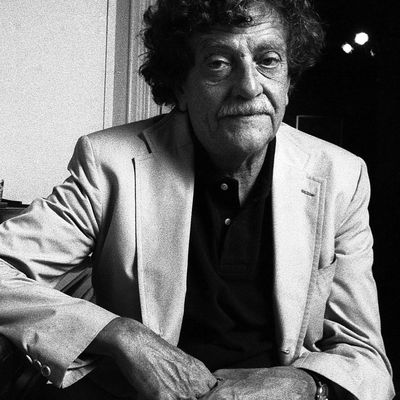 Kurt Vonnegut at his home in the mid 1980s, New York, N.Y.
Photo: Oliver Morris/Getty Images
In 1982, the 23-year-old documentary filmmaker Robert Weide wrote his idol, Kurt Vonnegut, a fan letter with an ulterior motive: He wanted the Slaughterhouse Five author and perennial fanboy favorite to be his next subject. To his surprise, Vonnegut wrote back. He had seen Weide's first doc, about the Marx Brothers, and he consented. They met to discuss Weide's plan, which was to lock in financing quickly and finish the movie within a year.
By 2014, Weide's subject was seven years dead and the director had several more movies to his name (along with the 27 episodes of Curb Your Enthusiasm that he directed), as well as dozens of hours of Vonnegut footage — but no documentary. Then he saw the news that Griffin Dunne had launched a Kickstarter page for a documentary about his aunt Joan Didion. "When [Dunne] got $80,000 in a single day I thought, Okay, now's the time," Weide said last week, on the phone from his home in Studio City. 2015 would be the year he'd finally complete Kurt Vonnegut: Unstuck in Time. Weide's own Kickstarter page went live this morning. His goal, $250,000, sounds steep — even higher than Dunne's final tally, $220,000. Then again, "a year ago I found a documentary on wood-burning stoves that raised $100,000," says Weide. "Kurt is at least twice as popular as a wood-burning stove."
Financing was Weide's main obstacle. PBS's American Masters kicked in only start-up costs for initial filming. The National Endowment for the Humanities, according to Weide, deemed Vonnegut "too popular an author to be taken 'seriously.'" HBO and Showtime also declined, probably for the opposite reason. But over the course of three decades, more than $60,000 in personal funds, and an increasingly intimate friendship, Weide's hurdle became more psychological. "At first, I was worried about the friendship imposing itself on the film," says Weide about his relationship with Vonnegut, "but it flipped to the point where the film was imposing on the friendship." Having shot the author on a long train ride to Buffalo, a nostalgic tour of his native Indiana, and a visit to his high-school reunion, when Weide was finally invited to Vonnegut's Sagaponack country home in 1998, he decided the camera would get in the way. "That's when I realized that I was in trouble."
The closest the project came to fruition was a screening of loose footage in 2000 at the Paley Center in New York, before an audience that included a reluctant Kurt Vonnegut. "I can't see it," the novelist had initially protested. "I'd be like Huck Finn, crying at my own funeral." Weide put that down to Vonnegut's Greatest Generation reticence, which had cracked only once during filming, when talk turned to the death of his sister Alice. After he accepted Weide's invitation and came to the screening, Vonnegut choked up again as his childhood scrolled by in long-forgotten home movies. But the writer who ambles through the Kickstarter's teaser footage, aging in time after the fashion of Boyhood, bears no visible scars. He's a hardy prankster, a breezy storyteller, and a shaker-off of trauma.
There was plenty of the latter in Vonnegut's life, some self-inflicted. He survived both his mother's suicide and the firebombing of Dresden (famously rendered in Slaughterhouse Five); after becoming famous with the help of his devoted first wife, he "ran away from home," as he once put it. You might remember Weide defending Woody Allen, another documentary subject, from accusations of child abuse last year — just before Dylan Farrow published her own account of said abuse. The backlash branded him an apologist in the tank for his subjects. Weide says it isn't his job to undermine them. "I'm not digging for dirt," he says. "Nobody ever said, 'Well, he only mentioned the good stuff about the Marx Brothers because he loves them. What about the fact that Groucho drove his first two wives to drink?' I guess all that stuff is a disease of the past 20 years or so, brought on by the rise of tabloids and gossip TV. It's just not interesting to me."
In fact, Weide's rooting interest in Vonnegut's legacy became, at long last, a way of organizing his material. "This is no longer a Ken Burns–style documentary, an attempt to say everything there is to say," Weide says. Instead, it's a story about Weide finding Vonnegut. At first, he was hesitant to go meta — "I'm not Michael Moore or Morgan Spurlock, not into the whole idea of 'Me and Vonnegut, old pals'" — but then a friend of his, Vonnegut scholar Jerry Klinkowitz, told him it was the only way in; he was "part of the story now." It felt appropriate that Vonnegut's last novel, Timequake, was also a long-gestating project that ate its own tail. "Half of it is the novel he intended to write," says Weide, "and the other half is his connective narrative about what a pain in the ass it's been."
Contribution rewards offered on the Kickstarter page include a portrait of Vonnegut by his daughter, Nanette ($750); autographed paraphernalia from Weide's projects (including the Vonnegut film adaptation Mother Night, which Weide scripted); and lunch with Weide and fellow Vonnegut nut Judd Apatow ($2,700). If he hits his goal, the $250,000 should provide just enough to conduct crucial interviews, convert footage from old formats, and, of course, edit the film (with the help of co-director Don Argott). Weide says distributors are waiting in the wings, ready to front cash for licensing and other finish-line expenses once they see a polished print.
"My approach with my documentaries is just to film the hell out of it, gather up photos, and then go into the editing room and make sense of it," says Weide. So if you'd like to know what's in the movie, you'll have to wait until he puts it in. But considering the long delay, Weide is supremely confident. The footage — old and new — is rare, and the subject is a born raconteur: "No matter how you cut it, literally and figuratively, people will come away feeling that they've spent a couple of hours with an amazing guy."