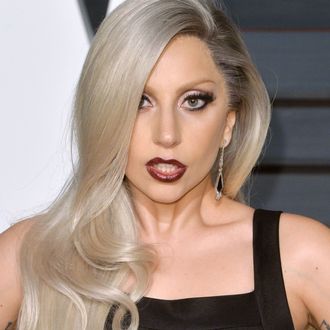 Photo: Anthony Harvey/Getty Images
This may be the most logical casting ever: Lady Gaga has signed on to star in the fifth edition of American Horror Story, FX has announced. Production on the new chapter is expected to start in July, with the limited series premiering, as always, in October. Beyond that, however, FX is offering no details, such as the title of the new AHS installment, who or what Mother Monster will play, where (or when) the show will be set, and whether Jessica Lange will be back. But whatever the particulars, the casting is a massive coup for AHS and co-creators Ryan Murphy and Brad Falchuk, and should provide a significant ratings boost to at least the first episode of chapter five.
While Gaga has never had a regular TV role, she is hardly a neophyte when it comes to acting. In addition to her numerous cinematic videos — many of which share the same visual language as AHS — the singer born Stefani Germanotta starred in Robert Rodriguez's Machete Kills (and made a cameo in his Sin City: A Dame to Kill For). Meanwhile, it seems some quarters of the internet anticipated this news a long time ago: We found at least two different fan-created YouTube videos devoted to the idea of American Horror Story: Gaga.
Update: In a tweet, Gaga announced her casting and also revealed next season's title and location.