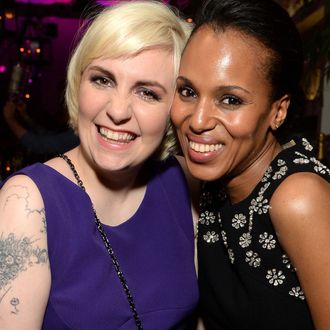 Lena Dunham (left) and Kerry Washington.
Photo: Michael Kovac/Getty Images
Scandal has had about a million great guest stars, but its next one might be the biggest so far: Both EW.com and E! are reporting that Lena Dunham is set to appear on the show this season. Details of her role are, of course, scarce, but we do know she'll appear in one episode in March and may have some involvement with Olivia Pope & Associates.
Dunham famously called appearing on Scandal "her life's great passion" and said she'd like to play a senator "who did something wrong." (At age 28, she's too young to be one in real life.) And in case you're not quite convinced of her dedication to the Gladiators, here's Dunham playing an OPA newbie on SNL: