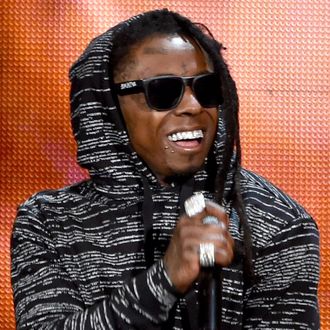 Photo: Kevin Winter/Getty Images
Ever since the public falling-out between Lil Wayne, his label Cash Money Records, and mentor Birdman, the rapper hasn't said all that much. Now, in a new interview with Rolling Stone, he's … still not saying all that much — other than to confirm he's no longer on speaking terms with Birdman. "I have no words. I'm super-numb to it, to tell you the truth," he says. (He also announces plans to release The Free Weezy Album in March.)
But what's most revealing about the interview is just how much of a dad he's become. We recently saw his daughter Reginae's My Super Sweet 16 extravaganza, and now Wayne tells RS she's his own personal Urban Dictionary:
"Sometimes I don't know what the hell they're talking about on Instagram," he says with a laugh. When that happens, he turns to his 16-year-old daughter, Reginae: "I had to call her, like, 'What the hell is "on fleek"?'"
The irony here, of course, is that Wayne is only 32, but apparently having kids ages you quickly. And he plans to have more on the way: "I might give y'all three new kids from four different women. You know how I do it." Here's to more Lil Wayne dad-isms!