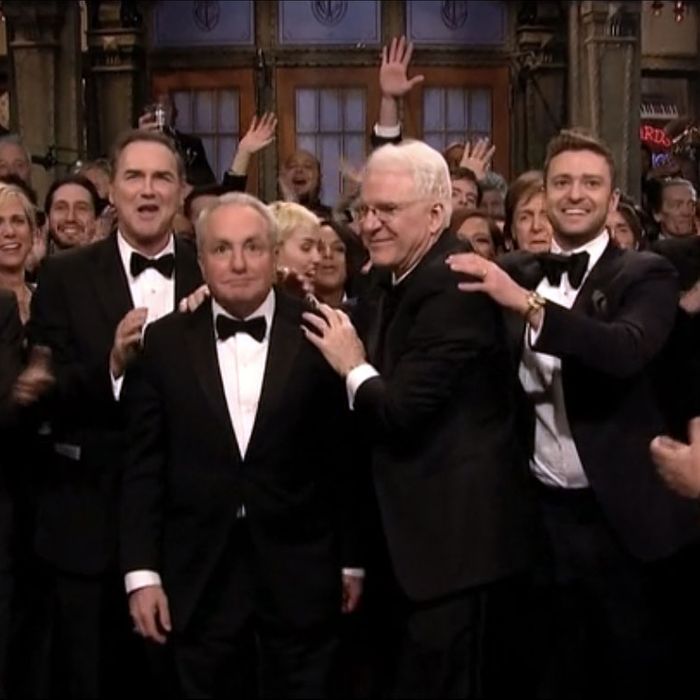 Not only was the cast of Saturday Night Live's 40th-anniversary special filled with famous people, but so was the audience. Duh, it was no doubt the hottest ticket in town. Here's who we could spot (and please help us identify those we might've missed!).
I spot (left to right) David Paterson, Colin Jost, Christine Baranski, and Brett Ratner. Below them, Al Sharpton and Joe Piscopo. Below them, John McEnroe. Below him, Rob Schneider and Chris Parnell.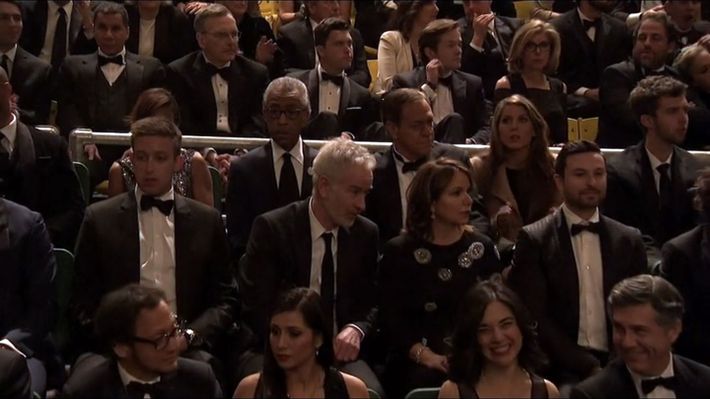 It was a big crowd, but you can definitely see Dylan McDermott, Sean Hayes, George Lucas, Mellody Hobson, Steven Spielberg, Kate Capshaw, Derek Jeter, Randy Newman, Sarah Palin, Leslie Jones, and Sia's giant wig. (Yes, there are plenty more, but we'll get closer views below.)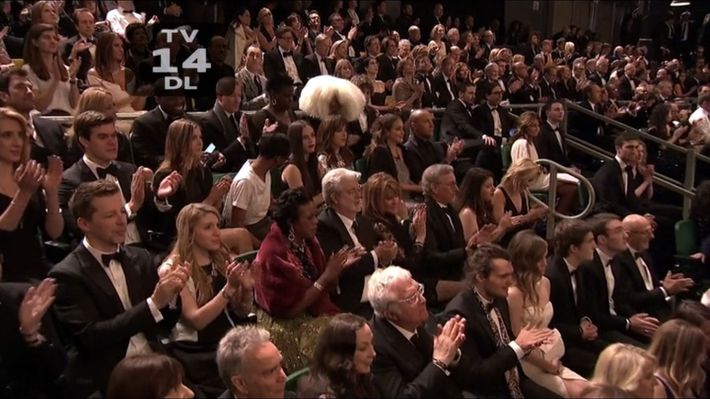 We see you, Diane Sawyer (and Joanna Newsom). Chris Lowell, too.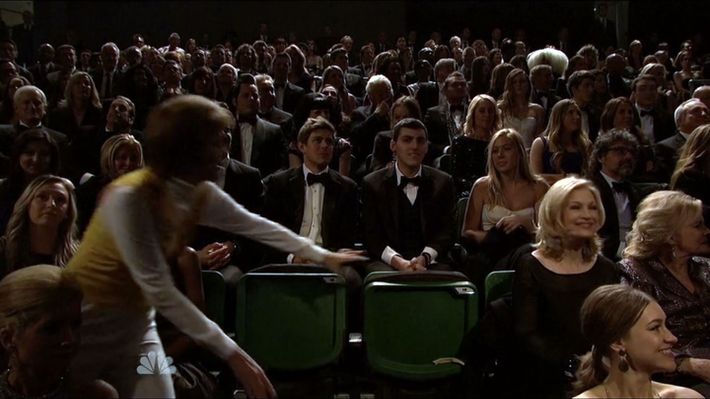 There's David Spade sipping on some smuggled booze, Michael Douglas, Jerry Seinfeld right below Bob Odenkirk (who is having none of this), Larry David, Billy Crystal, Elvis Costello, and Miley Cyrus's mom, Tish.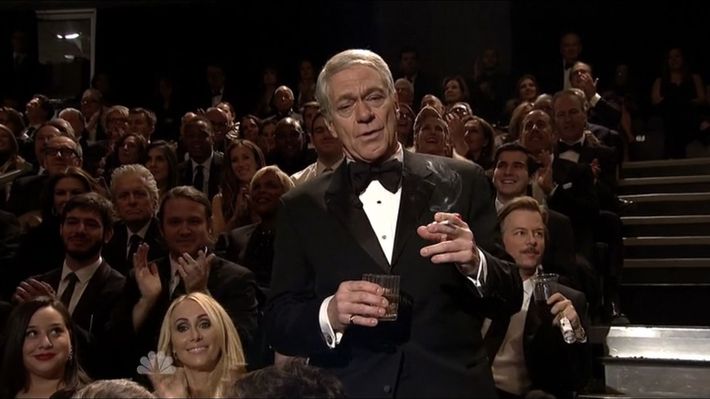 I spy Jack White's pompadour, and is that Olivia Wilde two seats over? Below her you can see Bradley Cooper before he put on that "Californians" wig.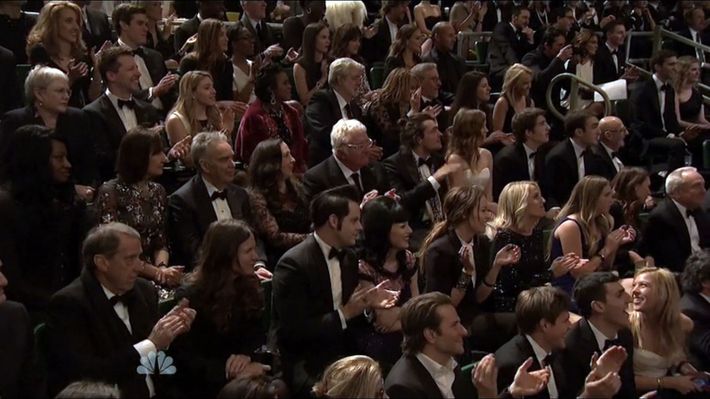 The no-longer-banned Elvis Costello is sitting right next to Paul Shaffer, and right below them is Catherine Zeta-Jones flanked by the Manning brothers and her husband, Michael Douglas.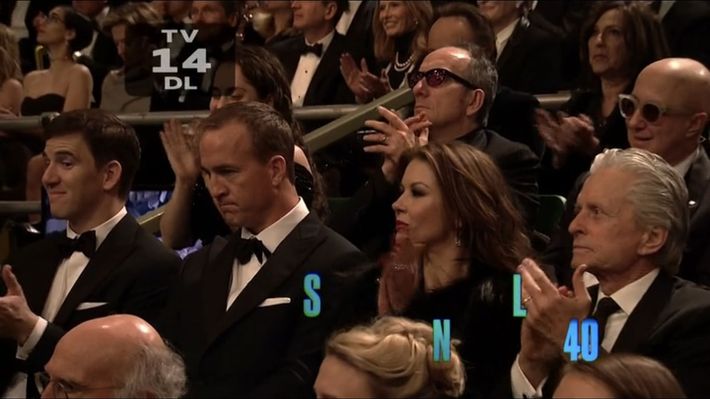 Did Win Butler bring Debbie Harry as his date? Did Rachel Dratch bring Ryan Phillippe as hers? And who is Colin Quinn boxing? (Whoopi?)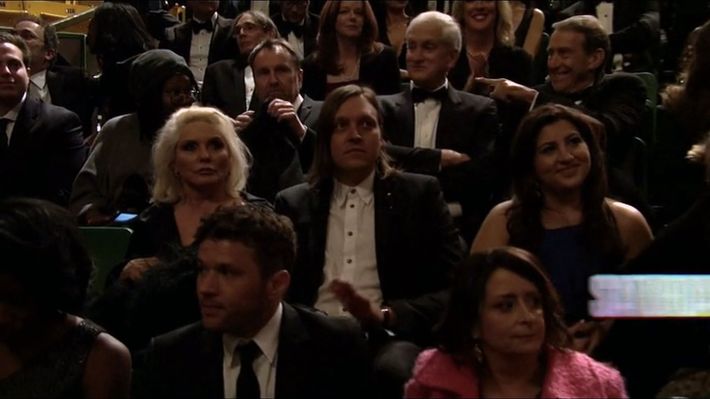 In Tim Meadows's bit, there's Kevin Kline, Joe Torre and David Wells.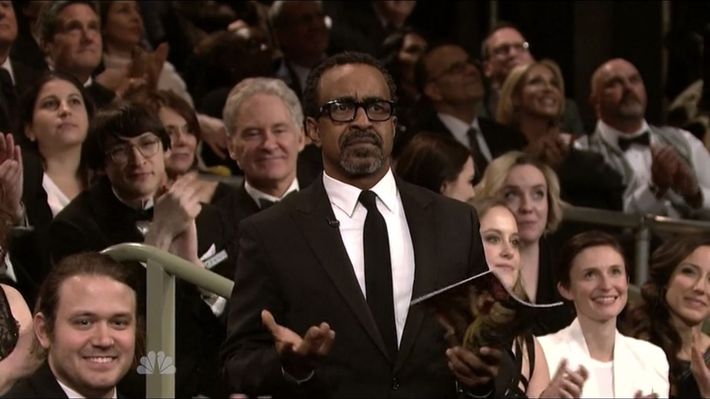 If you look into the blurry back row you can see Tom Arnold, Jeff Goldblum, and Jim Breuer. A grinning Dylan McDermott sits below, and Dakota Johnson sits to his left.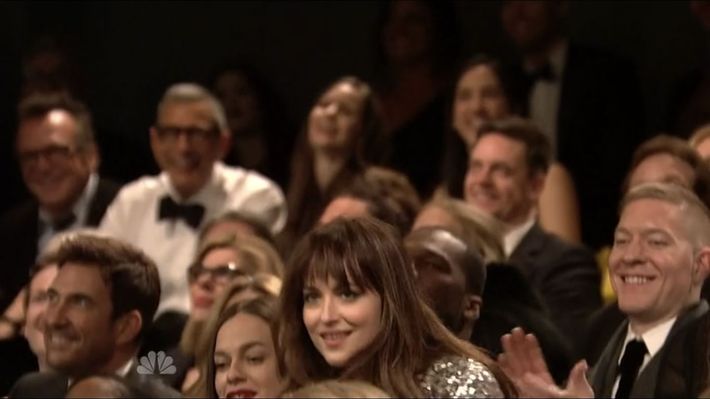 While Bob Odenkirk ranted about the SNL writers, you could spot Cheri Oteri behind him, above Paul Rudd and below Taran Killam. Sitting just above all of them? Al Franken (who Odenkirk shouts out in his bit).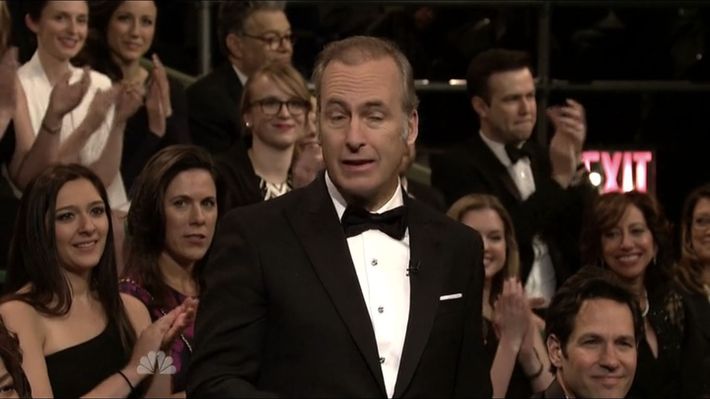 Spotted: Sarah Silverman and Candice Bergen. Robert Smigel in the back!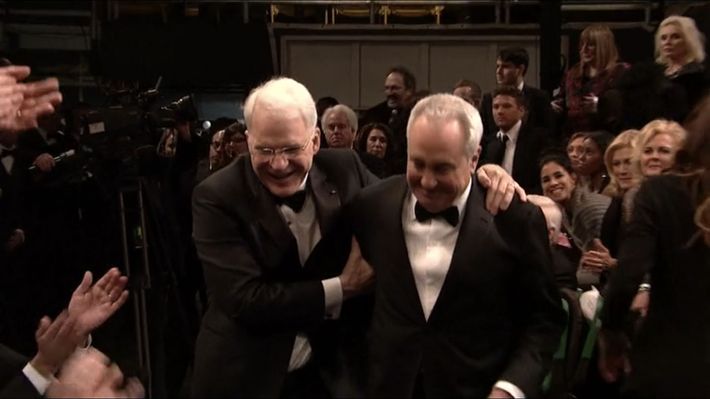 And onstage at the end near Maya Rudolph and Keith Richards? Melanie Hutsell.