As Mad Men's final installments draw ever-nearer, it's time for the annual rite of closely examining promotional materials for potential "clues." Let us pause for a moment here to acknowledge the futility of this pursuit, but, then, perhaps we should acknowledge the futility of all pursuits. To the pictures!
Don's wearing a blue blazer, just like he wore in last season's finale, and like we've seen Pete and Roger wear, too. Serene! On the one hand, that slicked-back hair, classic-Don look is appealing. But in the context of the show, it's getting pretty dated, signaling that perhaps Don is losing his edge and is suddenly behind on the times.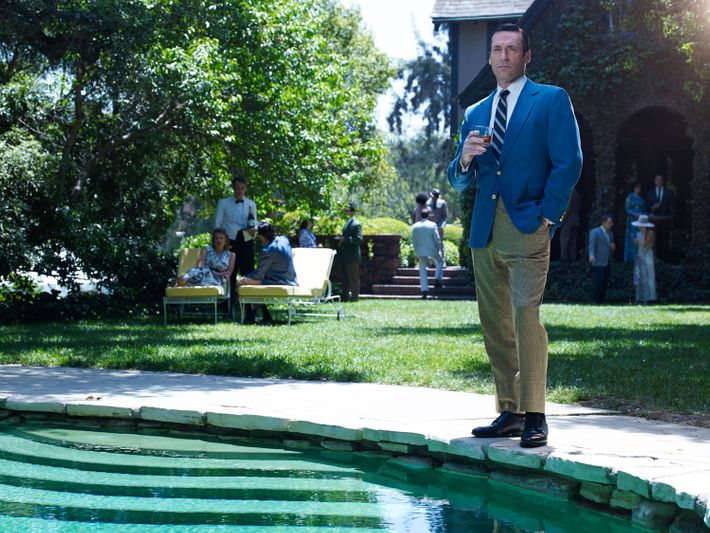 Sally and Betty are still at cross-purposes — sitting versus lounging, solids versus florals, minidress versus a maxi dress — and yet are still a unit, whether they like it or not. Baby Gene will never be relevant at all. Sorry, Baby Gene! You're not even facing the camera!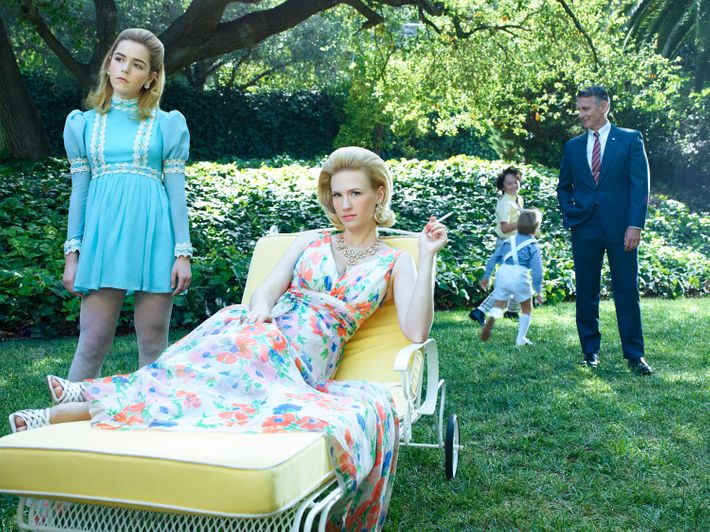 Long hair, don't care! Actually, of course we care: Roger and Pete look slimy, but maybe they just are slimy, so it's okay.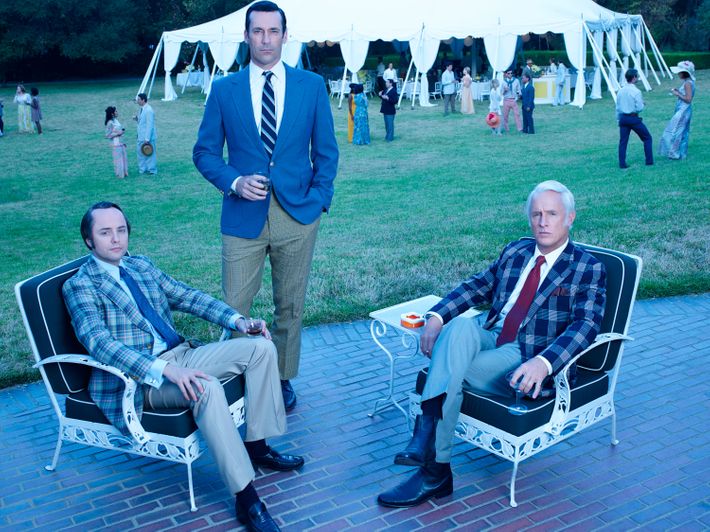 So based on these outfits … it seems we've moved ahead in time a bit. Maybe to 1972? Here's a Cosmo cover from then, which looks like both Peggy's red tiered dress and has Megan's voluminous bell sleeves.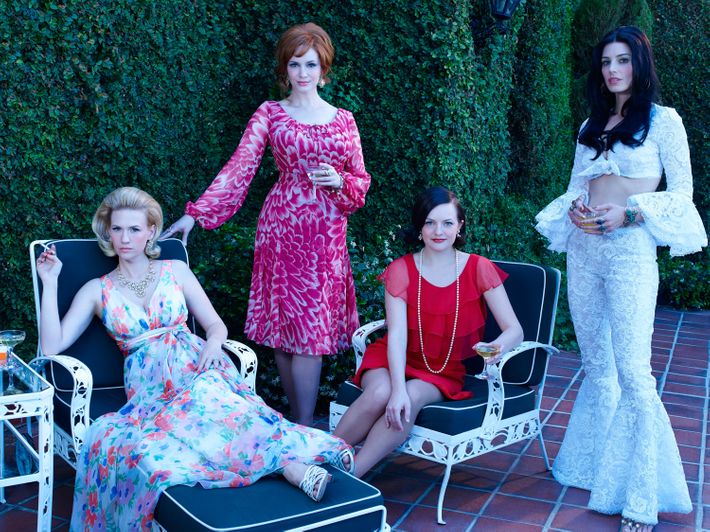 Betty does always look great in florals. Remember that outfit she wore when she met Henry Francis at that coffee shop? Florals are kind of her thing.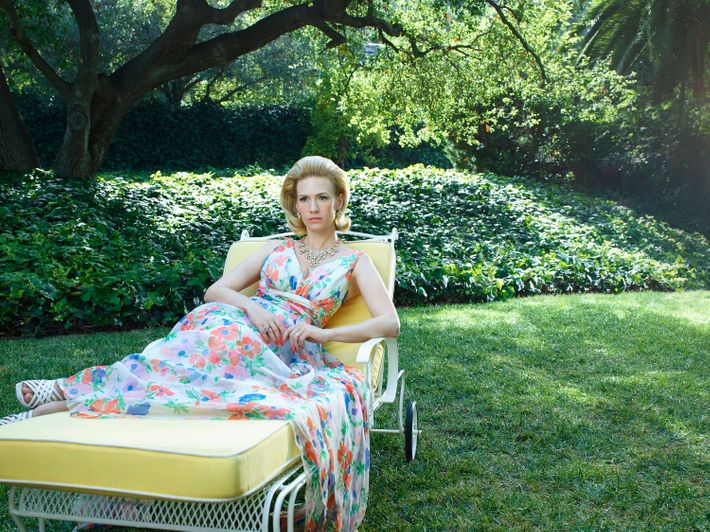 Wow, could Megan seem less relevant? Go have midriff-baring fun in California, darling. You don't fit in here.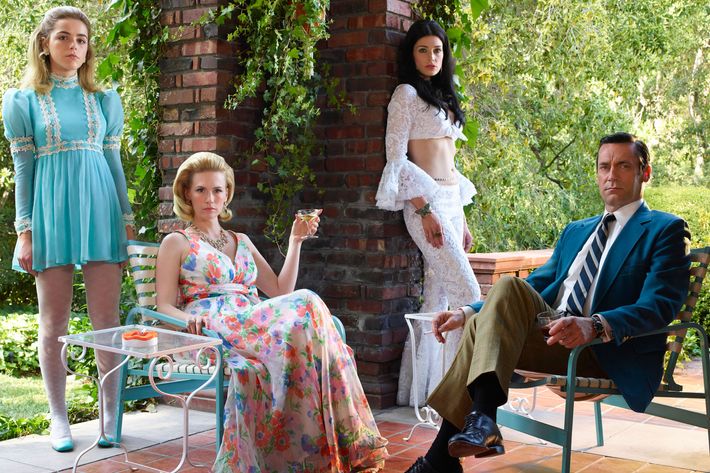 There's something really wrong with people who 'ship Don and Peggy. They are a duo, they have a lifelong bond, but this is not a sexual or romantic relationship. They just get each other.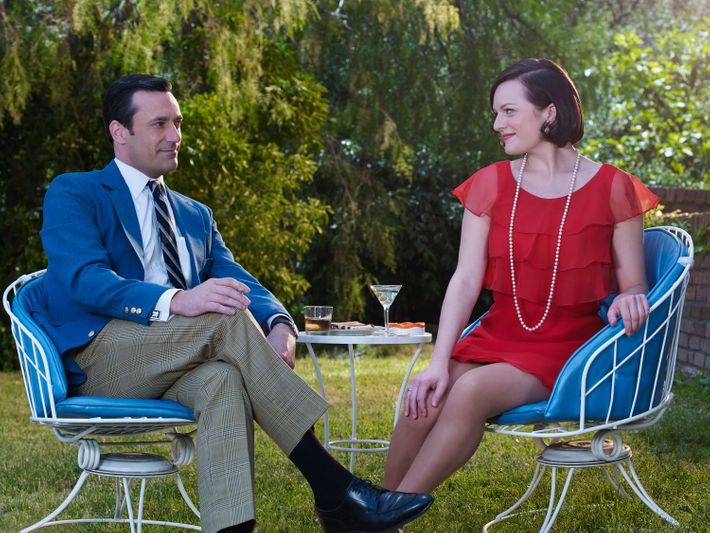 That's a lot of rings for Joan, who's usually more of a statement brooch person.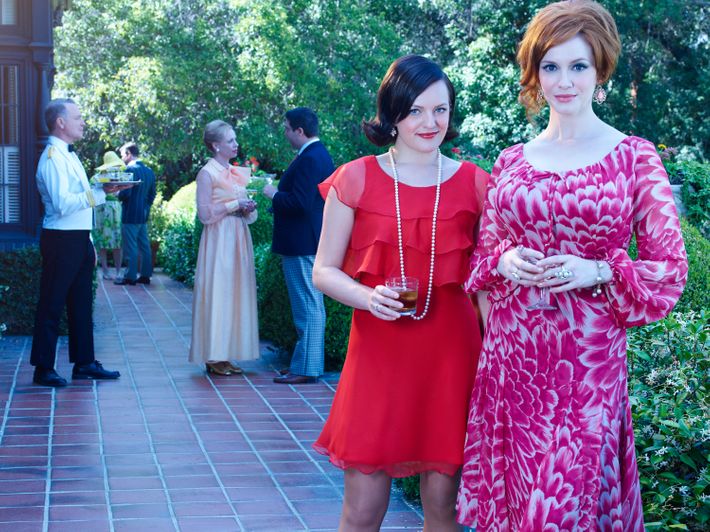 I could have had you in my life forever if I wanted to.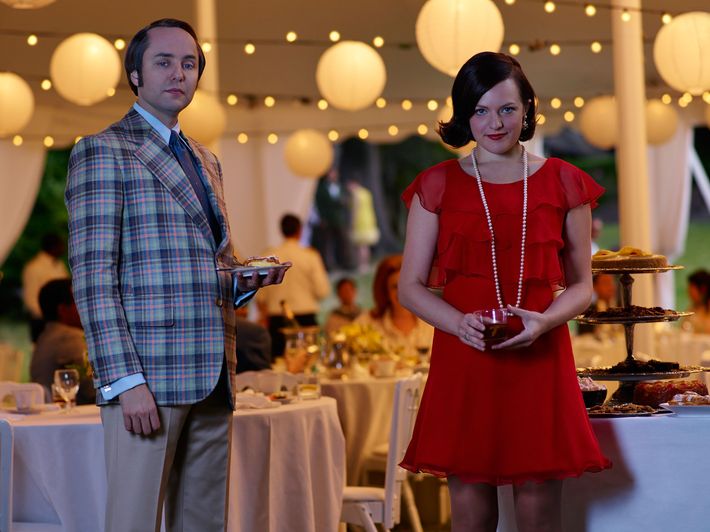 I spy Stan Rizzo's beard! Hallelujah! Poor Ken with that eye patch, though. Man.