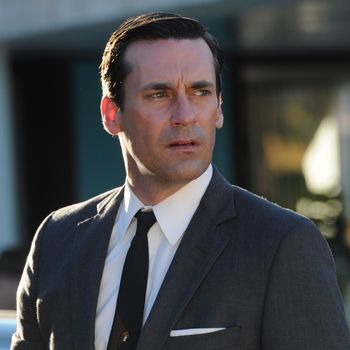 That suit is headed to a museum.
Photo: Michael Yarish/AMC
Don Draper's gray suit and trademark fedora are headed to the Smithsonian. As part of an ambitious slate of cultural commemorations tied to the end of Mad Men, Vulture has learned that the Smithsonian's Museum of American History will add Don's familiar fashion statements — plus his much-used office bar cart — to its permanent collection. In a ceremony planned for March 27, series creator Matthew Weiner will also donate a copy of the script for season-one finale "The Wheel," including a never-filmed alternate ending. The Smithsonian enshrinement is one of several exhibits, events, and screenings AMC and Mad Men producer Lionsgate have organized as part of an effort to both market the Mad Men farewell season (which kicks off April 5) and position the show for a long and prosperous pop-culture afterlife. "A television series unlike any other deserves a send-off unlike any other," AMC president Charlie Collier said in a press release announcing the network's plans, which include big events at seven different New York museums and organizations and at least one major exhibit in Los Angeles. Here's what's planned so far:
—On March 14, New York's Museum of the Moving Image launches "Matthew Weiner's Mad Men," a three-month installment consisting of re-creations of sets from the show, more than two dozen costumes, and "hundreds of props, video clips, and personal notes and research material." There'll also be a look inside the Mad Men writers' room and video interviews with Weiner about his process. The museum is also launching a ten-film screening series called "Required Viewing: Mad Men's Movie Influences," with Weiner-selected titles such as Les Bonnes Femmes and The Apartment. And on March 20, MoMI will host "An Evening With Matthew Weiner," a live Q&A with the producer and an as-yet-named moderator. 
—The Los Angeles County Museum of Art is hosting a two-day series (March 26–27) in which Weiner and select cast members will screen their favorite episodes of the show and then discuss them with Elvis Mitchell.
—Weiner and cast members Jon Hamm, January Jones, Christina Hendricks, John Slattery, and Vincent Kartheiser will gather at New York's Alice Tully Hall on March 21 for the Film Society of Lincoln Center–sponsored "Mad Men: The End of an Era," in which those assembled will discuss their favorite scenes from the show's seven seasons. FSLC will host a free, two-day screening series of "essential" episodes of the show, as chosen by Weiner.
—The Brooklyn Academy of Music's BAMcinématek offers "Mad Men at the Movies," a two-day festival (April 22–23) of films that inspired the show. Weiner or a cast member will be on hand for postshow discussions of the chosen films.
—Weiner will speak at the Museum of Jewish Heritage on March 29 (as part of the museum's "Designing Home: Jews and Midcentury Modernism") and at a public program at the 92nd Street Y on April 28.
—The New York Public Library will host a Mad Men–themed edition of its "Live From the NYPL" ticketed event series a few days after the show's May finale. It's also launching the "Mad Men Reading List," an assortment of 25 titles given shout-outs during the show's run.