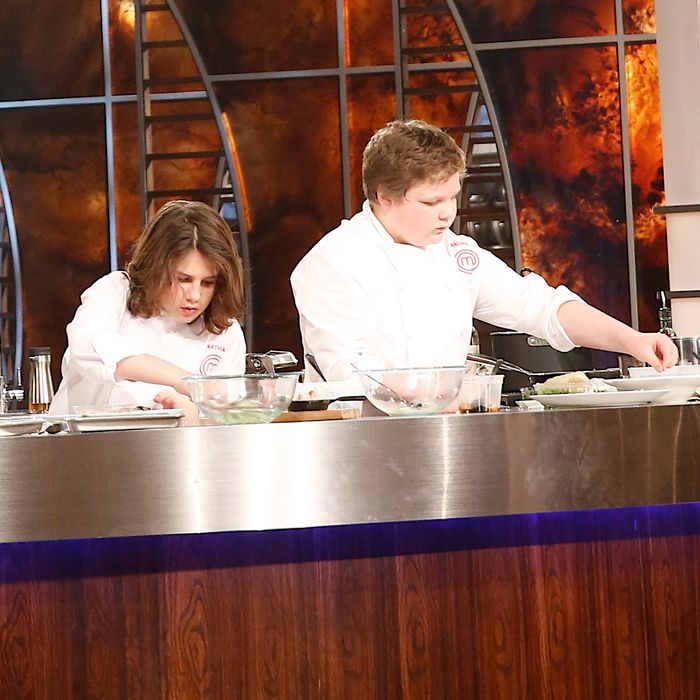 L-R: Contestants Nathan and Andrew will head to the MasterChef Junior finals next Tuesday.
Photo: Greg Gayne/FOX
Andrew and Nathan were revealed as the finalists of the third season of MasterChef Junior Tuesday night. Both fine young chefs, but their success guarantees that, yet again, the MasterChef Junior title will go to a boy. In a brilliant piece in The Atlantic earlier this month, Caroline Framke wrote about the inherent biases that appear to be at work on the show, and her argument seems more valid moving into the season's finale next Tuesday. And while these biases are disheartening to see, they aren't necessarily surprising.
Last week, Mei Lin was revealed as the winner of the 12th season of Top Chef, the gold standard of competitive cooking shows — only the third time in the show's nine-year history that a woman has held the title. Through those 12 seasons, women have only made up one third of the finalists competing at the end. Contrast that with MasterChef, where women have made up four of the five winners. The difference here: Top Chef is all about the most exceptional culinary chefs fighting for dominance, whereas MasterChef is a show about the transformation of "home cooks" into something more professional. The message: It's more acceptable to see women succeeding at MasterChef because of the coded ideas that they're being rousted from their homes, cooking for their families, and being made into something better.
Top Chef's lackluster representation of female chefs is underwhelming, but it can also be at least somewhat attributed to the preexisting biases within the industry. Where things get trickier is when these attitudes affect a young generation in ways they can't even identify.
Which brings us back to MasterChef Junior. As deft as the show is at trying to gather a diverse and varied group of young chefs to compete, it has undeniable issues with representation when it comes down to the finals. As it stands, only one girl has competed in the finals, Dara, from season one. Dara, an Asian-American, was also the only person of color in the finals until this year's Nathan, who is Mexican-American. The most significant way this junior iteration of MasterChef differs from its parent show is the fact that children cooking are seen as exceptional, as opposed to transformational. Therefore, the dominance of male contestants appears to operate similar to the way it does on Top Chef.
MasterChef Junior's young audience deserves better. They deserve to be shown that being exceptional can come in any package, not just the one that "looks" the most like what an (all-white-male judging panel) thinks it should.