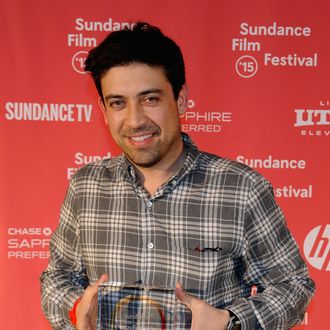 For the second year in a row, the Sundance Film Festival has a clear breakout hit, with Me & Earl & the Dying Girl winning both the Grand Jury and Audience awards for the U.S. Dramatic competition. (Whiplash pulled off the same feat last year.) A funny, touching, and highly inventive tale of a boy-girl high school borne in tragic circumstances, Me & Earl got a standing ovation in the dark while the credits were still rolling at the premiere screening I attended. Fox Searchlight and Indian Paintbrush may not have paid the Sundance-record $12 million that the film was originally rumored to have commanded, but there's no doubting that director Alfonso Gomez-Rejon (best known for American Horror Story), screenwriter Jesse Andrews (who adapted his own novel), and virtually unknown star Thomas Mann (Project X) have very bright futures ahead of them.
Tig Notaro, who's the subject of a documentary, Tig, that debuted here, emceed the ceremony and confessed she was once a Sundance volunteer back in the mid to late '90s. "I wanted to take a minute to confess that I was the one that would switch my walkie-talkie channel to the restricted channels one and two and interrupt with pffffffftttttttttt," she said. Fart noises would become a recurring joke, but only because Notaro's agents had forbidden her from burning any of her new stand-up material, "because the show is streaming into barely only possibly four households."
Roger Eggers's beautifully shot and designed The Witch, a rare horror film to be programmed in the main competition rather than midnight films, won the directing prize. Other Vulture favorites Dope and Diary of a Teenage Girl also picked up awards. And Winona Ryder and Cary Fukunaga were jury members and I got to see them in person, which makes me feel like both my 13-year-old self and my current self both won big.
As for the documentaries, The Wolfpack, about a family of boys raised in a tiny Lower East Side apartment without any contact with the outside world except for movies, which they reenact using elaborate costumes made out of cereal boxes and cut-up yoga mats, took home the U.S. Documentary Grand Jury Prize. It's fascinating, as is The Russian Woodpecker, a Fellini-esque, genre-exploding film that uses Ukrainian artist Fedor Alexandrovich as a window into the Chernobyl disaster and other government conspiracies, which won the World Cinematic Documentary Grand Jury Prize. Alexandrovich took to the stage to emotionally plead for the room and anyone watching to "save Ukraine." But perhaps the most moving moment of the ceremony came with the awarding of a special jury prize for Social Impact to 3 ½ Minutes. The film centers on the life of Jordan Davis, the 17-year-old black teenager gunned down by Michael Dunn at a Florida gas station for refusing to turn down the volume on his car radio. Davis's parents, Ron Davis and Lucia McBath, were present to pay tribute to their son. "Black lives matter, black lives matter, black lives matter," Ron Davis chanted, as the crowd rose to their feet. This movie about his son matters, too. Your complete list of winners is below.
U.S. Dramatic Grand Jury Prize
Me & Earl & the Dying Girl
U.S. Dramatic Audience Award
Me & Earl & the Dying Girl

U.S. Dramatic Directing Award
Robert Eggers for The Witch
Waldo Salt Screenwriting Award
Tim Talbott for The Stanford Prison Experiment
U.S. Dramatic Special Jury Award: Excellence in Cinematography
Brandon Trost for Diary of a Teenage Girl
U.S. Dramatic Special Jury Award: Excellence in Editing
Lee Haugen for Dope
U.S. Dramatic Special Jury Award: Collaborative Vision
Advantageous
U.S. Documentary Grand Jury Prize
The Wolfpack
U.S. Documentary Audience Award
Meru
U.S. Documentary: Directing Award
Matthew Heineman for Cartel Land
U.S. Documentary Special Jury Award: Social Impact
3 ½ Minutes

U.S. Documentary Special Jury Award: Verité Film Making
Western
U.S. Documentary Special Jury Award: Breakout First Feature
(T)ERROR
U.S. Documentary Special Jury Award: Cinematography
Matthew Heineman, Matt Porwoll for Cartel Land
NEXT Audience Award
James White
World Cinema Dramatic Grand Jury Prize
Slow West (United Kingdom / New Zealand)
World Cinema Dramatic Audience Award
Umrika (India)

World Cinema Dramatic Special Jury Award: Directing
Alanté Kavaïté for The Summer of Sangaile (Lithuania / France)
World Cinema Dramatic Special Jury Award: Acting
Germain McMicking for Partisan (Australia)
World Cinema Dramatic Special Jury Award: Acting
Jack Reynor for Glassland (Ireland)
World Cinema Dramatic Special Jury Award: Acting
Regina Casé and Camila Márdila, The Second Mother (Brazil)
World Cinema Documentary Grand Jury Prize
The Russian Woodpecker (United Kingdom)
World Cinema Documentary Audience Award
Dark Horse (United Kingdom)
World Cinema Documentary Special Jury Award: Directing
Kim Longinotto: Dreamcatcher (United Kingdom)

World Cinema Documentary Special Jury Award: Unparalleled Access
The Chinese Mayor (China)
World Cinema Documentary Special Jury Award: For Impact
Pervert Park (Sweden / Denmark)
World Cinema Documentary Special Jury Award: Editing
Jim Scott for How to Change the World (United Kingdom / Canada}
Alfred P. Sloan Feature Film Prize
The Stanford Prison Experiment