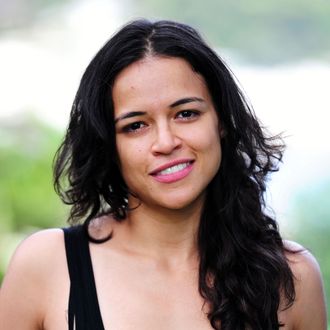 Photo: Ian Gavan/Getty Images
Michelle Rodriguez quickly shot down rumors that she might star in the Green Lantern, and it seems like it might be out of principle. "That's the dumbest thing I ever heard," she told a TMZ reporter. "I think it's so stupid because of this whole minorities in Hollywood thing. It's so stupid. Stop stealing all the white people's superheroes. Make up your own. What's up with that?" So we're guessing she's not onboard with getting Idris Elba to play the next James Bond?
Don't worry guys, Michelle Rodriguez has posted an apology! (No, she doesn't address whitewashing in Hollywood.) "I guess it got taken out of context, because a lot of people got offended or whatever," she says from her bed. "What I really meant was that ultimately at the end of the day, there's a language. And the language that you speak in Hollywood is successful franchise. And I think there are many cultures in Hollywood that are not white that can come up with their own mythology." Basically she just thinks it's "lazy" to turn a white character into a different race or gender. "I think it's time for us to write our own mythology."
Here's the full video:
This post has been updated throughout.