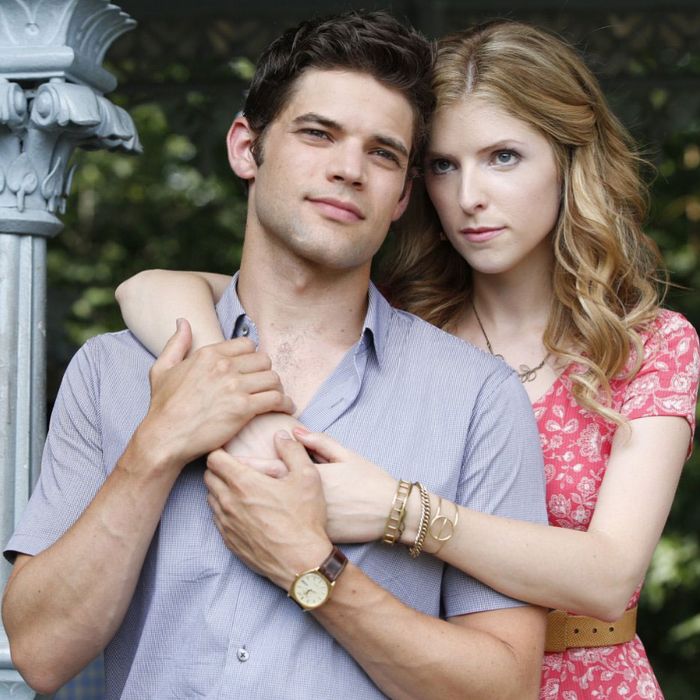 Anna Kendrick with co-star Jeremy Jordan in The Last Five Years.
Richard Lagravenese has adapted Jason Robert Brown's two-character musical The Last Five Years with taste, feeling, and a vast reservoir of sadness. His camera moves gently—with gentlemanly discretion—through the Manhattan brownstone window of Cathy (Anna Kendrick) as she finds the good-bye note from her husband, Jamie (Jeremy Jordan). She sings, "Jamie is over and Jamie is gone," and the feature-length flashback that follows is steeped in hurt. (That first song is called "Still Hurting.")
When they meet, Jewish Jamie is dreaming of being a best-selling serious novelist, "shiksa goddess" Cathy of a career on Broadway. He realizes his dream, and she doesn't. In "I'm a Part of That," she tries to tell herself—as he tells her—that she is a part of his achievement, but she knows she'll be destined to "follow in his stride instead of side by side." While she troops from one failed audition to the next, he succumbs to the lure of young hotties. In the final song, set in two time periods, the shining-eyed newlywed Cathy sings "Goodbye Until Tomorrow" while the grim, five-years-later Jamie sings, "I Could Never Rescue You."
LaGravenese has written wonderful films, among them The Fisher King and The Ref, and wrote and directed the little-seen gem Living Out Loud. He shot The Last Five Years after the undeserved box-office fiasco of his Beautiful Creatures (more fun than most YA adaptations), and his evident melancholy harmonizes almost too well with Brown's. Before I closed my notebook, I wrote ":(". It doesn't help that Jamie is insipidly self-involved and that Jordan (whom I've admired onstage) doesn't draw you in as much as you'd hope; his face is a Broadway mask. His long, Yiddish-inflected song-story number "The Schmuel Song" should have been edited with a match.
I love the film anyway. The camera moves with heightened sensitivity, as if on currents of emotion, and Kendrick is infinitely winning. She's that rare thing, a movie star with a trained soprano. Once or twice a note comes this close to piercing but always softens into sweetness. There are so many shades to her tremulousness that we need some new names, the way Eskimos differentiate between grades of snow.
*This article appears in the February 9, 2015 issue of New York Magazine.