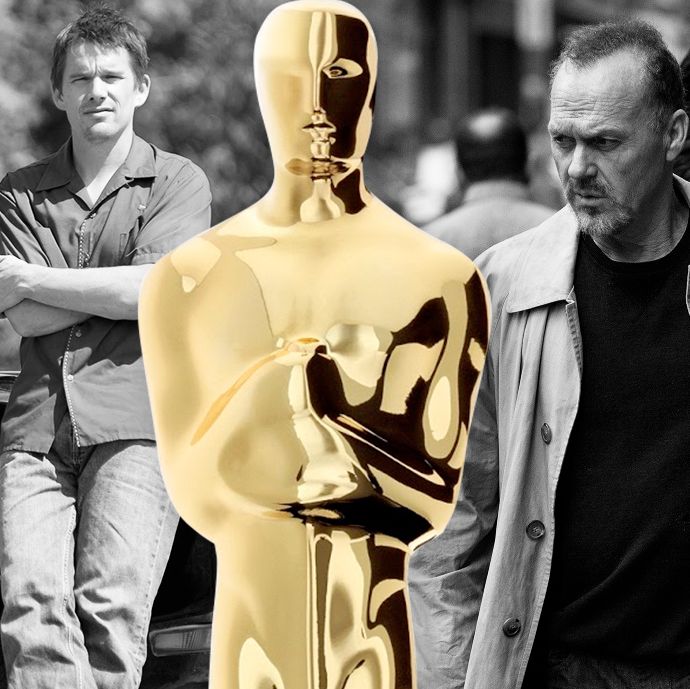 Photo: IFC Films and Fox Searchlight
Shortly after the Oscar nominations were announced last month, I made my preliminary picks for who would win, smirking all the while that these early front-runners would surely cruise to their coronation. Perhaps I got too far ahead of myself. Some of those top picks have since faltered, while dark horses and surging contenders have emerged even in the most surprising categories. I've got a humble pie cooling on the windowsill, then, as I make this list of my final Oscar predictions: While I'm fairly certain of my picks, I must admit that there are some races that will remain unsettled all the way up until Sunday night. Keep my predictions in mind while filling out your Oscar pool, but know that this year there are likely to be some big surprises.
Best Picture
Boyhood
The Imitation Game
Birdman
The Theory of Everything
The Grand Budapest Hotel
Whiplash
Selma
American Sniper
A mere month ago, Boyhood looked to have this category all sewn up, and then Birdman stormed the stage at the PGA, SAG, and DGA awards, taking each top prize. It's hard to deny that kind of across-the-board guild support, and so I cast my vote for Birdman, even though there are plenty of factors here that give me pause, including the surge of American Sniper, the likelihood that Boyhood will be boosted by the preferential voting in this category, and the feeling that Birdman's recent ascendancy has instigated a minor backlash. Still, it's kind of fun to go into Oscar night with some major races still in doubt!
Best Director
Richard Linklater, Boyhood
Alejandro González Iñárritu, Birdman
Wes Anderson, The Grand Budapest Hotel
Morten Tyldum, The Imitation Game
Bennett Miller, Foxcatcher
Since the Academy has lately been so partial to Picture/Director splits, there's a chance that Boyhood helmer Richard Linklater could still pull out a win here, even if Birdman takes Best Picture. But when those splits do occur, they tend to favor the director with the more showy technical achievement, and I think that gives Alejandro González Iñárritu the edge for his audacious "single take" approach to Birdman (though Linklater's 12-year Boyhood shoot is no small potatoes, either).