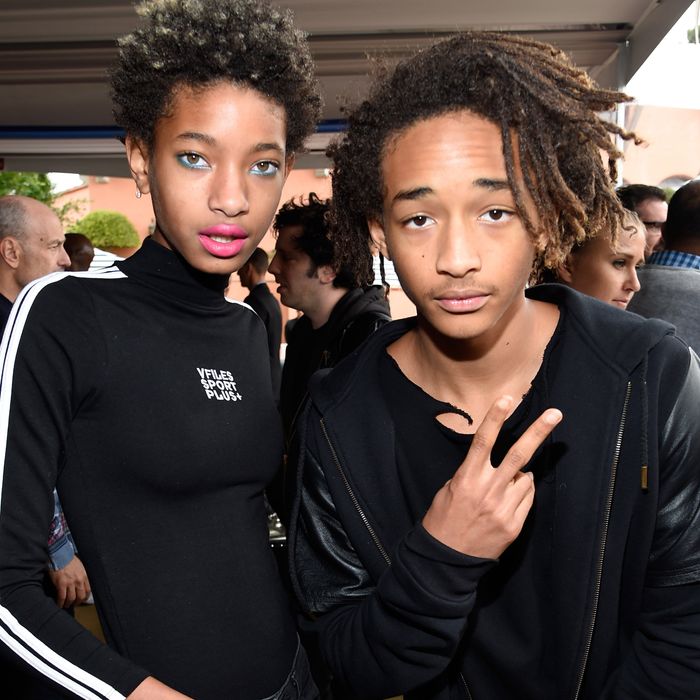 Willow and Jaden Smith.
Photo: Kevin Mazur/Getty
The two children of Will Smith and Jada Pinkett-Smith are coming of age, and it's been a joy to watch the sprightly young things embrace their God-given right to milk the benefits of having famous parents. So far, we've learned that Willow probably spends her off hours reading Being and Time, while her brother Jaden fantasizes about a future that looks a lot like an Isaac Asimov novel. But in addition to showing us how weird they are, the heirs of Bel-Air have been casually dropping new and interesting music on SoundCloud. I know what you're thinking. Nepotism! Scientology! Celebrity children! Yuck! Yes, but you should ignore the things you read in Going Clear and just listen.
Willow Smith, "'Rta"
"I just want to make music so I can raise the consciousness level on this planet," Willow writes in her Soundcloud bio. Good luck with that! In other news, this song is great! It's a spacey, mellowed-out tune about self-love and brief encounters with "black-hole singularities." The song was produced Daniel D'artiste, who collaborates frequently with both Willow and her brother Jaden.
Jaden Smith, "Melancholy"
Jaden's lyrical calisthenics over Pink Floyd's classic Dark Side of the Moon track "Breathe" are so good that I am inclined to forgive him for wearing an Iron Man suit while on a date with Kylie Jenner. It's a brooding meditation on being rich, young, and famous in a world that's preoccupied with celebrity stunting. To wrap it up, Willow provides some glorious, soaring backing vocals.
Willow Smith, "Easy Easy" (King Krule cover)
There's something about one young artist covering another that leaves me all fuzzy inside. Here Willow's shimmery neo-soul vocals take on King Krule's breakout single "Easy Easy." Its spooky-yet-delightful mood does a great job maintaining the original's spirit of teen angst while also being a little more lighthearted.
dylAn feat. Willow Smith, "11:30pm"
Earlier this month, the EP This Is the Album dropped, featuring guest-spots by both Willow and Jaden. My favorite track is the opener, a super-smooth down-tempo cut that is perfect for bedtime listening thanks to Willow's soft coo.
Willow Smith, "Vibrations"
Maybe it's a little pretentious to title a mixtape Interdimensional Tesseract, but since Willow is only 14, I'm going to let this one slide! Also, this song is so smooth, it's impossible to be angry about anything while listening to it.