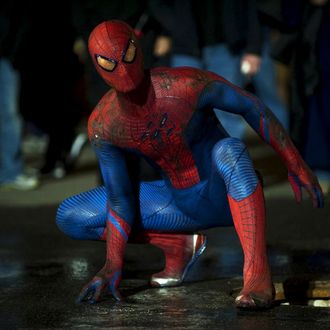 Andrew Garfield in The Amazing Spider-Man.
Photo: Columbia Pictures Industries/Sony Pictures Entertainment
Sony is turning back the clock with its next batch of Spider-Man films, according to Variety. Sources close to the studio told the trade the web slinger will head to high school and balance the awkwardness of his teen years (locker rooms, house parties, and prom, oh my!) with extracurricular heroics. Although actors Dylan O'Brien (The Maze Runner) and Logan Lerman (Fury) have been mentioned as possible Spideys, Sony is reportedly looking to fill the director's chair before approaching leads. Variety suggested the studio could introduce another alter ego — Miles Morales, for example — to replace Peter Parker. Regardless, the plan, per last night's beautiful announcement, is for the new Spidey to appear in a fast-approaching 2016 Marvel movie, and then in the first installment of Sony's next franchise for the crime fighter. It's hard to tell whether this is the direction we want, but there's hope for this iteration … right?