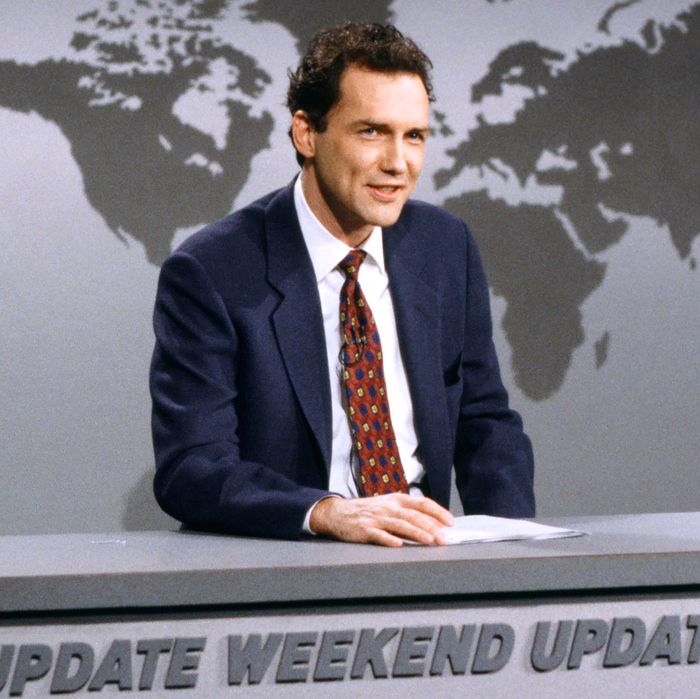 Norm Macdonald on Weekend Update.
Photo: NBC
With Saturday Night Live's 40th-anniversary special now a vestige of the past, viewers have had time to let questions and opinions percolate. Some of the loudest revolved around Eddie Murphy's strange, underwhelming appearance. Former cast member Norm Macdonald, who appeared in and wrote sketches for the special, used Twitter to address the mystery and to vent publicly about the wild week he had. In 110 tweets, Macdonald dished about everything from a rejected Murphy role to Bill Murray's penchant for golf to the origins of Celebrity Jeopardy. Here's what we learned:
1. Contrary to what you would've thought, SNL 40 was reportedly not a tight ship.
2. Celebrity Jeopardy came from Second City Television.
Macdonald claimed to have come up with the idea for SNL, after stealing it from SCTV's Half-Wits:
He and Steve Higgins wrote the first Jeopardy sketch decades ago but waited for Martin Short (originally from SCTV) to host so they could ask his permission to use it.
3. Eddie Murphy did not attend SNL's 25th anniversary because of something David Spade said.
Macdonald alluded to Spade's infamous "falling star" comment. Here's Jim Breuer recounting the Murphy-Spade post-comment confrontation in detail:
4. In the writers' room, Mike Myers is top dog, a genuine joke guru (like Guru Pitka, but better).
5. For Bill Murray, golf > just about everything.

He has pro-am competitions to win! Evidently, though, he also had time for the Jaws sketch the writers wanted him for:
6. Sarah Palin is something else in real life.
7. Murphy was supposed to play Bill Cosby in Celebrity Jeopardy, not Kenan Thompson.
Macdonald tweeted that the initial Celebrity Jeopardy sketch was overloaded with too many impressions. With Murphy attending this reunion, Higgins thought the perfect way to save the overblown sketch and to reintroduce Murphy to viewers would be to have him nail a Cosby impression.
Although Murphy was tough to wrangle (and eventually impossible) for the sketch, Macdonald tried. The two talked in the former's dressing room for an hour. But:
Murphy's role in the SNL special was close to being much more than bows and hand claps. Unfortunately, all we can do is watch this and pretend: