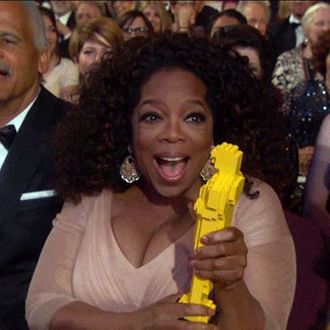 Give this woman an(other) real Oscar, guys.
Like Taylor Swift at every other awards show, Oprah was the star of last night's Oscar ceremony — if only because producers loved cutting to her in the audience. And per usual, she didn't disappoint. She laughed, cried, and even responded perfectly to bad Neil Patrick Harris jokes! She did it all. Here are the Oscars through the eyes of Oprah. (A possible host for next year? Could you just imagine?)
When Neil Patrick Harris made a joke about her being really, really rich, comparing her wealth to the box-office gross of American Sniper. Weird and, well, duh. She knows she's rich:
(Steadman, meanwhile, is learning this for the first time. Just kidding. Love ya, Steadman!)
When NPH goes to bother poor David Oyelowo in the audience, she's there.
She "won" a Lego Oscar during the performance of "Everything Is Awesome," and responded correctly:
After a moving peformance of "Glory" from Selma, she wiped Oyelowo's tears dry.
And then had an awkward high-five confusion upon their Oscar win. If you snub Oprah for a high five, you remain in the doghouse for ten years. (It's not proverbial; you have to live in a doghouse in Oprah's backyard. Don't worry, Common: It's really, really nice.)
Yay!
Oprah was even the star of Oscar winner Graham Moore's speech (well, aside from all the sad stuff): "Thank you so much to the Academy and … to … Oprah," he starts.
Don't worry, Moore, she's always with you.