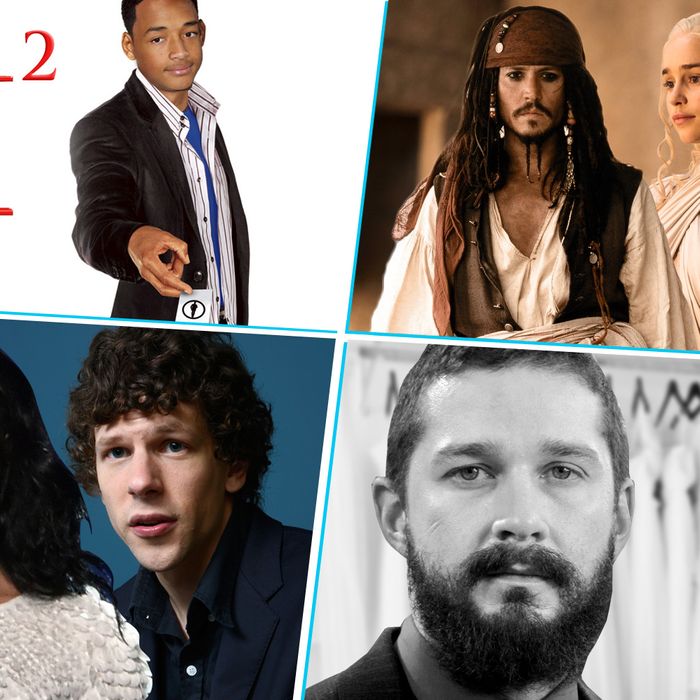 The future looks the same… but different.
Photo: Clockwise: Universal Picutres, Getty Images, HBO, Disney, NBC
For its final season, Parks and Recreation has left us with a wonderful gift: a glimpse into the future. But the show's Battlestar Galactica–inspired flash-forward hasn't just been a way to advance the lives of Pawnee's favorite residents (and avoid TV baby clichés). Sure, Andy has his own show, Ben's running for mayor, and Apple/Facebook/Google hybrid Gryzzl data-mines your online presence so it can send you pictures of the Supreme Court justices sipping the Friends milkshake. Otherwise, our old pals from the Pawnee Parks and Rec Department are pretty much the same. It's the future of pop culture that Michael Schur and Co. have had a lot of fun skewering.
So, in honor of the show's series finale on Tuesday, let's take a trip to 2017, where 20-year-old billionaire bros ride iPad skateboards and people still say "normcore."
TV & FILM
There's a Jason Bourne reboot starring Kevin James.
Though it may surprise you to hear the King of Queens is playing the amnesic secret agent, Leslie thinks "he nailed it" and Andy hears it was "pretty funny." (Season 7, episode 1)
Hitch 2: Son of a Hitch is the movie of the year.
Tom loves his new Gryzzl devices because he "can watch Hitch 2 anytime, anywhere," and he's dying for the pair of shoes star Jaden Smith wears in the film. (Season 7, episodes 2 and 6)
Jack Sparrow is a character on Game of Thrones.
And he is apparently marrying Daenerys Targaryen. "It makes sense if you'd read the books," explains Ben. (Season 7, episode 4)
SPORTS
The Cubs won the World Series.
Though it's not clear when they won or whom they played, everyone in Chicago is "in a really great mood," according to Tom's girlfriend Lucy. (Season 7, episode 2)

LeBron is playing for Miami again.
And you thought the celebration was big when he went back to Cleveland … (Season 7, episode 6)
JOURNALISM
There's a Pulitzer Prize for listicles.
And Pawnee's lifestyle guru Annabelle Porter, of the Goop-esque Bloosh, has won two of them. (Season 7, episode 3)
CELEBRITY
Shia LaBeouf found his calling as a designer.
Not only does Donna wear one of the Transformers star's custom wedding dresses on her big day ("They don't come cheap"), but Tom proposes to Lucy with a ring from his jewelry line. ("Man's really found his calling," says Tom.) (Season 7, episodes 1 and 10)
Morgan Freeman and Shailene Woodley are feuding.
And apparently it's more serious than Biggie and Tupac. (Season 7, episode 3)
Nicki Minaj and Jesse Eisenberg are also fighting.
They had some beef at the BAFTA Awards, and everyone at Tom's Bistro has an opinion about it. (Season 7, episode 5)
Bruce Willis married Christina Aguilera.
Their new home is a stop on one of those double-decker Hollywood tour buses, and Usher is their next-door neighbor. (Season 7, episode 6)
FOOD & STYLE
Elton John bought Chick-fil-A.
For reasons that remain unclear, the openly gay singer purchased the notoriously anti-gay fast-food chain. Then sales "went through the roof," according to Donna. (Season 7, episode 3)
Everyone's bedazzling their elbows.
Basic elbow-bedazzling is $140, but custom art starts at $250. Go ahead, treat yo'self. (Season 7, episode 6)
You can Lasik your fingernails.
Whatever that means? Tom claims it was his idea first. (Season 7, episode 6)
Everyone's drinking beef milk.
Forget almond milk: 2017 is all about "authentic, hand-strained, teet-to-table beef milk." It costs $60 a gallon. (Season 7, episode 3)
You can eat celebrity sushi.
At the hottest restaurant in L.A., all the sushi is made from fish previously owned by celebrities. Try the Peter Bogdanovich. It's Donna's favorite. (Season 7, episode 6)
POLITICS & BUSINESS
Mount Rushmore is hot.
Thanks to Leslie's clever thinking, attendance is way up at the national park ever since she made "Thomas Jefferson sexier in those Mount Rushmore promotions." (Season 7, episode 1)
Joe Biden wrote a new book.
It's called Biden the Rails: A Thousand and One Poems Inspired by My Travels Through Amtrak's Northeast Corridor. Yes, a thousand. (Season 7, episode 5)
Verizon, Exxon, and Chipotle have merged.
The future is good for big business. According to an ad that ran during The Johnny Karate Super Awesome Musical Explosion Show, the three brands are just one of America's eight remaining companies. (Season 7, episode 10)