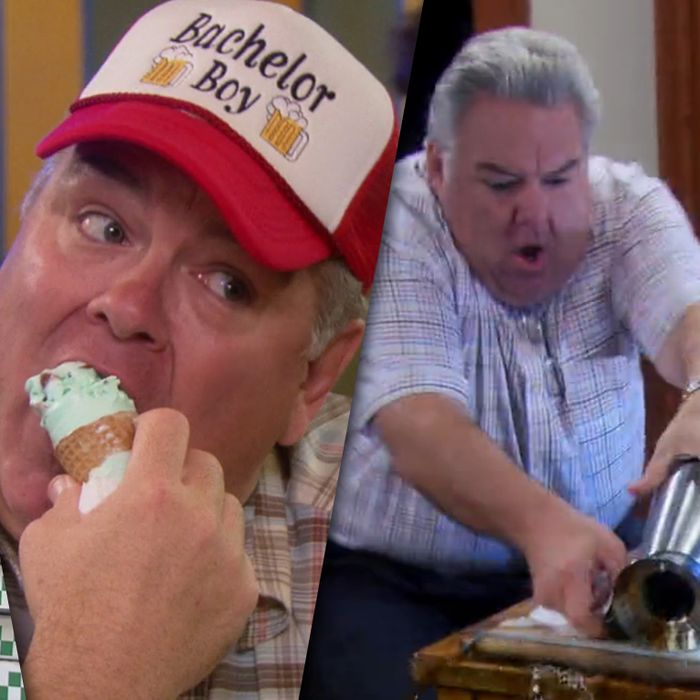 How many times does it take for Jerry to get something right on Parks & Recreation? Ninety-five, apparently. (Dammit, Jerry, you couldn't even make it to 100?) He doesn't seem to mess up at all in the first season, likely because he doesn't do anything at all.
"PRACTICE DATE" (SEASON 2, EPISODE 4)
1. The office plays a game where they dig up dirt on each other, and Jerry doesn't want to play. They tell him that he has to play, and discover that he got plastic surgery and that his adopted mother had a marijuana-possession charge. Jerry didn't even know he was adopted.
"KABOOM" (S2, E6)
2. Jerry uses permanent marker on a whiteboard.
"GREG PITIKIS" (S2, E7)
3. Jerry tells Tom about a Halloween party for which he did not receive an invitation.
"THE CAMEL" S2, E9
4. Jerry accidentally says "murinal" instead of "mural."
"CHRISTMAS SCANDAL" S2, E12
5. Leslie advises all Parks Department employees to go to the bathroom before they get into their Santa costumes, "so we can avoid what happened last year," to which Jerry responds, "It was just farts!"
"SWEETUMS" (S2, E15)
6. Jerry steps on DJ Roomba!
"WOMAN OF THE YEAR" (S2, E17)
7. Jerry eats his soup over the mail.
"THE POSSUM" (S2, E18)
8. Jerry licks ketchup off Leslie.
"PARK SAFETY" (S2, E19)
9. Everybody puts Jerry's name in the bowl to feed the hummingbirds.
10. Jerry says he was mugged by kids and dislocated his shoulder in the process, but that he "didn't get a good look" at who mugged him.
11. Jerry trips over a chair.
12. Jerry's computer is not plugged in for his presentation. When his plugs it in, it displays a picture of him on vacation instead of a graph.
13. Jerry says "twout" instead of trout and that he has "marbles full of mouth."
14. Jerry drops something, bends over, rips his pants, and farts loudly.
15. Tom has to get off of the golf cart because Jerry weighs it down too much.
16. It is revealed that Jerry actually lied to Leslie about being mugged after she publicly hailed his mugging as an example of why the park police need more funding. Jerry actually fell into the creek trying to grab a burrito he dropped, and that is how he dislocated his shoulder.
17. The office bought Jerry a peppermint latte, and he spills it on himself.
"SUMMER CATALOG" (S2, E20)
18. Jerry uses a picture of a pedophile in the catalogue mock-up.
"TELETHON" (S2, E22)
19. Jerry picks the only phone at the telethon with 25 lines.
"GO BIG OR GO HOME" (S3, E1)
20. Ben tells everyone that they have no work except for park maintenance, and Jerry cheers.
"TIME CAPSULE" (S3, E3)
21. Jerry donates his mother's diaries to be deposited in the time capsule. When April reads an entry aloud, we discover that Jerry played Tinkerbell in his school's performance of Peter Pan.
"RON AND TAMMY: PART TWO" (S3, E4)
22. Jerry goes to Ron and Tammy 2's wedding party, to the dismay of everyone else.
"INDIANAPOLIS" (S3, E6)
23. Tom is telling everyone that his party will be at 9 p.m. Jerry says, "That's way too late, I will be deep into my bath by then." No one wants to hear that, Jerry.
"HARVEST FESTIVAL" (S3, E7)
24. Jerry farts while riding the Ferris wheel with Tom at the Harvest Festival. 
"CAMPING" (S3, E8)
25. Jerry says "rapists" instead of "rappers."
"ANDY AND APRIL'S FANCY PARTY" (S3, E9)
26. Jerry wears a ridiculous shirt to April and Andy's surprise wedding.
"JERRY'S PAINTING" (S3, E11)
27. Jerry paints a half-naked Leslie. The painting also features Tom as fat cherub.
"THE FIGHT" S3, E13
28. Jerry's snake-juice-induced laughing turns to wheezing.
"LI'L SEBASTIAN" (S3, E16)
29. Leslie accidentally sends a sexual memo meant for Ben to Jerry. Jerry asks why it says he has a cute butt, and the office begins to chant that he has a "cube butt."
30. Jerry puts lighter fluid in Li'l Sebastian's ceremonial torch instead of propane, which singes Ron's face.
"I'M LESLIE KNOPE" (S4, E1)
31. As Ron runs out of the office to escape his ex-wife Tammy, he bumps into Jerry, who spills food everywhere.
32. When Ron leaves the office, April steps in as "acting manager." Jerry counters April's commands with "You're not our boss!" until she death-glares him, and he begrudgingly adds "ma'am."
"BORN AND RAISED" (S4, E3)
33. At the beginning of the episode, Leslie sends Jerry out to re-interview everyone she interviewed in her new book to discredit rumors that there is an inaccuracy in it. At the very end of the episode, he comes back to update her on his progress because everyone forgot to tell him that they had figured it out and didn't need to worry about it.
"PAWNEE RANGERS" (S4, E4)
34. Jerry is way behind on his paperwork, and Ben is mad because he hasn't filled out a PC10 form in two and a half years. All Jerry can say is, "Jeez, I'm sorry."
35. Jerry reaches to eat Tom's cupcakes and Tom glares at him, yelling, "Those are for me, Jerry!"
"END OF THE WORLD" (S4, E6)
36. When Jerry pretends to be a bad guy attacking April — so that Andy can live out his fantasy of being an action hero — he can't read his script correctly.
"THE TRIAL OF LESLIE KNOPE" (S4, E9)
37. When Leslie asks Jerry to state his name for an original court file, he admits that his real name is Garry, and he just never wanted to correct the original Parks director when he got it wrong years ago.
"CITIZEN KNOPE" (S4, E10)
38. Everyone volunteers to help Leslie with her campaign, and Jerry is the only one without a volunteer position.
"THE COMEBACK KID" (S4, E11)
39. Jerry wears a Hawaiian shirt to work, and Tom jokes that they're making a comeback. Jerry retorts, "Well, look who's ahead of the curve," and Tom tells him, "I was joking. You should soak that in bleach and burn it."
40. Jerry gets 100 people for Leslie's campaign rally, which turns out to be a bad thing because the rally is a mess and they were all hoping he wouldn't get people to come.
"CAMPAIGN AD" (S4,E12)
41. Ben, Tom, and Jerry are practicing their voice-overs for Leslie's campaign video. Jerry is the last one to go, and Ben says, "Now we're just wasting time, Garry."
"BOWLING FOR VOTES" (S4,E13)
42. Jerry's daughter Millie breaks up with Chris, and everyone boos him.
"OPERATION ANN" (S4,E14)
43. Tom asks if Ann has any Indian in her, and Leslie tells everybody not to respond. Jerry responds anyway and says, "I don't think she does," so Tom asks, "Would she like some?" Everyone boos.
44. Everyone in the office is supposed to bring a date for Ann for the Valentine's dance, and Jerry accidentally brings a male escort that he found on Craigslist.
"SWEET SIXTEEN" (S4,E16)
45. Leslie asks Jerry to check the water for fecal contamination. He asks, "Can I at least grab the gloves?" and Leslie yells, "Jerry, what are you doing standing here? Our water has poop in it!" He runs away.
"LUCKY" (S4, E18)
46. Jerry stays up until 4 a.m. putting flyers in envelopes for Leslie's campaign, then realizes he used the wrong flyers.
"WIN, LOSE, OR DRAW" (S4, E22)
47. Jerry forgets to vote for Leslie in the councilman election because he thought the polls closed at 8.
"SODA TAX" (S5, E2)
48. Jerry superglues his knuckles together.
"HOW A BILL BECOMES A LAW" (S5, E3)
49. Jerry accidentally fields 911 calls after switching his "311" phone to "911."
"SEX EDUCATION" (S5, E4)
50. Jerry goes to Alta Vista and types "please go to Yahoo.com." Tom yells, "God, Jerry, you don't deserve the internet!"
"HALLOWEEN SURPRISE" (S5, E5) 
51. Jerry has a heart attack on Halloween.
"LESLIE VS. APRIL" (S5, E7) 
52. Jerry bursts into a private meeting in an attempt to ask April how the dog park is going.
"PAWNEE COMMONS" (S5, E8)
53. Jerry is attacked by a raccoon in Tom's new Rent-a-Swag store space.
"RON AND DIANE" (S5, E9) 
54. Jerry spills hot soup on himself and gets locked out of his own Christmas party.
"TWO PARTIES" (S5, E10) 
55. Jerry drops his ice-cream cone at Ben's bachelor party.
56. Jerry takes Newt Gingrich's table at a steakhouse.
"WOMEN IN GARBAGE" (S5, E11) 
57. Jerry doesn't know which key to use to get into Ron's office because Diane's daughters have locked themselves inside.
"EMERGENCY RESPONSE" (S5, E13)
58. Jerry runs off to save Gale and his kids during an emergency drill. He proceeds to collapse two yards from his starting point.
59. He drives his family to another town before realizing the emergency was a drill.
"LESLIE AND BEN" (S5, E14)
60. Jerry pees his pants at the gala because he gets overexcited about the Li'l Sebastian look-alike.
"CORRESPONDENTS' LUNCH" (S5, E15) 
61. Jerry loses his copy of Leslie's speech, so Kim from the Pawnee Sun reads it instead. He later finds it in his shoe.
"BAILOUT" (S5, E16)
62. Jerry babbles incoherently when trying to give Chris parenting advice. "No one's ever let me speak for this long," he admits.
"ARTICLE TWO" (S5, E19) 
63. Jerry fails Ron and Chris's leadership test. He files Chris's files too slowly, and Ron's files incorrectly.
"LONDON" (S6, E1)
64. Jerry organizes a viewing party for Leslie's awards ceremony, in which she trashes Pawnee, saying it's a "town filled with pee-pee heads."
65. He freaks out Ann and Chris upon learning that Ann's pregnant. "I gained a lot of sympathy weight. Before my kids, I looked a lot like you, Chris."
"DOPPELGÄNGERS" (S6, E3)
66. Jerry, while requesting that people call him "Garry," messes up and calls himself "Jerry" twice. Everyone chants, "Larry!"
67. He finds an old banana in a file and gets it all over his hands.
"RECALL VOTE" (S6, E6)
68. Jerry shows up late to a meeting because he was voting for Leslie.
69. He glues a bunch of cotton balls to his sweater-vest. Also, he carves intricate portraits of his family on pumpkins, which Leslie says nobody will want.
70. He  happily brings pizza to the office right after Leslie finds out her votes have been recalled. Chris tells him, "Larry, everyone is miserable, and you are only making it worse."
"FLUORIDE" (S6, E8)
71. While trying to get his inhaler back from April, Jerry is told, "Larry, this is part of a real-estate transaction now, you have no legal claim to it." "Sorry, I had no idea," he responds.
"THE CONES OF DUNSHIRE" (S6, E9)
72. Jerry discovers a method to create clean, renewable energy, but then sneezes and breaks his prototype.
"SECOND CHUNCE"
73. Jerry chokes on cracker dust during Chris's proposal to Ann.
"NEW BEGINNINGS" (S6, E11)
74. Jerry is startled when Leslie yells, and he spits up part of a burger onto a table.
"ANN AND CHRIS" (S6, E13)
75. Jerry fails to get Leslie to follow him to Ben's anniversary present.
"NEW SLOGAN" (S6, E15)
76. Jerry hits his head on his desk.
77. He straps himself to a chair with his belt.
78. He straps himself to a chair with his belt again, while trying to run a public forum.
79. He fails to catch grammar errors on the new Pawnee slogan.
"GALENTINE'S DAY" (S6, E16)
80. Jerry's tuna-fish sandwich stinks up Tom's suit.
81. Right after Ben stands up for him, Jerry walks into a trash can and farts loudly.
"FLU SEASON 2" (S6, E18)
82. Jerry shows up to work sick, so he is quarantined to a tent in the office.
"ONE IN 8,000" (S6, E19)
83. Jerry knocks over a mike stand while setting up the Johnny Karate show.
84. Jerry recounts how he swallowed his wedding ring while licking icing off of his finger, explaining that it's not the first time that this has happened, and that he's good at passing it by now.
"MOVING UP" (S6, E20)
85. Jerry gets Tom's menus made with photos of his dog's rectum.
86. Jerry breaks a glass. Tom says it's okay, then Jerry breaks all the glasses trying to pick up the pieces from the first glass.
87. Jerry, now Terry, drops a bunch of files and scolds himself.
"RON & JAMMY" (S7, E2)
88. Jerry spills coffee all over the place.
"WILLIAM HENRY HARRISON" (S7, E3)
89. Terry reveals Leslie's plan to find a landmark on the Sweetums land to Ron, which would make the land more likely to become a park.
90. Terry spoils that Leslie is holding a press conference about the Harrison Hunting Lodge, allowing Ron to come in after and outshine her with the Gryzzl presentation.
"LESLIE & RON" (S7, E4)
91. Terry doesn't let Leslie and Ron out of the office.
"SAVE JJ'S" (S7, E6)
92. Jerry is a fan of all the wedding cakes Craig had them sample, which means he failed Craig's taste test, since they are all store-bought.
"DONNA & JOE" (S7, E7)
93. It looks like Donna screwed up and put "Garry" on Terry's place card, so everyone starts jokingly calling him Garry. Joke is on them because that is his actual name, and the snafu was Donna's gift to Garry.
"PIE-MARY" (S7, E9)
94. Garry drops his wedding ring down a City Hall drain.
95. Garry drops the replacement ring and, subsequently, all his belongings down the drain throughout the episode. Later, Donna gives them all back to him in a baggie.
All the Times Jerry Screws Up on Parks and Rec
Things you buy through our links may earn New York a commission.