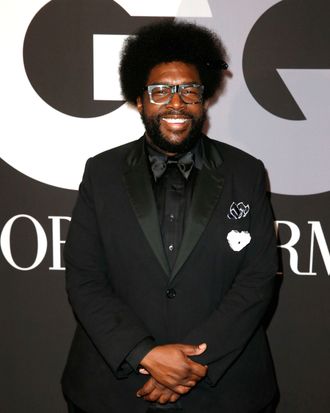 Recording artist Questlove attends GQ and Giorgio Armani Grammys After Party at Hollywood Athletic Club on February 8, 2015
Photo: Joe Scarnici/Getty Images
Are you ready to be green with Grammy-related envy? No matter where you watched the three-hour-and-thirty-seven-minute music-centric extravaganza, we're sad to report that we all missed out on the best performance from Grammy week. Well, unless you happened to be at one very special rehearsal day at which Blue Ivy Carter was spotted playing the drums.
That's right: The daughter of music-industry royalty Jay Z and Beyoncé, who is the youngest person ever to appear on a Billboard chart and knows the choreography from Sia's music video for "Chandelier," has added playing the drums to her musically inclined résumé.
Vulture learned of this adorable breaking news during a conversation with Questlove at GQ's post-Grammy party, during which the Roots drummer and Jimmy Fallon bandleader was telling us how his Grammy experience was this year.
"I got to see Madonna doing yoga backstage; I got to see Blue Ivy play the drums during rehearsal," Quest said nonchalantly.
Blue Ivy on the drums?! How is Blue Ivy on the drums?
"She's 3," Quest said.
But does she have any rhythm yet?
"Most definitely, yes," he said with a smile.
Please let us all be gifted with Bey and Jay–approved video of little drummer Blue Ivy in the very near future.