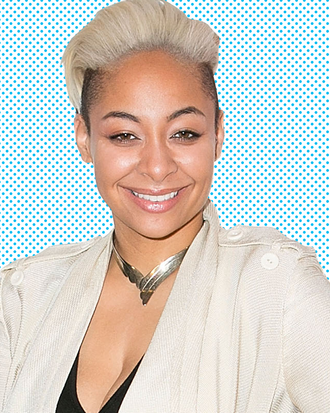 Photo: Gabriel Olsen/FilmMagic
Last night's episode of Empire ended with a major cliffhanger when Raven-Symoné made her grand entrance on the show — as the possible mother of Jamal's child! Or, at the very least, that's what her character, Olivia, wants the Lyon family to believe. We may not get to see Olivia again until later this season — she's slated to appear in episode 10 — but, as Raven tells Vulture, her character will soon make a lasting impression. We spoke with the actress about baby-mama drama, Jamal's complicated sexuality, and playing yet another Olivia.
How did you get involved with Empire?
Interestingly enough, I was on the set already visiting friends — Jussie Smollett, Terrence Howard, and everybody — just saying hi and seeing how everyone was doing. I was there for a little while and then I got a call from my manager and he was like, "Are you in Chicago?" I said, "Yeah, why?" "They want you to do this role coming up." And I said, "Wow! I would like to." So it was perfect timing.
Did they tell you much about Olivia and the bomb she'd be dropping on her first episode?
Oh, yeah, I knew about it beforehand. I definitely have to know what I'm gonna be playing before I say yes to it. You can have the most fabulous show in the world, but there's just some things I won't be part of because of what I believe as a human being. I think this role is very juicy and her story line, in the future, is going to shock people. And, being Empire — knowing the amount of juiciness that comes off of those pages — it's a force to be reckoned with. So I had to be a part of it, especially since, Lee Daniels, we've had meetings before in the past. And he definitely picked the [character] that, like, this is what I'll do before it goes over the edge.
Tell me about Olivia's backstory.
She used to be Jamal's backup singer. There's a lot of stuff going on — we definitely have a very odd history together. She was a part of his life for a few years for — how do I say this? — contractual and covering-up reasons. I don't really know how much I want to tell you because her story does get told in the next episode, along with more interesting details that I think only Cookie and Jamal will be able to explain better than I can.
Ilene Chaiken, Empire's executive producer, recently said that your character has only one more appearance this season. Any plans to bring her back for season two?
That's up to the producers. Hopefully, my job was done well and the audience and supporters of Empire enjoy the story that she brings. In my honest opinion, being a baby mama, you always got somethin' [in store]. So, we'll see.
I imagine fans were shocked not just by the news that Jamal might have a child, but that he slept with a woman. From what we've been told so far, he's gay — and has known he's gay since he was a child. What do you make of that twist?
I wasn't impressed or surprised because we live in a culture where people have to hide who they truly love from the beginning. You'll see a man married to a woman or a woman married to a man, but after 15, 25, or 30 years get divorced and then say, "I'm gay." It's just because of the hatred that comes in our society; people don't understand. So, it didn't surprise me. What does surprise me is the outcome of the situation at the end of the next episode you see me in. But him being with a woman or having a kid, in that sense, doesn't surprise me at all. It happens every day.
I got the impression from Lucious's reaction to seeing Olivia for the first time that he was expecting her. And that, given his hatred of Jamal's sexuality, he might've had something to do with her showing up out of the blue.
I think that the Lyons family, in truth, are always locked-in on [hating each other]. So, maybe that's about to happen — and maybe it's about to happen in a lot of ways — I can't tell you, but I will say it is very juicy information about what comes out and, also, what happens between Lucious, Olivia, Jamal, and Cookie. You get to see what a man will do in order to make something around him look more familiar. It's interesting to know that [Lucious] would rather lose his child than just accept him as he is. That's not abnormal in our day and age, is it? You'd think that us having Instagram and Twitter and actually being as progressive as we think we are —  we still can't accept people for who they are naturally.
Your character's named Olivia, an obvious callback to the role you famously played on The Cosby Show. What was your reaction to playing another Olivia?
Jussie and I both thought it was everythiiiiing. And when I found out that was the name, the first thing that came to my mind was that was my first name in this industry! I did a lot after that and then I took my little retirement break, in my mind, and I come back on the scene with the same name in some real juicy scenes! It's a good omen. So anytime I hear that name Olivia, I'm gonna definitely pay attention to it because it's connected with some great material.
You mentioned that Olivia was once Jamal's backup singer — and you've had a career in music as well as acting. Will we get to hear you sing on Empire?
Not on the next episode I'm in. That would have to be something that happens in the second season, if they decide to elaborate on the history between Jamal and Olivia.
Is that something you'd be interested in doing?
Well, I'm working on my own personal album this year. So you'll be hearing me singing, whether it's on Empire or not. I'm doing music that's very world-oriented; I'm not trying to be a part of any particular niche or trend. I want to make music that evokes emotion for all age brackets and has words similar to country songs — things that you put on when you're having a bad day … or those interesting moments in life and love when you're like, "No one would ever believe that this actually happened to me." Stuff like that. I don't want to do the things that I've done before under other labels.
What's the rest of your year looking like?
I'm on this new Disney Channel show with Zendaya Coleman, K.C. Undercover, and I play a character by the name of Symone Deveraux. That's on the Disney Channel and it's for one of my little sisters, and she's doing such a wonderful job in the industry right now. I've watched her [Zendaya] grow into this absolutely beautiful, beautiful woman, and I'm excited to help her in all of her future endeavors.