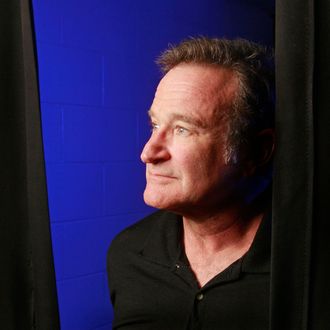 Photo: Jay Paul/2009 Jay Paul
Months after Robin Williams's death, the comedian's family has gone to court to wrestle over his wealth and belongings. The AP reports that the late actor's widow, Susan Schneider Williams, believes that his kids took some of her husband's effects without permission from their Tiburon, California, home. "Notwithstanding Ms. Schneider Williams's insinuations, the fact is that neither the Williams children nor any representative of theirs has been in the house or had anything taken from it since Robin Williams's tragic death," a Williams family spokesman emailed the Times on Monday.
Schneider Williams filed the initial accusation and petition to change the trust in December, and her husband's children — Zak, Zelda, and Cody (none of whom are Schneider Williams's) — filed their response last month. The kids view their stepmother's efforts as an insensitive way to tweak their dad's posthumous plans. Initially, Williams left his entire estate, as well as a Napa residence, to his kids, but his will was reportedly updated in recent years when Schneider Williams came on the scene. The edited version made it so she would receive the Tiburon home, its contents, and funds for its upkeep. The troublesome area has been that second portion: the contents of the home.
Schneider Williams has said she doesn't have any interest in retaining any of the items relating to her husband's career; however, she does want to keep things they would have shared during their marriage (e.g., his wedding tux). Unfortunately, that's not as simple as it sounds, because she's also expressed interest in the knickknacks he collected outside his profession. But the kids want those, too, because they contend their father shared his collections and hobbies with them growing up. Schneider Williams's lawyer has tried to quash any notion that his client is greedy, telling the Times that compared "to what the Williams children were set to receive from their father, this is a bucket of water in a lake." He also added that he didn't consider the case ugly, and said it wouldn't be a highly contested ordeal. The kids have said they want to get this over with as soon as possible so they can grieve properly.