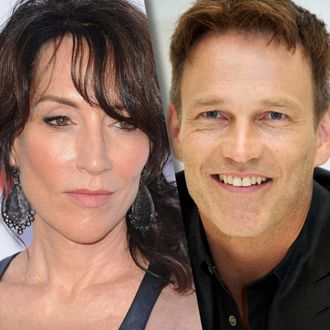 Katey Sagal and Stephen Moyer.
Photo: Jon Kopaloff/Getty and Vera Anderson/Getty
Kurt Sutter's new series Bastard Executioner already sounded like Sons of Anarchy in 14th-century Britain, and now it's got the cast to match, as Sutter has cast both himself and his wife as regulars in the series. Katey Sagal will play a mysterious fortune-teller, while Sutter will play a masked character who sounds like a sort of medieval Gimp. They'll be joined by Stephen Moyer, who will be playing an English chancellor; and Matthew Rhys, as the leader of the Welsh rebels. (He'll be recurring, so this won't conflict with The Americans.) None of these people are the titular executioner; that part will be filled by Australian newcomer Lee Jones, a man who, thanks to this guy, is essentially un-Google-able.