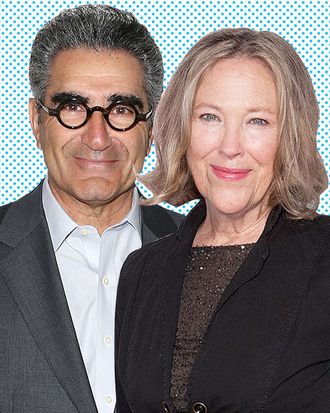 Photo: Frederick M. Brown/Gabriel Olsen/Getty Images/FilmMagic
There's a scene in Best in Show where Eugene Levy and Catherine O'Hara's married characters' credit cards are declined and they have to spend the night in a hotel's custodial closet. In Levy and O'Hara's new show, Schitt's Creek, they find themselves in similar bind, albeit of the richer, more Canadian variety. Creek, which was co-created by Eugene and his son Dan Levy, who also co-stars, follows a wealthy family who has to upend their lives to a small town after losing all their possessions. It premieres Wednesday night on the POP TV – formerly the TV Guide Network – after a successful run on the CBC in Canada, and it was recently picked up for a second season. Vulture talked to Levy and O'Hara by phone about their 40-plus years of performing together and their many onscreen romances leading up to now. Though the phone cut out multiple times, they remained very charming.
Are you both in the same city at the moment?
Catherine O'Hara: I'm in Bloomingdale's, in line to get a cup of tea.

Eugene Levy: We're both in the same city, in different places, staying at the wonderful Waldorf Astoria in downtown New York City. Or is it uptown New York City?
Depends on where you are, perhaps.
EL: A-ha. Yes. It's freezing rain here today.
CO: Lovely, really.

Do either of you remember the first time you performed together?
CO: Well, I was a waitress and I would watch Eugene onstage and dream of being up there with him. And then I auditioned for the Second City company and John Candy hired me, God bless him, and then I got to understudy Gilda Radner. That was 1974?

EL: Yes, 1974. The Toronto company of Second City and the Chicago company had switched for a month, they went up to Toronto and we went down to Chicago, and that's when Catherine came into the show and replaced Gilda, who went on to do National Lampoon, I think. The first time you replaced Gilda I can barely remember, but when we got back to Toronto and started our next show, the images of scenes became clearer. "A woman is a body, not a brain." Remember that one?
CO: Oh, sheesh. Yeah.
EL: We did a musical number called  "A Woman Is a Body Not a Brain."
CO: We allowed that?
EL: Right. I think it was funny because it was kind of a tongue-in-cheek thing. It was actually pro-women's lib at the time because it made the men look really, really stupid. I do know that Catherine slipped in seamlessly when she replaced Gilda in the show.
CO: I was just imitating Gilda, I'm sure.
Was Best in Show the first time you played a couple onscreen?
CO: I think so, yeah.
EL: Yes. A fun couple.
I always think about Catherine's walk from the end of that movie. It's one of the best physical bits I can remember, when she sprains her ankle and hobbles across the stage.
CO: Honestly, I had been waiting my whole life to use that walk. My dad used to do that walk. We have seven kids in our family, and every one has a version of that. Some of them were actually PO'd I got to do it in the movie.
EL: When Catherine showed us that walk, Chris Guest and I, we died. We thought: What a gift this is.
It's not often you have a special walk in your family that fits into a scene so perfectly.
CO: I hadn't showed it to Eugene and [Christopher Guest] until the night before we shot the scene. They said, "You have to hurt yourself in the scene and you might have to walk with a limp." And I said, "Well, can I walk like this?"
EL: And as soon as we saw it, we died. It's tough to make a sprained ankle funny. How do you make a limp funny or credible without it seeming like you're acting having a limp? And when we saw this wobbly leg thing, we just died.
Eugene, was Catherine who you immediately had in mind for her role in Schitt's Creek?
EL: No, we went through every actress in the Screen Actors Guild, and then somebody reminded me, "Oh, Catherine …"

CO: [Laughs.]

EL: She was our first choice. yes. She's always our first choice. On Waiting for Guffman, she was the first name that came up in our little troupe. Both of us. "Who do you want to bring in?" "Catherine." Always. For this the question was, would she want to do it? Would she commit to a TV series?
Did it take some convincing?
CO: Eugene and Dan [Levy, Eugene's son] had written a 15-minute pilot presentation and I said, "Well, I don't really want to do a series right now." And they said, "Oh, that's okay, just come do this one part."

EL: I have to credit Daniel, because usually this whole process takes multiple years. And Catherine had initially said, "No, I don't want to make that commitment," so when the show got picked up, we started to look for somebody else. And just as the call was going through to other actresses, Daniel called back and said, "Do you want to try Catherine again?" And I said, "I don't think she wants to do it." And he said, "Well, why don't you just call her? Double check." And then she did the pilot.
CO: Let's not act like it's some big coup. It's not a coup.
Eugene, what was it like working with your son on this show?
[Eugene cuts out.]
CO: Oh no! I thought it was me because I'm in Bloomingdale's. 

Just walking around?
CO: I'm on the sixth floor, and there's a café. Actually, I'm sitting in the pots and pans section.

[Eugene comes back.]

EL: I must have been talking for five minutes before I realized the line was dead.

CO: I bet it was interesting and funny.

Do you remember what you said?
EL: I have no idea. But working with my son, I'll just say it was wonderful. It went from me working with my son on a fun project to me working with a partner on a project that had some real merit. It's kind of surreal, actually.

Catherine, was there any hesitancy working with a father/son duo? You never know how that kind of dynamic will play out on a set.
CO: Right, you really don't know what you're getting into. I actually hadn't thought about it too much until I was on my way to go shoot. I was like, Oh, wow, I hope Daniel's good. And I hope they like working together. But they're great together. Daniel is a great writer and actor and has great taste. It's a great relief for me.

EL: And a great relief for me.

CO: [Laughs.]

Schitt's Creek is very scripted, while you guys have predominantly improvised together onscreen in the past. Was it tempting to slip back into that improv rhythm while you were shooting?
CO: If you have a great script and great dialogue, you don't need to improvise. There was definitely the freedom to do that, but in this case, you know you have a great script.

EL: We were lucky in that even though this show is scripted, we have a great cast that make it sound like it actually isn't. It echoes the sensibility of the movies that Chris [Guest] and I made.
Why do you think you keep reappearing in different projects as couples? Is there a particular rapport you two have that lends itself to that?
CO: I don't think we think of it that way. It wasn't that way in SCTV or at Second City, but then we did play a couple in Chris's movies.

EL: Yes, in A Mighty Wind and Best in Show. There was a lot of exposure with those two movies, and in A Mighty Wind it was funny, but the relationship had a very strong emotional underpinning as well. So I guess people walked away from that movie thinking, Oh, this is a great pair. I love it when these people pair up together.
CO: [Laughs.]

EL: It's also the Second City sensibility we share. Everyone who comes out of Second City shares this … It's not so much a style, it's what you're trained to do when you're there, and you know this is the kind of humor you love, and this is what you want to incorporate into your work. Catherine and I approach the work in the same way.

CO: Whoa! Did you hear that? Someone's dropping pots.

EL: What?

Catherine's in the pots and pans section of Bloomingdale's at the moment.
CO: Wow, that was very loud.