See Rare Behind-the-Scenes SNL Photos
Photo: © Mary Ellen Matthews
There's no shortage of commemorative Saturday Night Live 40th-anniversary activity going on, but even so, Taschen's lavish new book Saturday Night Live, the Book stands out.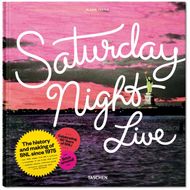 Culled from the show's own archives, the images in the book constitute a treasury of rare SNL moments, a handful of which you can see here. Not a bad way to reacquaint yourself with some of the show's history before this Sunday's TV special.
And it's got the greatest Coneheads photo you'll ever see.