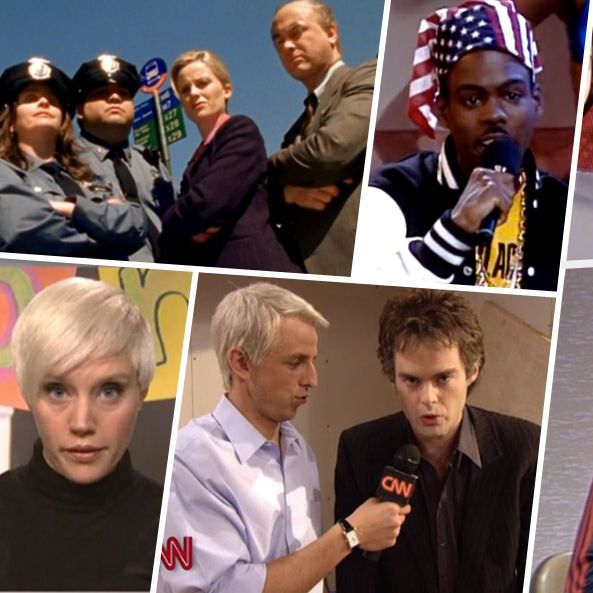 Over the course of its storied run, Saturday Night Live has been the home of many comedic geniuses with iconic characters we all know very well. But each of those geniuses had to start somewhere. With the show celebrating its 40th anniversary this weekend, we wanted to dig up cast members' first-ever appearances. Here are 53 of the greats.
Fred Armisen (first appeared October 5, 2002)
Armisen started strong, with his Venezuelan comedian character Ferocito, who would become one of Armisen's first breakout characters on the show.
Dan Aykroyd (October 11, 1975)
One of the original Not Ready for Prime Time Players, Aykroyd appeared in SNL's first episode five times, starting with the "New Dad" commercial. The show's series premiere is available on Hulu in full:
Vanessa Bayer (September 25, 2010)
Bayer's first appearance came very early in her first show, with her briefly showing up in the cold-open:
John Belushi and Chevy Chase (October 11, 1975)
The first-ever episode of the show opened with "The Wolverines," which starred Belushi and Michael O'Donoghue. Chase also pops up.
Dana Carvey, Phil Hartman, and Jan Hooks (October 11, 1986) Three SNL greats all started with the same sketch: "Quiz Masters." Hartman played the host (as he'd go on to do many, many more times), Carvey as a psychic, and Hooks as the contestant who unfortunately has to go up against him.
Billy Crystal (October 6, 1984)
With no host — Reagan's secretary of labor Raymond Donovan canceled — a nervous Crystal took the reins and did what he does best:
Jane Curtin, Garrett Morris, and Gilda Radner (October 11, 1975)
These three original cast members first hit the Studio 8H stage in the first episode's "Courtroom" sketch.
Robert Downey Jr. (November 9, 1985)
Before he was Iron Man, Robert Downey Jr. was suitcase boy. But even before that, he appeared as Sean Penn in a Madonna monologue.
Rachel Dratch (October 23, 1999)
As a new featured player, Dratch impersonated Calista Flockhart on "Crosstalk."
Nora Dunn and Jon Lovitz (November 9, 1985)
Dunn and Lovitz debuted in the "Where You're Going" commercial:
Jimmy Fallon (September 26, 1998)
Ever famous for his impressions, Fallon took the SNL stage as Gilbert Gottfried in "The New Hollywood Squares" to kick off his inaugural season.
Chris Farley (September 29, 1990)
The legendary Farley began his five-season SNL career with this Twin Peaks parody, playing Leo Johnson:
Will Ferrell and David Koechner (September 30, 1995)
Both Ferrell and Koechner played parts in the season-21 premiere's cold-open, about O.J. Simpson. Then they were introduced in Mariel Hemingway's monologue and featured in this commercial about A.M. Ale:
Will Forte (October 5, 2002)
Forte's first credited sketch is as the voice of an imaginary porcupine on "Brian Fellow's Safari Planet." We first saw his face, though, as one of Hannibal Lecter's college roommates.
Ana Gasteyer (September 28, 1996)
Gasteyer went all out as former MTV VJ Kincaid:
Bill Hader (October 1, 2005)
Hader showed up in Steve Carell's episode as Dr. Daniel Lane before unveiling his Al Pacino.
Darrell Hammond (September 30, 1995)
In the same batch as Ferrell and Koechner, Hammond was introduced by Hemingway and "A.M. Ale."
Chris Kattan (March 16, 1996)
Kattan, first a featured player on the show, introduced himself as Suel Forrester:
Julia Louis-Dreyfus (September 25, 1982)
In a bit of then-pop-culture throwback, Louis-Dreyfus made her debut in one of Chase's land-shark bits.
Norm MacDonald (October 2, 1993)
MacDonald was a caterer in the monologue and a boyfriend's voice for this sketch in his opener.
Kate McKinnon (April 7, 2012)
Before unveiling her Penelope Cruz, McKinnon tried her hand as Tabatha Coffey:
Seth Meyers (September 29, 2001)
Before he was a late-night host, Meyers was a skateboarder, advocating for Preparation H:
Tracy Morgan (September 28, 1996)
Morgan hit the screen as a subway passenger in a Roxbury sketch.
Bobby Moynihan (September 13, 2008)
The eventual Drunk Uncle premiered in five sketches (including the cult classic Mark Payne), starting with "Quiz Bowl."
Eddie Murphy (December 6, 1980)
With a couple nonspeaking and uncredited spots in prior episodes, Murphy got his first speaking role in the sixth season's third episode. He unveiled Raheem Abdul Muhammed (shown here in a later episode).
Bill Murray (January 15, 1977)
Murray had five appearances in his first SNL episode — his first was as a grandfather in a commercial. You can catch the whole season-two episode here:
Mike Myers (January 21, 1989)
Beginning as a featured player, Myers played Nigel in John Malkovich's "You Mock Me" sketch:
Kevin Nealon (October 11, 1986)
Nealon introduced himself with one of his most famous characters, Mr. Subliminal:
Cheri Oteri (September 30, 1995)
Oteri can be seen in "A.M. Ale."
Jay Pharoah (September 25, 2010)
Pharoah made his first appearance with a Will Smith impersonation on "Weekend Update." (Unfortunately, footage of the first one is not online, but here's a later one to give you a taste.)

Amy Poehler (September 29, 2001)
There's some dispute over when Poehler's first official SNL sketch occurred; however, internet sleuths peg this as her first appearance, in which she helps make fun of Law & Order:
Rob Riggle (October 2, 2004)
Remember Dr. Porkenheimer's Boner Juice? Then you probably remember the Riggle:
Chris Rock (September 29, 1990)
As a featured player, Rock dealt with a lot of butt talk in his portrayal of Luther Campbell from 2 Live Crew:
Maya Rudolph (May 6, 2000)
There isn't footage of Rudolph's first clip online, but she painted a clear picture of what happened in this Blackbook interview with John Krasinski:

The first show was a hard one, because I started with only three episodes left in the 25th season. I was thrown in, which was probably a great way to do it, but also really intimidating and terrifying. The first show I ever did, I played Ananda Lewis, who, at the time, was a VJ on MTV. I remember I was wearing a leather bikini and a trench coat — which was great when my grandma and I got to talk about it. And I remember I was holding a microphone because I was VJ-ing — I swear, it's not a dirty word — and my hands were tight and my knuckles were white because I was holding the microphone so tightly, while concentrating on the cue cards … and I broke my SNL cherry that night.
Andy Samberg (October 1, 2005)
Before all the now-classic digital shorts, Samberg was Poehler's mop-headed, drug-dealing boyfriend:
Adam Sandler (February 9, 1991)
A taciturn Sandler helped repair — or, rather, remove — a copy machine in one of Rob Schneider's Richard Laymer sketches:
Rob Schneider (October 27, 1990)
Nealon and Schneider played a couple of white-trash twins for the latter's first bit:
Molly Shannon (February 25, 1995)
Before her triumphant reign as the significantly sweatier superstar Mary Katherine Gallagher, Shannon appeared with fairly dry armpits in a George Clooney monologue.
Martin Short (October 6, 1984)
Short was in the first cold-opening of season ten's premiere, in which he had nearly half a dozen other roles.
Sarah Silverman (October 9, 1993)
As a featured player, a young Silverman began as Natalie Merchant and moved on to a couple other impressions (Marisa Tomei, Cher).
Jenny Slate (September 26, 2009)
Marcel the Shell was also the wife of a human in SNL's Bladdivan commercial:
David Spade (November 10, 1990)
A leather-clad Spade donned a Chia wig because his first sketch character didn't share his long, flowing locks:
Ben Stiller (March 25, 1989)
In this clip, a longtime legend meets a soon-to-be new one, as Stiller goes toe-to-toe with Mary Tyler Moore's customs officer:
Jason Sudeikis (May 7, 2005)
Sudeikis brunched with Johnny Knoxville for his debut. You can catch all of the mayhem here.
Kenan Thompson (October 4, 2003)
Thompson still looks like he hasn't aged a day since All That and Kenan & Kel, but here he looks particularly fresh:
Kristen Wiig (November 12, 2005)
One of the more recent all-stars, Wiig began with "The Soaking Wet Killer."