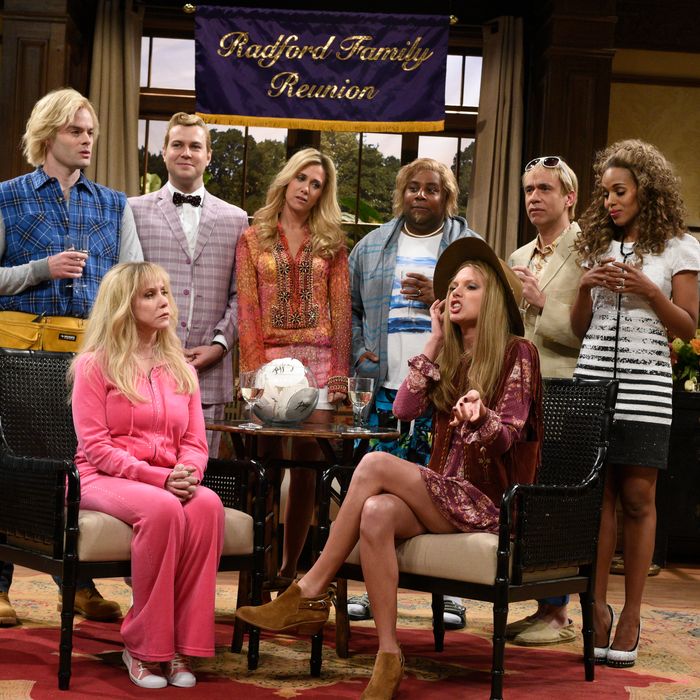 One of the best jokes in Saturday Night Live's 40th-anniversary special was the appearance of original cast member Laraine Newman in a reprise of the running faux soap opera "The Californians." Newman's character arrives on set, identified as Kristen Wiig's mother, to complain, "I was having a therapy session on the phone, but I almost didn't hear it because you guys were arguing." If the reference passed by you, Newman is reprising a character she played four decades ago, a kind of pro-California stereotype. This classic sketch depicted her in a New Age–y therapy session with Don Corleone, played by John Belushi.
Except for the obsession with freeway directions, Newman's character had all of the elements of the California stereotype found in "The Californians": blond hair, vanity, relationship drama, a total lack of social awareness, and a comical West Coast accent. A New York–centric disdain for California runs deep in SNL's culture.
How deep? New York's original review of the show by Jeff Greenfield from 1975 focuses on the program's then-unusual decision to locate in Manhattan rather than Los Angeles, as most television programs did at the time. The city, of course, was a crime-ridden fiscal basket case at the time. Its higher real estate and labor costs meant NBC had to pay 40 percent more to shoot in New York than it would have on the left coast. Greenfield's reporting shows that this decision reflected a calculation both that New York lent the set an energy it could not find elsewhere, along with a belief that Los Angeles was unsuitable because of its preponderance of, well, Californians:
"Your mind atrophies in L.A.," says Chevy Chase, who wrote for the defunct Smothers Brothers comeback show last year. "Nobody reads the papers out there. It's all one thing — 'the business.' In New York, you're right out on the streets." George Carlin, the comedian who hosted the premiere show, observed that "there'd be no point in doing a live show in L.A. It'd be dull."
Forty years later, SNL's contempt for the Golden State has not diminished.