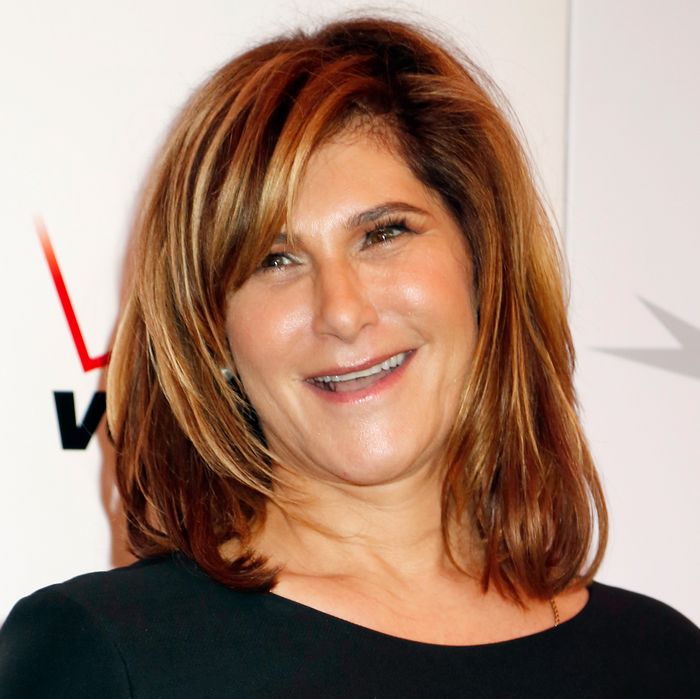 Amy Pascal.
Photo: FRED PROUSER/? Corbis. All Rights Reserved.
One of the most contentious chapters in movie-studio history came to an end today as embattled Sony Pictures head Amy Pascal stepped down, transitioning to a new role as a producer at the studio. Pascal had weathered brutally negative press in recent months as the massive Sony hack revealed a corporate culture in crisis: Each day last December seemed to bring a new damaging email exchange to the fore, whether it involved Pascal sparring with superproducer Scott Rudin about Angelina Jolie, blithely speculating about the president's taste in black films, or dithering about the future of the company's fading Spider-Man franchise. Still, there's more to Pascal's stepping down than just the leak.
Simply put, Sony had been in a bad place for a while, and this latest, greatest incident was the final punctuation mark. The shit really started hitting the fan for Pascal back in 2013, when the studio suffered through a summer season distinguished by twin bombs After Earth and White House Down. For everyone else, 2013 was a record-breaking year where three blockbusters grossed over $400 million domestically and nearly every studio had multiple franchise-spawning hits that passed the $200 million mark; meanwhile, Sony's biggest success was American Hustle, which made just $150 million — a terrific total for that particular film, but not exactly the sort of thing you want at the top of your earnings report. (The next two highest-grossing Sony movies that year were Grown-Ups 2 and Cloudy With a Chance of Meatballs 2, both of which failed to make as much money as their predecessors.)
Sony's dramatic underperformance that year prompted billionaire Daniel Loeb — who has used his Third Point hedge fund to become a major investor at the studio — to repeatedly take Pascal and her co-chief Michael Lynton to task in the press, blasting the studio heads for their inability to produce new blockbuster franchises in a moviemaking climate that is now dominated by them. And while Sony ally George Clooney hit back at Loeb, calling him a "market manipulator" who would scare the studio into only producing tentpole properties, the investor did have a point: Sony's franchise-making heyday had long passed, and the studio was still yoked to movie stars and properties whose returns had been continuously dwindling, like Will Smith, Adam Sandler, Men in Black, and Spider-Man.
The sputtering of the Spider-Man franchise was a particular problem for Pascal, who couldn't seem to settle on a strong direction for the character. Sony recast the superhero for a 2012 reboot that failed to outgross Sam Raimi's three previous Spider-Man films, while last year's critically derided sequel The Amazing Spider-Man 2 was the franchise's lowest performer yet. That downward trajectory put Pascal into panic mode, prompting the studio to delay The Amazing Spider-Man 3 even as plans continued to expand Spider-Man's shrinking universe with spinoffs like the villain-centered Sinister Six. Even a potential deal that would loan Spider-Man out to the hugely successful Marvel Studios failed to come to fruition, as leaked emails revealed Pascal's continued indecision on all things Spidey.
Sony did have one bright spot last year — the 21 Jump Street franchise boomed with its second installment, which nearly outgrossed the studio's own The Amazing Spider-Man 2 — but Pascal remained on thin ice into the winter, when headlines were dominated by the studio's disastrous attempt to release The Interview and the continued damaging revelations from the email leak. Those would be difficult blows for any studio head to recover from, but they proved impossible to surmount for Pascal, who came into that imbroglio already hobbled. The primary tasks for her successor, then, will be twofold: He or she will have to continue restoring Sony's post-hack reputation while inevitably capitulating to the demand for bigger blockbusters that Pascal wasn't able to meet. At least the slate they'll inherit contains two bright spots: This November, Sony has the James Bond sequel Spectre on tap (which follows up 2012's Skyfall, the studio's biggest worldwide performer ever); and Paul Feig's highly anticipated Ghostbusters reboot will land July 22, 2016, a release date Pascal picked as one of her last orders of business.