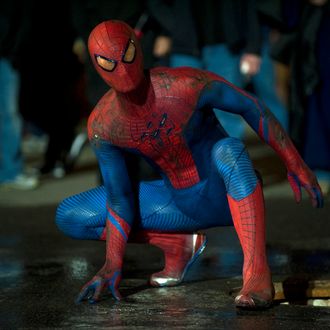 Andrew Garfield in The Amazing Spider-Man.
Photo: Jaimie Trueblood/Columbia Pictures
A beautiful thing is happening: Marvel and Sony have struck a kindergarten-y-type arrangement in which they'll share Spider-Man. According to a late-night press release from Marvel, a "new Spider-Man will first appear in a Marvel film" sometime soon (no word on which one), firmly placing the venerable character in the Marvel Studios fold, alongside the Avengers, the Guardians of the Galaxy, and basically every other Marvel Comics character without an "X" or a "Fantastic" in their team name (since those are owned by 20th Century Fox). The new Spidey (The Hollywood Reporter says it won't be Andrew Garfield) will then sling webs in his own film on July 28, 2017.
That solo Spider-Man film will be co-produced by Marvel's Kevin Feige and Amy Pascal (of Sony fame). And when it comes to the ensuing Spider-Man flicks, well, the web-filled sky is the limit, as Spidey can now get guest appearances from other Marvel heroes (Thor! Iron Man! Daredevil! Captain America! Captain Marvel! Wait, all of the captains!) This is, of course, a squeal-inducingly joyful moment for superhero geeks everywhere, especially given that last year's Sony hacks revealed that previous talks to bring Spider-Man into the Marvel Studios stable had fallen through. No word on what this means for the proposed Sinister Six–Spidey spinoff, nor the mysterious female-led one, but who cares. Let's hear it for media conglomerates learning to play nice and make money together.