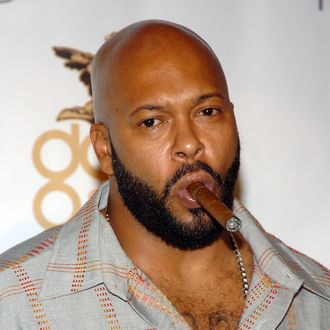 Security footage of an alleged ambush could help Suge Knight's defense against his murder charges, his lawyer said Wednesday. Knight's attorney, David Kenner, did not elaborate about the contents of the video, but he told the AP that details about his client's case have been one-sided and that people should remain objective. TMZ first reported about the unreleased surveillance footage, which comes from a Compton burger joint's parking-lot cameras. Sources told TMZ that the tape shows Cle Sloan and another person pointing guns at Knight before the hip-hop mogul escapes.
Sloan's lawyer told the Daily News the report is inaccurate because his client did not have a gun during the hit-and-run. The L.A. County Sheriff's Department has confirmed it has some sort of video from the eatery but hasn't commented on its contents. Some outlets have reported that the altercation that prompted last month's fatal crash could have stemmed from a potentially embarrassing portrayal of Knight in the upcoming Straight Outta Compton movie. Since Knight's arraignment, he has remained in jail without bail. He has pleaded not guilty to the hit-and-run and murder charges related to Sloan and Terry Carter — the latter of whom died from his injuries.
Even if all goes well for Knight in the hit-and-run case, he might still have another hurdle to clear. Kenner also appeared in court today for a brief hearing about a robbery charge that claims Knight and comedian Katt Williams stole a celebrity photographer's camera. Both men have pleaded not guilty, but prosecutors are trying to add a felony charge against Knight for allegedly threatening the photographer. Now Knight faces two potential charges that could both lead to life in prison.