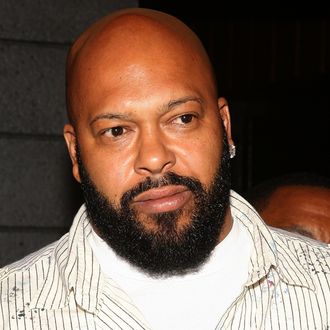 Photo: Jesse Grant/Getty Images
By the time his first court session was over on Tuesday, Marion "Suge" Knight was hurrying to a hospital in an ambulance. The AP reports the former hip-hop mogul complained about chest pain following his arraignment for last week's hit-and-run crash, which left actor Terry Carter dead and filmmaker Cle Sloan injured. Mark Blankenship, Knight's business associate, told CNN that Knight is looking for special medicine for an undisclosed condition. TMZ described the incident as a panic attack, but other specifics are unavailable.
Knight's attorneys claim he was trying to escape a burger-stand parking lot for fear of his life, after an argument that took place on the set of the N.W.A. biopic Straight Outta Compton. At the arraignment, lawyer David Kenner said Knight feels bad about Carter's death, but it wasn't his fault. Sloan is recovering in a secret location under high security, according to his lawyer, but has a mangled left foot and might not walk again. The prosecution maintains the crash was intentional.
Knight will continue to be held in jail without bail because authorities have deemed him a flight risk and a three-strike candidate. The Death Row Records founder is scheduled to return to court on February 9 for bail consideration. If convicted, Knight could serve life in prison.