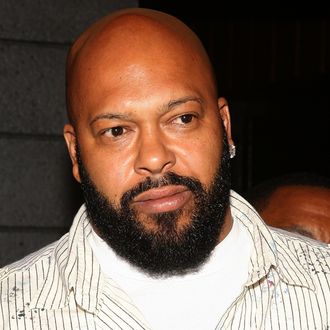 Photo: Jesse Grant/Getty Images
Marion "Suge" Knight is looking at life in prison if he's convicted for a handful of felony counts, including last week's death of Terry Carter. The L.A. Times reports that the hip-hop mogul was charged with murder and attempted murder Monday afternoon, four days after he allegedly drove to a Compton film shoot for the forthcoming N.W.A. biopic, got in an argument, and struck two men with his truck. The official charges, which also included two hit-and-run counts, came the same day Knight's $2.2-million bail was nixed. An L.A. County Sheriff's Department spokeswoman told the Times that Knight's bail was revoked because he's a flight risk as well as a three-strike candidate; officials were also worried he might intimidate witnesses.
Although Knight surrendered to L.A. authorities last Friday, his attorney, James E. Blatt, said his team was confident that once the investigation was done, [Knight] would "be totally exonerated." Blatt confirmed that Knight was behind the wheel of his truck when he threw his car into reverse and mowed down Carter and filmmaker Cle Sloan, but said he was trying to escape for fear of his life.
In a felony complaint obtained by the Times, prosecutors — and purportedly some witnesses — contend that the act looked intentional and that Knight followed the two men after an earlier altercation. TMZ adds that authorities have obtained a portion of video footage, which does not help Knight's case. Knight is scheduled to be arraigned Tuesday morning in L.A.