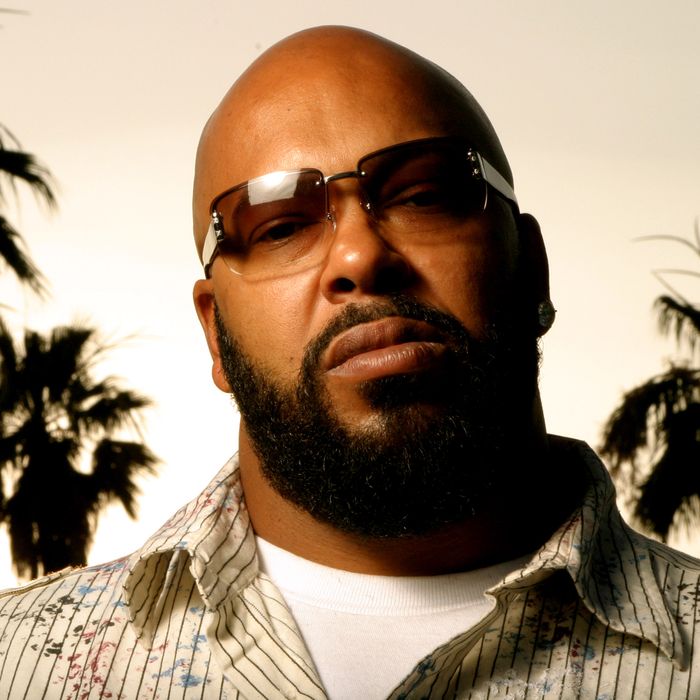 Photo: Jonathan Alcorn/ZUMAPRESS.com
Last week, news came out that Suge Knight, the former CEO and co-founder of Death Row Records, is being investigated in a possible hit-and-run. Though Knight's lawyer claims his client will be "totally exonerated" when the investigation is all said and done, if convicted, Knight might face life in prison. This is, of course, not Knight's first run-in with law, as he's been in hot water many times over his nearly 30 years in the music business. Here is a timeline:
1985–1986: Suge heads off to UNLV to play football. A well-built defensive end, his "6-foot-4 frame and his talent outweighed any concerns" anyone has about a possible affiliation with the Bloods. Wayne Nunnely, his head coach, says, "He wasn't a problem guy at all. You didn't really see that street roughness about him." Of course Suge was still low-key back then. In his book LAbyrinth, Randall Sullivan calls Knight "perhaps the biggest drug dealer on campus." He drops out shortly before graduating.
1987: Though not drafted, he ends up playing in the NFL for two games, lining up for the L.A. Rams during the players' strike. Meanwhile, off the field, in October, he gets into numerous arguments with his girlfriend Sharitha Golden, leading her to file a massive restraining order covering herself and her mother, sister, and aunt. Threats are made; he tampers with her car. According to Sullivan, Golden called the cops on Suge after he grabbed her by the hair and cut off her ponytail. 
Two weeks later, on Halloween night, Suge is arrested after shooting a man in the leg and wrist while attempting to carjack the guy's Nissan Maxima. Police find Knight with a .38 Smith & Wesson revolver tucked into his waistband. His reputation as a UNLV athlete intact (and aided by the help of a powerful attorney), the judge sends him off with a $1,000 fine and three years' probation.
1988: He reportedly assaults someone at Los Angeles International Airport. 
1990: Around this time, Suge's doing security for Bobby Brown, but his main source of action is with the Tree Top Bloods, distributing cocaine and running guns. Trouble follows: On June 6, following an argument outside his own home, "Suge used a pistol to break a man's jaw. He pled guilty to felony assault with a deadly weapon yet again managed to walk away with a $9,000 fine and two year suspended sentence," writes Sullivan. Knight pleads no contest in late October, and — two months later — puts in a guilty plea to carrying a concealed weapon. No time is served; he gets more probation.
1991: Suge sees the record industry as a way of legitimizing the money he's already making. By 1991, he's managing Mario "Chocolate" Johnson, a rapper who had co-authored much of Vanilla Ice's "Ice Ice Baby" but hadn't been paid royalties. After producing lyric sheets and witnesses at a sit-down with Ice's label, Sony gives Chocolate a six-figure check to make things good. (This is opposed to the long-standing rumor that Knight dangled Ice over the balcony of a hotel.)
On September 19, Suge submits another guilty plea for another battery. But he's still trying to go straight and wants to start a record label. Unfortunately, the artists he wants — his new friends DOC and Dr. Dre — are signed elsewhere, with Eazy-E's Ruthless Records. Suge is reportedly one of many telling Dre to get out of Ruthless, that he's getting ripped off, so Dre asks Eazy-E, leader of NWA, to sit down and talk. As Jerry Heller, manager and owner of the group's label, would later write, "When Eazy enters the building and heads up to the third floor … the place feels wrong, deserted. No Dre. Instantly Eazy realizes that he has been set up. Suge Knight walks into the studio through the control room door, and he brings along a pair of big-shouldered guys, each carrying a Louisville Slugger." According to Heller's account, Suge threatens to kill Heller and Eazy's mom. Eazy-E doesn't believe him, but he also doesn't believe it's impossible. He signs away all rights to Dre, singer Michel'le, and DOC. Suge names his label Future Shock Records, but months later it's renamed Death Row Records and housed under Interscope.
1992: Death Row's first release, Dr. Dre's The Chronic, sells 5 million albums. Regardless of the success, that May, Dre, Suge, and DOC head down to New Orleans for a movie premiere for which they don't have tickets. What results is "a brawl that took as many as 80 police officers, some of them on horses, to break up." All three are arrested.
A few months later, George and Lynwood Stanley, a duo hoping to sign to Death Row, "were attacked by Knight, who ordered them to their knees at gunpoint and fired one shot near them. Knight then beat Lynwood Stanley with the gun, then ordered both brothers to take off their pants." This was because they used an office phone without permission. Knight gets a nine-year suspended sentence. Pleading no contest to both counts of assault in 1994, this would be two strikes in California, a state that allowed three.
1993: In Las Vegas, Knight is "listed as the 34th defendant in a drug-distribution indictment in which cocaine was transported from Los Angeles and sold in Las Vegas, whereafter Knight ended up with a conviction for gun possession. [Again, as] in each of the aforementioned cases, Knight served no prison time, but was instead put on probation." —Jake Brown, Suge Knight: The Rise, Fall and Rise of Death Row Records.
1995: On January 18, he's hit with a charge of conspiracy to illegally possess a firearm. A month later, he submits a guilty plea to two counts of assault with a firearm; once again, he'll serve no jail time. At a Death Row party in April, Kelly Jamerson was beaten to death; no one was arrested (but Suge Knight was thought to be involved in some way).
On the night of August 3, onstage at the Source Awards, Suge delivers the most terrifying acceptance speech ever made: "Any artist out there, who wanna be an artist and wanna stay a star and don't want the executive producer trying to be all in the video[s], all over the record, dancin', come to Death Row." It's a straight shot at Puffy. Once friends, Puffy's Bad Boy Records and Death Row have been antagonizing one another for a while through songs and videos … but this has turned a corner.*
On September 23, while Puffy claims he was talking to Suge outside an Atlanta nightclub, shots ring out; Jake Robles, Suge's friend, fellow Blood, and bodyguard, is killed. Suge accuses Puffy of being involved, but he responds, "What are you talking about? I was standing right here with you!" The shooter reportedly climbs into a limousine filled with Puffy's friends.
In December, Tha Dogg Pound's trailers are shot up while the group films a music video in Brooklyn. Soon after, Newsweek reports, "at a company Christmas party in Beverly Hills, Knight allegedly forced a music producer to drink urine from a champagne glass after the man refused to give him the address" of Puffy's mother. "Knight denies such mayhem and adds, 'I don't p— in champagne glasses.'" 
1996: By 1996, Bruce Richardson, a high-school friend of Suge's, had become a rival, having built up his own company to mirror Death Row. Their problems came to a head: Bruce knew he was being screwed over on royalties; his artist, Dramacydal, did background vocals on Tupac's album All Eyez on Me. Suge refused to pay. That May, Bruce approached him in the club and slapped him up. Two weeks later, Richardson lay dead outside his own home in Los Angeles, with two Bloods suspected of killing him. (The case is still unsolved.)
In Las Vegas the night of September 7, Suge and Tupac were together after having grown apart. (They were in town for the Mike Tyson–Bruce Seldon bout.) Tupac had been going in a new direction for his planned final album under Death Row, one that didn't really fit with Suge's vision: "Weary of battle, Tupac began taking steps to repair bridges he'd burned throughout his career. Some of his new songs were political. He had plans to have children with his girlfriend, two movies about to hit theaters, hundreds of new songs recorded, and renewed relations with his estranged mom," Ronin Ro would write. But, for that moment, Tupac was smiling, keeping up appearances.
After seeing Tyson win, Tupac recognizes Orlando Anderson in the lobby, one of the eight Crips who had jumped an associate of Tupac's and stolen his Death Row chain earlier that summer. Ro writes that Tupac got in his face: "'You from the South?' Before he could answer, the Death Row entourage piled onto him, giving another of their trademark beatings. By participating, Tupac had crossed the tenuous line between rapping and gangbanging." There's video of Suge kicking Anderson repeatedly before following Tupac outside.
Ronin Ro, in his book Have Gun, Will Travel, has recaps of the rest of the night, but here are the bare facts: There was a convoy of fancy cars, "a black BMW, a black Lexus 400, a white Suburban, a black BMW station wagon, a light gold Mercedes — they stood out," said Las Vegas Metro Police Sergeant Greg McCurdy. Tupac was hanging out the window, inviting people to party. While stopped at a red light, a new Cadillac pulled up. Ten to 15 shots were fired; Tupac tried to climb into the backseat and caught four bullets. "There was blood everywhere. Suge's face was covered with blood; he tried to tell an officer he had been shot in the head. The officer raised a shotgun. 'If you don't get down on your knees right now, buddy, you're going to get shot in the fucking head again.'" 
"On Friday, September 13, 1996, at 4:03 p.m., a report aired on L.A.'s Channel 7: After six days in critical condition at University Medical Center, twenty-five-year-old Tupac Shakur was pronounced dead from respiratory failure and cardiopulmonary arrest."
A month after the shooting, Suge Knight was being held in L.A. county jail. ABC's Diane Sawyer asked, "If you knew any information about the identity of the parties responsible for murdering Tupac Shakur, wouldn't you want to tell the police about it?" Knight responded, "Absolutely not." When the newswoman asked why, he responded, "Because it's, it's not my job. I don't get paid to solve homicides. I don't get paid to tell on people." 
1997: Suge Knight had two strikes against him after pleading guilty to the Stanley assaults, and video of him kicking Orlando Anderson didn't help. Suge Knight still hadn't been to prison — prosecutors wanted to make up for lost time. With eight arrests and six probations since 1987, Los Angeles Deputy District Attorney William Hodgman asked in court, "How many bites of the probation apple does this defendant get?" The judge gave him nine years in prison.
1998: Orlando Anderson is murdered in Compton. Though police initially figured him to be Tupac's killer, the evidence fell flat. The final two years of his life are spent as the public face of a murder he didn't commit. As the Guardian would write upon his death, "One day, he sadly told his attorney: 'You know, I don't think I'm going to have a long life.'"
2000: The New York Post gets an interview with Suge Knight, still behind bars: "I wouldn't say I'm looking to become a role model when I leave prison, but the violent parts of my life have come to an end." 
2001: "The first thing that I'm gonna do when I get out of here is take an hour-long bath," says Knight, who ends up serving five of nine years. "I'm sick of showers." Meanwhile, the dots are still being connected: Jail inmate Mark Hylland informs the FBI Suge and LAPD hired him "to courier money to pay for the murder of [The Notorious BIG, in 1997]." The Baltimore Sun notes, "Knight's name is so frequently mentioned in the theories surrounding the two deaths that he has become a walking symbol of the rap industry's bloodshed."
2002: G-Unit's DJ Whoo Kid is playing in L.A.; he opens his set with 50 Cent's "Realest Killaz," a Ja Rule dis track that uses unreleased Tupac vocals. Suge Knight is pissed — he owns that verse, and he needs the money. So he and a phalanx of gang members chase the DJ into the street with guns until 50 Cent gets on the phone and squashes this beef.
On Christmas Eve, Suge is sent off to prison again, having violated four counts of his parole. (Feds had stopped by the new Death Row offices and found an unseemly group of people.) "If these charges are true and Suge did associate with gang members," his lawyer asked, "how could [the authorities] expect Suge to proceed with his work in the music world without coming into contact with possible gang members? He would have to lock himself in a closet."
2003: Only just released in February, he heads back to jail for a ten-month stint after fighting with a parking-lot attendant at Hollywood's White Lotus Club (his car was blocked in). His lawyer defends him: "That's totally ridiculous. I don't believe that at all. That's so un-Suge-like to hit somebody. Have you ever seen the size of Suge? If he hit one of those little valets, the guy would be broken."
2004: In November, Dr. Dre gets punched by Jimmy "James" Johnson at the Vibe Awards; the event is canceled halfway through, but not before Johnson gets stabbed by G-Unit rapper Young Buck. Authorities comb through video to see if Suge Knight played a role; Johnson had been seated at his table. He says, "I don't know why [I was accused]." Johnson tells the police Suge paid him to punch Dre and overshadow his Lifetime Achievement Award night.
2005: After losing some important lawsuits — including $107,000,000 in a Death Row ownership case and having all assets frozen by federal courts — Suge Knight parties in Miami at Kanye West's VMA party, where he's shot in the leg and loses a six-figure necklace in the madness that follows. He then sues Kanye for not providing adequate security.
2006: A federal judge orders a bankruptcy takeover of Death Row Records. "It seems apparent there is no one at the helm," the judge said, adding there appears to have been gross mismanagement. Suge Knight doesn't show up.
2008: Pictures of Suge Knight getting knocked out go viral. He'd been punched by Greg the Barber. The barber smiles and brags about still being alive. In August, he's charged with federal drug possession and misdemeanor battery, but those allegations get dropped.
2009: In February, a fight at the W Hotel in Scottsdale, Arizona, sends Knight to the hospital for "facial injuries." Sgt. Clark said, "It broke out and was over in a few seconds."
2013: After "straddling two lanes" of the road, Suge gets pulled over, where he's reminded his license is suspended. He forks over $20,000 for bail.
2014: With MTV VMA weekend in full swing, Knight is at the club when he's shot six times: "in the stomach and arm and apparently in other places as well." Showing his now-legendary resilience, he walked out to the sidewalk himself and waited for the ambulance to come.
In an unrelated incident, he and Katt Williams are brought up on charges stemming from a 2012 incident where they allegedly stole a camera from a "celebrity photographer." He pleaded not guilty but faces 30 years to life in prison if convicted, owing to the terms of his probation.
2015: Knight visits a movie set in Compton on January 29. There, he gets in an argument with two unidentified men. What happens next is currently the subject of an investigation. Knight proceeded to put his car in reverse, running over two men — one fatally. He has been charged with murder, attempted murder, and two counts of hit-and-run; however, Knight's lawyer, who confirms that his client was behind the wheel, attests that Knight was trying to escape out of fear for his life. If convicted, he could face life in prison. At first, a $2.2 million bail was set, but it was revoked as Knight is deemed a "possible flight risk, three-strike candidate," with "possible witness intimidation issues and his criminal past."
* This post has been updated to reflect that Bad Boy and Death Row did not explicitly antagonize each other in songs or videos prior to Suge Knight's speech at the 1995 Source Awards.