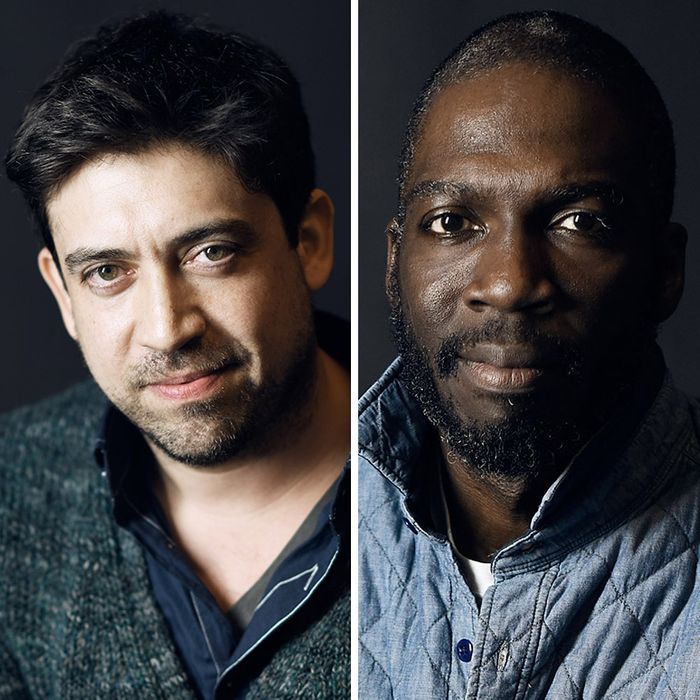 Alfonso Gomez-Rejon, Rick Famuyiwa, Leslye Headland.
Photo: Jeff Vespa/Getty Images
If you watched the Super Bowl this past weekend, you no doubt caught the ad for one of this year's biggest movies: Jurassic World, the megabudget franchise restart directed by Colin Trevorrow. What film did Trevorrow make that served as his calling card for such a big project? Safety Not Guaranteed, a nearly effects-free comedy (with a budget of $750,000) that debuted at the Sundance Film Festival three years ago. Even as Trevorrow puts the finishing touches on his blockbuster-to-be, another Sundance filmmaker is in pre-production on his giant studio film: Jordan Vogt-Roberts, who made his feature debut on the charming, minor-key Kings of Summer. That film premiered at Sundance in 2013, and two years later, Vogt-Roberts is now sitting at the helm of Skull Island, Legendary's King Kong prequel set to star Tom Hiddleston and Michael Keaton.
This article is no knock at either of those talented men. But it is indicative of the way that major studios tend to approach Sundance: They swoop in, pluck up all the white-guy directors, and leave all the talented female and nonwhite helmers to fend for themselves. If you're a white dude who made a micro-budget Sundance movie with some visual panache, you're sure to end up on studio short lists; if you're not, you'll struggle to even get financing for your next project.

And that's a shame, because Sundance is a film festival positively bursting with talented, break-the-mold directors who, if hired, could put a big dent in Hollywood's diversity problem. This year, I was particularly knocked out by first-timer Marielle Heller, who directed the female coming-of-age story Diary of a Teenage Girl with sensitivity and guts, and Rick Famuyiwa, who made the kinetic hit Dope but has only gotten to helm two movies within the studio system since his 1999 film The Wood. Executives would also be wise to check out Leslye Headland, who wrote and directed this year's mainstream-as-hell rom-com Sleeping With Other People (which every studio foolishly declined to finance), as well as Alfonso Gomez-Rejon, who earned the Grand Jury Prize and Audience Award for the visually stunning Me and Earl and the Dying Girl.

These are the people I'll think of next time studio heads are defending their homogeneous slates to the media. Executives like Amy Pascal claim that they try to hire more than just white dudes, but Pascal's periodic, cursory offers to Kathryn Bigelow — the only distaff director she could muster up interest in when quizzed by the New York Times — don't rep a real attempt. (That Sony's upcoming slate contains a movie called Sausage Party feels almost too on the nose, given who's making these movies.) This pernicious pattern particularly frustrates me every time a studio hands another major film to a white dude who's never made a movie before, as Disney did by giving Maleficent to longtime production designer Robert Stromberg, and as Universal now will by setting visual-effects supervisor Cedric Nicolas-Troyan at the helm of its Snow White and the Huntsman sequel. If first-timers like them can get a studio come-up — and if a Universal exec can watch a small Aubrey Plaza rom-com and decide that its white male director should be entrusted with the future of Jurassic Park — what reason is there that an experienced talent like Famuyiwa or Headland isn't meeting to direct the next big Marvel movie?

If Hollywood executives want to continue doing business in the same old-fashioned way, then so be it: When the directorial pool they fish from remains this shallow, their movies will become more homogeneous, too. Eventually, a studio movie will seem anonymous enough that anyone could have made it; meanwhile, no one but these filmmakers could have made their Sundance hits. The movie studios' losses will surely be everyone else's gain — already directors like Headland are migrating to TV, where the biggest hits of this year (like Empire, How to Get Away With Murder, and black-ish) prove that audiences are hungry for new points of view. But is it too much to hope for that the next time we get a vast array of Super Bowl movie trailers, the directors who made them are as diverse as the people who'll watch them?