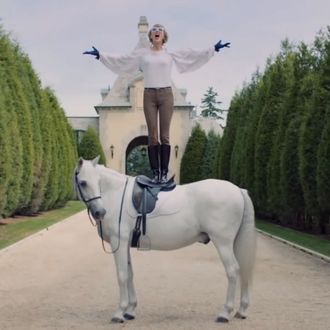 This week, Maryland's Frederick News-Post has the profile of Taylor Swift's "Blank Space" horses you didn't know you needed. In it, we learn everything a human being could possibly want to know about the video's majestic Andalusians. Their names? Chico and Paco. Their home? Mount Airy's Spring Fever Farm, a six-hour drive from the haunted Long Island mansion that served as the set (and has since burned down in a "mystery fire"). Their ambition? To be the finest onscreen horses in the country, at least according to their owner, Diana Beuchert, who considers their role in the music video their "big break."
Other fascinating tidbits the profile reveals:
Both the horses and their owner were forbidden from discussing the shoot.
"[My agent] said, 'You cannot breathe a word of this to anyone; it's Taylor Swift and it's her music video,'" Beuchert recalled … "I just about dropped the phone."
One horse did not enjoy watching Taylor hack apart a tree.
Crews filmed Swift hitting a tree with an ax, destroying the place where her character carved the lovers' initials in the music video. Although Swift was only acting, Chico, who stood tied up to the tree, was disturbed by her violent outburst.

"When [Swift] started beating that tree, he was very upset," Beuchert said.
Like Lindsay Lohan, the horses showed alarming signs of diva behavior but made up for it by giving incredible performances.
"Chico stood there bare naked for one hour while they shot [the] scene over and over," Beuchert said. "It was really interesting, but very tiring."

After the final shot, the director declared "Cut, and that's a wrap," Beuchert said, and Chico walked out of the room as if on cue.

"Chico, who was on the carpet, turns and walks to the door," Beuchert recalled. "It was hysterical. I ran after Chico … [but he] was like 'I'm outta here.'"
Great job, Chico!