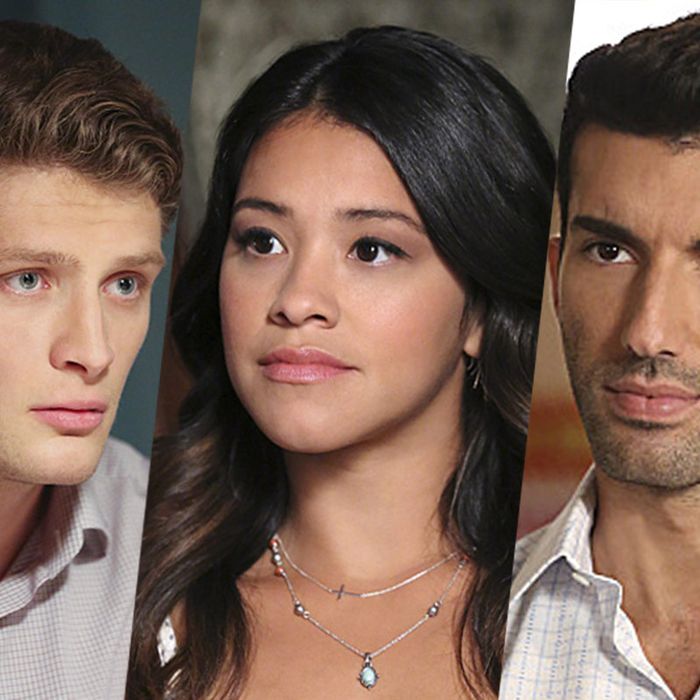 L-R: Michael, Jane, and Rafael.
Photo: Danny Feld/The CW
Jane the Virgin is on a mini-hiatus until March 9, and in the show's last installment, they left us with one big question: Will Jane and Rafael move in together? We have a follow-up: What about Michael? Does the third point in this love triangle have a fighting chance anymore? Vulture caught up with some of the show's cast and executive producer Jennie Urman at a Los Angeles event and asked them: Are they #TeamMichael or #TeamRafael?
Gina Rodriguez (Jane)
I may throw a lot of people off with this, but I'm kind of Team Michael. I have a divided heart, because when I first started shooting, I was with Michael. And because we don't know anything going on in the story until the day we get the script, which is the day before we start shooting, we don't know anything, so I can't live in the future. I have to live in the present. I was with Michael for five episodes and it was so adorable and so much love and this very innocent, docile, gentle love and then with Rafael, it was very romantic, and passionate and they both are amazing in their own right. As women, we know this, we have this love that we've had for a little while and then something new comes in and it kind of overtakes you and you're like, "Oh my God, this is the way it's supposed to be," especially because she's having his [Rafael's] baby, it's ideally what would be. But the more she discovers this man, the more she realizes the time she had with Michael, she doesn't have that time with Rafael, so she needs to fight for that time.
Justin Baldoni (Rafael)
"I'm biased, of course. But I can tell you that because of how they met and how this relationship is going, it's not going to be so easy. That love triangle isn't gone. There are complications that happen. Everybody's imperfect." Is there any emotional toll to playing the emotional roller coaster that is Rafael's life? Baldoni says, "You've seen one thing from Rafael the first half of the season, but there's so much underneath and he's got so many crazy things happening to him in his life. He's constantly trying not to fall apart and break down. So Jane is his outlet and he gets to experience this other life through Jane, but when that starts to have issues or there's anything wrong, he doesn't know what to do because everything's still falling apart on him.
Jaime Camil (Rogelio)
I'm Team Michael. Rogelio is #TeamMichael all the way. Oh yes. You will see in future episodes that Rogelio establishes himself as #TeamMichael.
[Side note: As for Rogelio's own love story, Camil says that even though things are looking good for Rogelio and Xo, viewers should hold off on buying rice to throw at their wedding, "I think they will [tie the knot] because Rogelio is pretty much in love with Xo," but "Rogelio's mom — who is played by Rita Moreno — comes and she doesn't like Xo."]
Jennie Urman
I always root for the underdog and part of balancing this love triangle is that once you feel like it's going one way, you want to figure out how to build up the other person without taking away from the other one. So I'm constantly looking to deepen both sides of the triangle. I feel like Rafael and Michael both have different things that they offer to Jane and bring out different sides of her. I try to make both sides of it strong without taking away from the other.