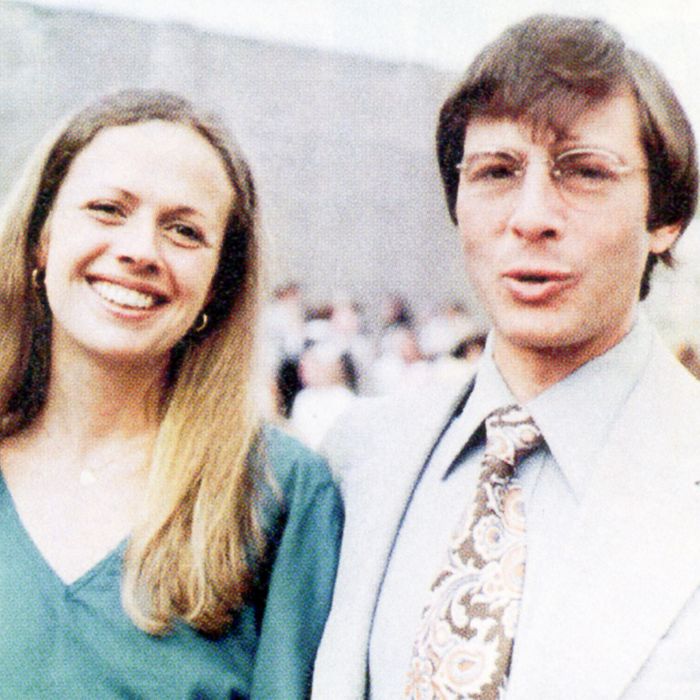 Durst and now-thought-dead wife Kathie.
HBO six-part documentary series, The Jinx: The Life and Deaths of Robert Durst, is an investigation into a scion of one of Manhattan's wealthiest real-estate fortunes … who may or may not have gotten away with at least two different, elaborate, sensationalistic murders. The Jinx is Serial in 3-D, but Robert Durst is the anti–Adnan Syed: Durst walks, more than once. Filmmaker Andrew Jarecki examines evidence going back to the 1980s to look at how, why, and whether this defendant is either guilty and very fortunate, or innocent and, as per the series' tagline, merely "The Unluckiest Man in the World."
Episode two, "Poor Little Rich Boy," begins with Bob Durst prepping for his first extensive on-camera interview with Jarecki. As per the assessment of the Texas police in episode one, he does still look like a librarian — or, more precisely, a cross between a kindly old librarian in a sweater and Lord Voldemort. Once he begins to speak, the resemblance to the latter increases.
His intelligence is undeniable, though his sense of entitlement is only marginally less so: He has no compunction about saying that he lied to the police when he couldn't be bothered to tell the truth, and that he hit his wife, even the day before she disappeared. His face twitches when he speaks, irregularly but with such emphasis that the viewer can't help but wondering if each tic is a tell.
1. Though he was rich, Durst's childhood was anything but idyllic: He was brought to a window one night by his father to wave to his mother just before she fell or jumped to her death. 
As one of his defense attorneys put it, supposedly quoting Durst, "'All my life, I've had more money than I could spend — and it didn't make me happy.'"
Durst grew up in Westchester affluence as the eldest of four kids. Everything was peachy until Durst's mother died in a sudden and macabre way; he even witnessed it from a window, having been summoned there by his father. Was it a suicide? Did his father know it was going to happen and intend to punish both mother and son by having Durst witness it?
That fatality appears onscreen as one of numerous actor re-creations Jarecki stages. The technique could be neither tactful nor tasteful; it is a testament to Jarecki's instincts that the re-creations work as well as they do and blend in with the first-hand documentation he has assembled, including home videos and pictures.
As Durst reports, his life soured after his mother's death. He became sullen, angry with his father, and rebellious. Instead of joining the family business, he moved to Vermont after college to start a health-food store with Kathie McCormack, the woman who later became his wife.
Years later, Durst's wife Kathie, by then an aspiring doctor, went missing. Though police scoured the landscape, no body was ever found. And though Durst was suspected, even investigated, he was never charged or tried.
2. Durst may have dressed up as his wife Kathie on the night of her disappearance in order to make it seem as though she took a train into the city without him and slept at their apartment. 
This isn't made explicit in episode two, but it is implied.
We learn that on the cold winter night Kathie disappeared, she fought with Durst; she went to visit her friends, where she complained about Durst's treatment of her; and then she returned to their house, tipsy. According to Durst, he drove her to the train station and she traveled alone to Manhattan, where a doorman in their building vouched for her presence in the elevator.
No one on the train remembers having seen Kathie, however, and she never turned up again. Either she disappeared completely or, perhaps because Durst killed and buried her in Westchester, she never went to Manhattan at all.
Durst, as we learned in episode one, has a history of using female aliases and of dressing up as a woman. This, combined with the shot of wigs in the opening credits, raises the question of whether the doorman only thinks he saw Kathie. Perhaps what he saw, in truth, was Durst in his wife's winter clothes, sunglasses, and a wig.
We also learn in episode two that Durst has no problem lying to authorities. He freely admits that he lied to them when it was more convenient for him to do so.
3. The only person in this series speaking up on behalf of Durst, besides Durst himself, is his highly paid criminal defense attorney from Texas.
Kathie's mom thinks Durst killed Kathie. Kathie's friends think Durst killed Kathie. Former district attorney from Westchester, New York, Jeanine Pirro thinks Durst killed Kathie.
"I don't get along with most people. Most people don't get along with me," says Durst. From the fact that no friend or associate seems to be willing to come on-camera and offer words in his defense, that seems to be self-evident. He is a singular, compelling, and occasionally terrifying individual. Whether he is also a killer remains to be seen.