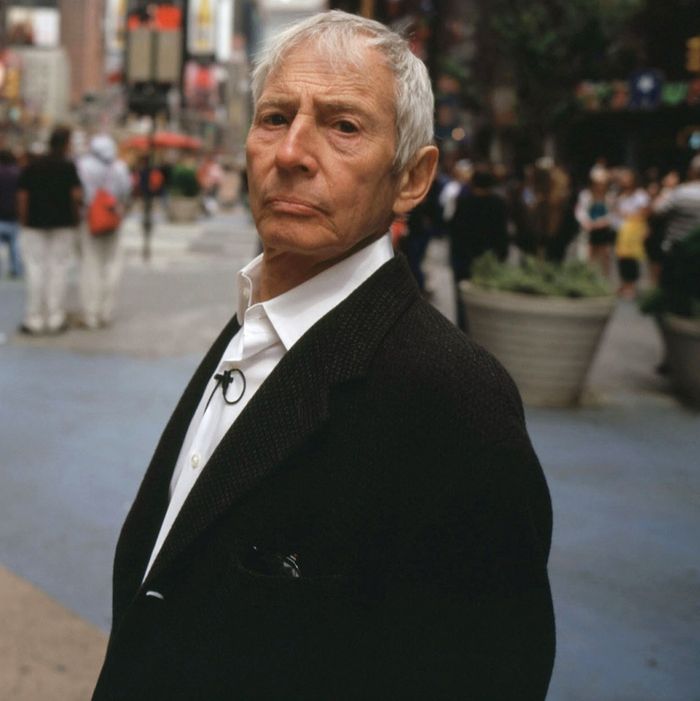 On Sunday, HBO premiered its new six-part documentary series, The Jinx: The Life and Deaths of Robert Durst, about a scion of one of Manhattan's wealthiest real-estate fortunes who may or may not have gotten away with at least two different elaborate, sensationalistic murders. The Jinx is "Serial" in 3-D, but Robert Durst is the anti–Adnan Syed: Durst walks, more than once. Filmmaker Andrew Jarecki examines evidence going back to the 1980s to look at how, why, and whether this defendant is either guilty and very fortunate or innocent and, as per the series' tagline, merely "The Unluckiest Man in the World."
In a recent Q&A at HBO, Jarecki acknowledged the synergy between this foray into true crime and Sarah Koenig's "Serial," and he complimented her podcast. He pointed out, though, that he had been working on this project for years: He is not hopping on any bandwagon. When asked whether he wondered, as many "Serial" listeners do, whether his protagonist is a sociopath, he demurred, not wanting to give anything away. He did promise, though, in contrast to "Serial," that watchers of The Jinx will get closure about the truth of what happened.
Jarecki, whom you may remember from 2003's chilling Oscar-nominated documentary feature Capturing the Friedmans, has been fascinated with the story of Robert Durst for some time. Being the kind of dynamic director he is, though, he does not limit himself to talking heads and interiors. The first episode of this series begins in Galveston, Texas, where a person fishing comes upon a torso in the water. Further investigation by the police leads to the discovery of various other dismembered body parts but not the body's head. The police then manage to track down the victim: Morris Black.
1. Someone killed, dismembered, and disposed of Morris Black in an apartment rented by a deaf, mute, middle-aged lady named Mrs. Dorothy Ciner.
The police, led by the entertaining and insightful Sargeant Cody Cazalas, who looks like Yosemite Sam might if he grew up and mellowed out a bit, soon realize something is fishy about Mrs. Ciner's apartment besides the bloodstained kitchen floor. Why is it such a dump? Why is there no indication that a woman lives there?
"There's no Dorothy Ciner," deduce the cops. "That's just a cover. This guy [who pretends to be Mrs. Ciner's brother-in-law] is renting the place for whatever reason."
By going through the trash, they find a receipt signed "Robert Durst," and, though no one recognizes the name, Durst becomes their prime suspect. They bring him in. They can't make much sense of his appearance. "He looked like a librarian," Cody says. They also remain flummoxed as to motive. Why is this normal-seeming fellow from New York cutting up corpses in Texas?
2. The Robert Durst arrested in Galveston is the same Durst who has been in the headlines for decades, as the scion of one of Manhattan's richest families and as the man who may or may not have killed his wife in the '80s — and his younger brother is terrified of him.  
As a reporter at the New York Times puts it upon hearing the news, "Can this be our Bob Durst?"
It makes that NYC papers should feel proprietary. As we discover in a series of flashbacks and tasteful re-creations, they have been covering the rise and subsequent tragedies of the Durst family for decades, particularly since Durst's wife Kathie, an aspiring doctor, went missing. Though police scoured the landscape, no body was ever found. Durst became a suspect in her disappearance and presumed death.
The Texas police have little patience for Durst, especially after he makes bail (set at $250,000) and skips town, igniting a nationwide manhunt. He has numerous female and male aliases besides "Dorothy Ciner" — a name borrowed from a classmate from Scarsdale High, by the way — as well as unlimited resources. He could, if he intended to, disappear.
Instead, the chase ends as swiftly as it began when Durst seems to grow bored and allows himself to get caught, by shoplifting a sandwich on-camera in a Pennsylvania Wegman's, despite the fact that he has over $38,000 in cash in his car.
3. After Jarecki made a narrative film based on Durst's life, Durst called Jarecki to compliment him and, in a surprise akin to what the literary world would feel if Thomas Pynchon called Katie Couric, set up face-to-face interviews.
"I'm always interested in these 'monster' stories," says Jarecki, of people described as "maniacs" or "crazy." Before they were serial killers, they were merely people, he notes.
Jarecki's 2010 detour into narrative film, All Good Things (a lackluster 32 on the Tomato-meter), is a love-story-cum-murder-mystery based on the disappearance and presumed death of Robert Durst's first wife, Kathie. Durst approves of the movie; he likes it so much, in fact, that, to everyone's surprise, he offers to tell Jarecki his side of the story on-camera. These interviews are going to make up the backbone of this series. Since the canon of Durst-related media already includes films, books, TV specials, and more, the new material generated by these interviews is also going to be the reason this project stands out.