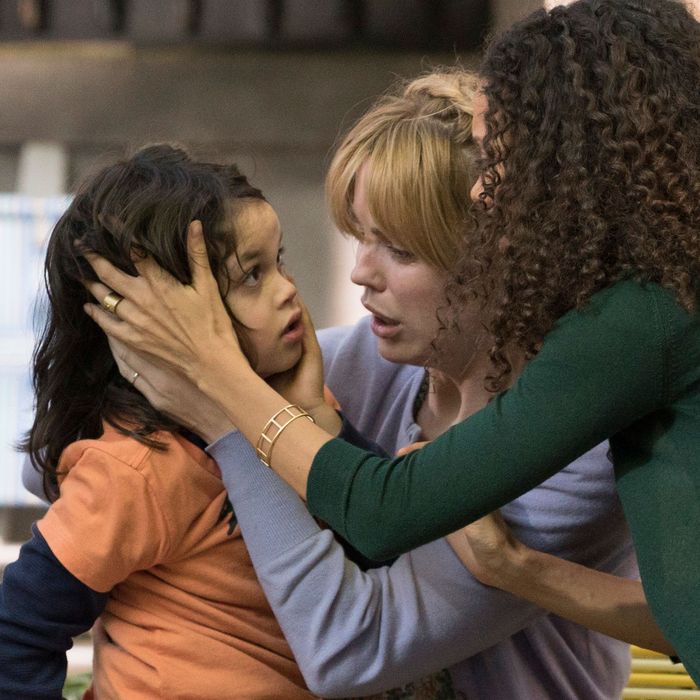 Hector on The Slap.
Photo: Virginia Sherwood/NBC
The Slap heard 'round the world makes its way to America on Thursday, February 12, when NBC rolls out its eight-part miniseries. Based on a 2008 novel by Christos Tsiolkas about what happens after a child gets slapped by another child's parent, the narrative was turned into a TV show in the author's native Australia. Jon Robin Baitz, of Brothers & Sisters and Other Desert Cities fame, took a spin at the script and rejiggered it for U.S. network television. It may be on NBC, but the format, all-star cast, and style all make The Slap more akin to a cable drama.
Baitz refocused the story to reflect themes more prevalent in contemporary American, setting it in Brooklyn's posh Fort Greene neighborhood. "It's deeply, troublingly revealing of the dark inner lives of American suburbs, and I thought it would be unlike a lot of things we see on television," the writer said at the show's premiere on Monday in New York. "We are very different countries — I always think we are more psychologically conscious of our relationships."
The subject matter here creates a rift between the characters — was or wasn't "the slap" warranted? — but "it's not black and white," said Peter Sarsgaard, the protagonist upon which the show's multi-perspective format hinges. Each episode is told through the eyes of a different lead character: Episode one is titled "Hector," episode two, "Harry," and so on.
Sarsgaard plays Hector Apostolou, a family man and public servant who, for his 40th birthday, hosts an intimate backyard BBQ with his wife, Aisha (Thandie Newton). The stellar main cast is all there: Harry's traditional Greek parents, Manolis and Koula (Brian Cocks and Maria Tucci); his hotheaded cousin Harry (Zachary Quinto) and Harry's wife Sandi (Marin Ireland); their Brooklyn-hipster friend Anouk (Uma Thurman); and overprotective parents Gary and Rosie (Tomas Sadoski and Melissa George).
It's Gary and Rosie's son, Hugo (Dylan Schombing), who gets slapped by Harry after he threateningly swings the bat at the Harry's kid during a pickup game of baseball. Harry, the show's resident alpha male, sees the slap as the necessary discipline; Gary and Rosie, who swear by contemporary coddling parental techniques, are aghast.
"My character in this is the complete opposite of me personally," says Quinto, who said he's looking forward to having children someday. "There's no accounting for what would happen if someone smacked my child."
Don't worry, no children were hurt in the actual production of the show. "Watching a young actor get stage slapped 50 times in a row, it takes a chunk out of you," said Sadoski. "Dylan was fine, but we were all traumatized."
George, who also played Rosie in the Australian version, adds, "Oh, I AM Rosie. Everyone says, 'I don't see what the big deal is' [about the slap].  I go, 'Interview is over!'"
Newton felt similarly. "I don't want to be responsible for that seeming like it's okay," she said. "But we explore that disconnection in the show, that's part of the draw."
"Life is about amassing failures punctuated by bravery, generosity, and grace," Baitz said, "and it's really interesting [to explore] the moments before and after these intersections."