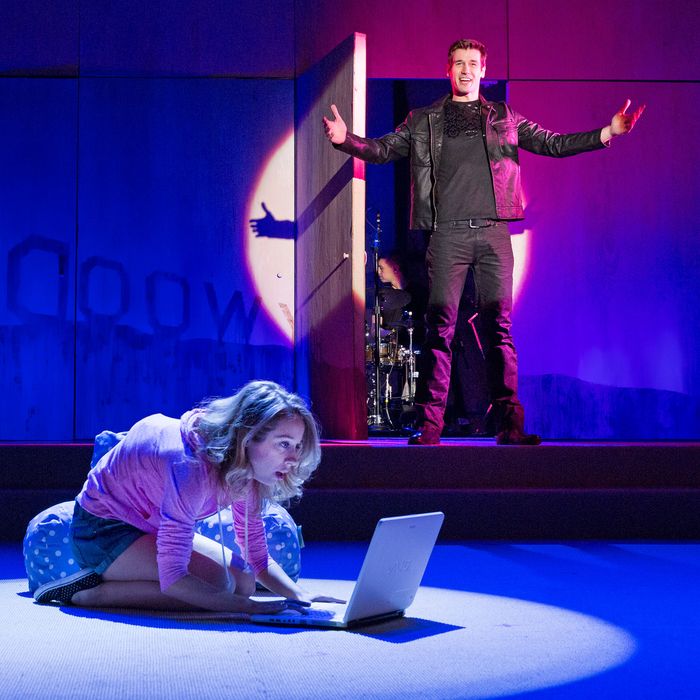 The Civilians premiere the new musical PRETTY FILTHY.
Photo: Richard Termine
The Civilians call the work they do "investigative theater," which sounds very high-minded; their name, too, suggests engagement in the real life of society as opposed to the artificial life of the stage. If that's a false dichotomy, it isn't a pose. Company members conduct hundreds of interviews, often involving years of research, before assembling the results into musicals that are collages of nearly verbatim text. (Even the lyrics are mostly "found," which is why they're often so clunky.) In recent shows on topics such as urban planning and evangelism, the surprise of vernacular song and unimproved speech helps to puncture the self-importance of the talking-heads dramaturgy, and the editing of characters and dialogue is understandably weighted toward the piquant and hilarious. The Civilians are, after all, out to entertain. But something odd happens when entertainment itself becomes the subject of their investigation, as it does in their latest production, Pretty Filthy, about the porn industry. The subject resists them; their technique goes limp.
Which is not to say Pretty Filthy isn't funny and smart. Bess Wohl's script efficiently deploys its many characters and issues, focusing most consistently on the first year or two in the porn life of Becky, a 17-year-old girl from "somewhere in America" who soon upon arrival in Los Angeles reinvents herself as Taylor St. Ives. (Her porn name, like that of the other interviewees, appears to be somewhat altered.) Through her we are introduced not only to most of the performers, directors, videographers, and agents who make up the crowded scenario but to the weird combination of delusion and pragmatism that underlies the industry. Becky is even given a traditional "I want" number in the second-song slot, a garage-folk anthem called "What If I Like It" that firmly places her ambition in a relatable emotional and economic context:
You only get seven twenty an hour
Working the weekend shift at Hardee's
And my boyfriend is the only boy in town
Who isn't a total jerk
And most girls give blowjobs to boys they
Barely know at college parties
And most adults in this town are making
Meth or out of work.
The song, by Michael Friedman, the Civilians' go-to composer, is delicately crafted; the musical idiom, the narrative architecture, and character exposition all come together to enhance the story. Unfortunately, it's pretty much the last time that happens. Most of the rest of the score consists of one-joke pastiches like "Impossible Girls," a song for a Jewish porn agent who might as well be called Tevye as he shuckles and davens to lyrics like "They call me Jew Hefner / Cause I'm just like their mother / Only Jewish and a man." Later a quartet of male porn actors sings a doo-wop number called "Waiting for Wood." This sort of thing may produce a snigger, but it's only the snigger of parody porn titles: a matter of unexpectedly juxtaposed contexts. If a paean to the G-spot called "Squirting 101" has impact at all it's only because someone wrote it as a show tune, and even that impact is attenuated by the decision of the director, Steve Cosson, to accompany it with projected images of fountains going wild.
This is basically the one-shot effectiveness of porn itself, but not in a form-follows-function way. Rather, the Civilians describe Pretty Filthy as "inspired by a tradition of classic musicals about show business." I'm not sure which musicals they are referring to. The ones worth being inspired by — take your pick among Gypsy, Follies, Cabaret, A Chorus Line, and many others — are musical dramas built not just on universal themes but on individual character. Drama results from the intersection of the two. Pretty Filthy, by its nature, has almost no drama at all. Rather, it's episodic, with very little cumulative power, because except for Becky you usually don't know whether you're following a character you've already met or meeting a new one. The seven performers, several of whom are excellent at this sort of thing, play at least 30 parts.
Compensating for the lack of dramatizable conflict, Wohl occasionally manages to create an effective pseudo-drama by counterposing one character's assumptions against another's, or against the suppositions of the (unseen) Civilian interviewer. This happens, for instance, after "Waiting for Wood," in which the men describe the degradation of being subsidiary characters in porn: "I'm really just a prop / from my belly button to my knees / everything else is pretty much / just a life support system for the penis." After the applause, a new character called Brown Sugar pops up. "I'm sorry people. Is it hard to be a WHITE MAN in AMERICA?!?!" she exclaims. "Are you fucking kidding me?" But Brown Sugar disappears forever shortly after making the point. And even Becky, whose story at least forms a reasonable arc, isn't so much a character as a creation of the Civilians' expectations of her. 
To their credit, though, they let her outwit them. When contacted on her website to see how things have turned out for her, she throws those expectations back in their face: 
"What? You want to hear about how down and out I am? Is that it? Would that make a good story for you? Well, I'm sorry to disappoint you  — but no, I'm not on drugs, I'm not homeless, I'm not a prostitute or like, a, I don't know, drugged homeless person. I mean, yeah. Would I rather be, like, on Broadway? Um. Yeah. Wouldn't you?"
Zing! I was grateful for that outbreak of non-sophomoric humor, and for the sharp insights into such questions as whether women are exploited in the industry. (The conclusion: economically, yes; sexually, no.) But most of the humor and insight I admired came from the characters, not the Civilians. What's the value they add here? Certainly not the songs, which tend to belabor their own insincerity. Nor the production values, which are minimal and awkward. And not titillation; everyone here is good-looking, but no one is sexy onstage in a thong. Perhaps it's just getting to see the brilliant Steve Rosen as a series of likable slimeballs in a series of hilarious hairpieces. Because other than that I have to say Pretty Filthy left me feeling a bit dirty — and not in the good way. 
Pretty Filthy is at the Abrons Arts Center through March 1.