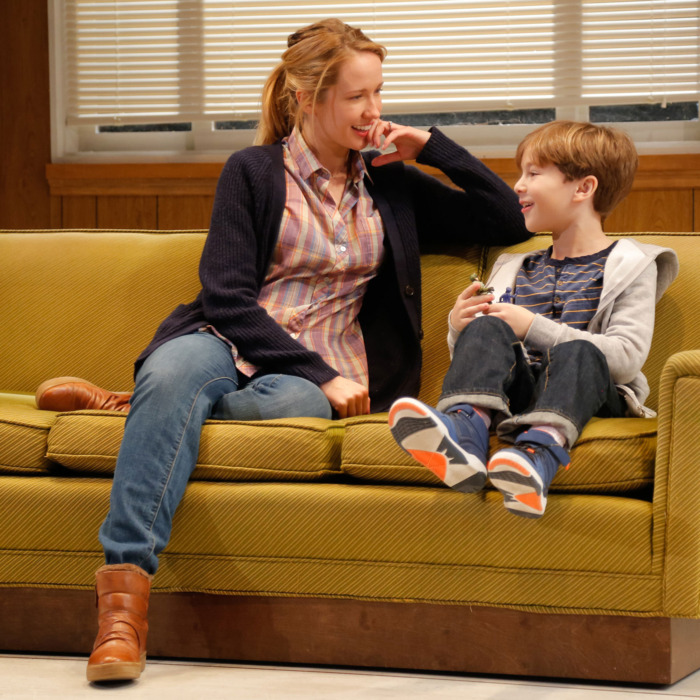 Verité, at the Claire Tow.
Photo: Erin Baiano
In a funny-awkward meeting that takes place near the beginning Verité, a pair of Norwegian publishers tell Jo Darum, our heroine, that she has a captivating authorial voice but the wrong kind of material. This is half right; she's actually a dreadful writer, as we know because we've already heard her reading to her 8-year-old son from the YA fantasy novel she's been working on since high school. (It's about a "simple farm dwarf" out to save the world by, among other things, traversing the Fiery Lake of Boog.) Still, something about Dragonscape has impressed the Norwegians enough to scoop it off the slush pile and offer Jo an opportunity. They won't publish it; they're silly, not crazy. But if she will write a memoir that's sufficiently dark and involves "interesting choices," they'll publish that instead.
Publishing is almost too easy a target for satire, but the playwright, Nick Jones, has not let that deter him. The Norwegians wear skinny suits and striped socks and talk like a cross between Hans and Franz and Dieter from Sprockets. The book they want from Jo belongs to the unaccountably successful genre of women's danger memoirs, like Cheryl Strayed's Wild. (Probably the funniest thing in the play is the list of titles Jones provides for other examples: The Grabby Friend, Bobby's Eye, Mr. Tommerton's Horse.) But Jo is no drug-running, boundary-testing thrill junkie. She lives in Paterson, New Jersey, in the attic apartment of a house belonging to her sister-in-law, the manager of a Bracelet Palace. Her husband, an airport bus driver, is a bit thoughtless but not unloving, and nothing much has happened to either of them since she was elected homecoming queen. In short, though the publishers subtly insinuate that being raped might be useful, Jo is "stuck with a loving family." So she'll have to invent something else.
If this sounds like fun, I guess that's why LCT3 is producing Verité. But as real publishers know, you have to beware of synopses. In this case, the working out of the premise, in which Jo uses her large advance to create experiences that will be memoir-worthy while the Norwegians help out behind the scenes by putting such experiences in her path, turns out to be almost entirely tedious. Once Jones shifts his focus to Jo's emergent venality we lose the thread of the satire altogether; it now seems to be about the selfishness of writers. (This results in some awkward staging, as the director Moritz von Stuelpnagel tries to reinsert the publishers into scenes that no longer have any place for them.) By the time Jo winds up in Colombia with a much hotter guy than her husband, unable to enjoy him unless he furthers her story, you may feel, as I did, trapped in somebody else's obsession, and not in the jolly Strindbergian way. Rather, Verité turns out to be morally if cynically educational, instructing us that despite popular shibboleths, you can't write your own life. Instead, it writes you.
Given the confusion of tone, it's no surprise that the performances are wobbly. As Jo, Anna Camp does her best to reconcile a character whose foundational qualities are knocked out from under her quite early on. This produces a vacuum at the center that the more consistently satirical characters (the Norwegians, the sister-in-law) attempt to fill by overplaying. Mostly, everyone seems like they're truffling around for better material within a script that doesn't provide it. It's not that Jones — whose earlier LCT3 outing, The Coward, suffered from some of the same problems — lacks a "captivating" voice or even a resonant theme: the problem of talented people who have little to say with their talent. Indeed, it may be all too familiar.
Verité is at the Claire Tow through March 15.