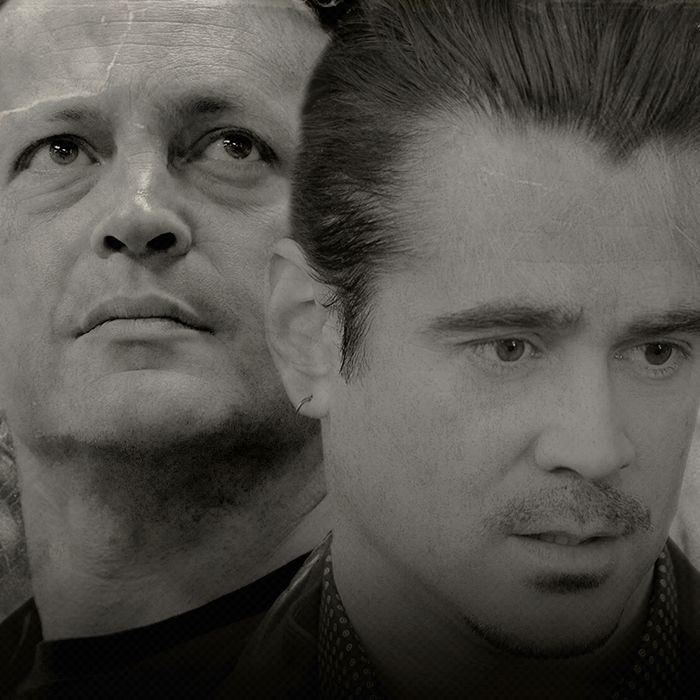 Vince Vaughn and Colin Farrell.
Photo: Maya Robinson and Photos by HBO, Dave Kotinsky/Getty Images and Jared C. Tilton/Getty Images
This post originally ran in February. We updated it with the release of the official teaser.

The second season of True Detective has an official teaser and release date, which means that the next installment of the series is well on its journey from meme to actual thing. It's been a few months since the last time we checked in with Nic Pizzolatto's dark dream, so here's what we know now about its cast, production, and plot. (There will be mild spoilers, so don't read this post if you want to go in as blind and pure as a newborn.)
THE CAST
What we already knew: Colin Farrell and Vince Vaughn will star, with Farrell as "compromised detective" Ray Velcoro and Vaughn as Frank Semyon, "a career criminal in danger of losing his empire."
What we know now: Rounding out our quartet of leads are two more Hollywood reclamation projects, Rachel McAdams and Taylor Kitsch. McAdams is Ani Bezzerides, a "no-nonsense" sheriff, while Kitsch is Paul Woodrugh, a veteran turned highway patrolman embroiled in a sex scandal. Their issues will be gambling addiction and PTSD, respectively.
We've also learned all about the supporting cast, which is full of character actors you know from other cable shows (James Frain, Michael Irby, C.S. Lee), as well as a bunch of beautiful women who get the kinds of female roles we've come to expect from True Detective. Here's a sampling: Lolita Davidovich is Kitsch's ex-showgirl mom; Ashley Hinshaw is a "troubled starlet"; Adria Arjona* is Kitsch's "girlish but practical" girlfriend; Leven Rambin is "a beauty with a history of drug problems"; Kelly Reilly is the wife who's complicit in Vaughn's misdeeds; and Abigail Spencer is Farrell's ex, who happens to be "the survivor of a sexual attack." There will also be a part for Rick Springfield, so we know at least one character on this show will be cool with the lines.
THE CREW
What we already knew: Just like he did with season one, Nic Pizzolatto is writing the entire eight-episode season himself. Cary Fukunaga is stepping out of the director's chair (though he will stay on as producer), and with him goes the idea of having one director handle every episode. Justin Lin will step into his shoes for the first two episodes, and William Friedkin and Andrew Dominik have been suggested as other possible choices.
What we know now: Friedkin and Dominik are still in the "rumored" category, but Denmark's Janus Metz Pedersen has been announced as the director of episode three. He's best known for Armadillo, a 2010 documentary about Danish troops in Iraq.
THE SETTING
What we already knew: Just as the bayous and oil fields of Louisiana formed an indelible part of True Detective's first season, season two will explore the 400 miles of California between Los Angeles and San Francisco — in Pizzolatto's words, "the places that don't get much press and where you wouldn't normally set a television show." McAdams's character will hail from Monterey — a mecca of detective fiction — but much of the action will take place in "a fictional California town." As in season one, the show will be shot on location to capture what Pizzolatto calls the "psychosphere ambiance of the place."
What we know now: According to the official plot description, much of the action takes place in "the all-industrial city of Vinci" in Los Angeles County. During production, the stars were spotted on set in downtown Los Angeles, and according to Vaughn, the City of Angels is playing itself.
THE PLOT AND THEMES
What we already knew: Pizzolatto teased the second season by saying it would focus on "hard women, bad men, and the secret occult history of the United States transportation system," and nothing else we've heard about True Detective has jazzed us as much as that sentence has. A few months later, we got this plot synopsis, which shows an obvious Chinatown influence:
The second season of True Detective will follow the death of Ben Caspar, the corrupt City Manager of a fictional California city who's found brutally murdered amidst a potentially groundbreaking transportation deal that would forever change the freeway gridlock in California. Three law enforcement officers from different cities and branches of the government are tasked with finding out who did it.  They soon discover their investigation has much broader and darker implications than they initially thought. Caspar's 52-year-old corpse is found on a lonely stretch of the PCH near Big Sur — his eye burned out, genitals cut off and satanic symbols etched on his chest. It turns out he had a penchant for rough sex and may have been involved in the Occult.
Per other reports, this "groundbreaking transportation deal" will be a high-speed railway line linking SoCal and NorCal. As True Detective fandom overlaps significantly with train geekery, this is big news for a certain segment of the internet. There will be think pieces about the viability of high-speed railways! Recaps written on the Amtrak Writers' Residency! This map, again! It's going to be great.
What we know now: The set photos reveal there will be at least one serious shoot-out involving bulletproof vests and an L.A. bus. (The secret occult history of Los Angeles's bus system is unknown, but it probably has something to do with Speed.)
THE PREMIERE DATE
What we already knew: "Summer 2015" was the only word.
What we know now: According to the teaser, True Detective returns June 21.
THE FACIAL HAIR
What we already knew: Nothing, although we should have expected Pizzolatto would try to raise the bar from this.
What we know now: Colin Farrell has grown one serious mustache. We couldn't be more pleased.
THE TEASER
What we already knew: There would be one eventually.
What we know now: On April 9, HBO released the first teaser for True Detective season two, complete with dreamy, Collateral-style shots of the California landscape, as well as character portraits for Vaughn, Farrell, Kitsch, and McAdams.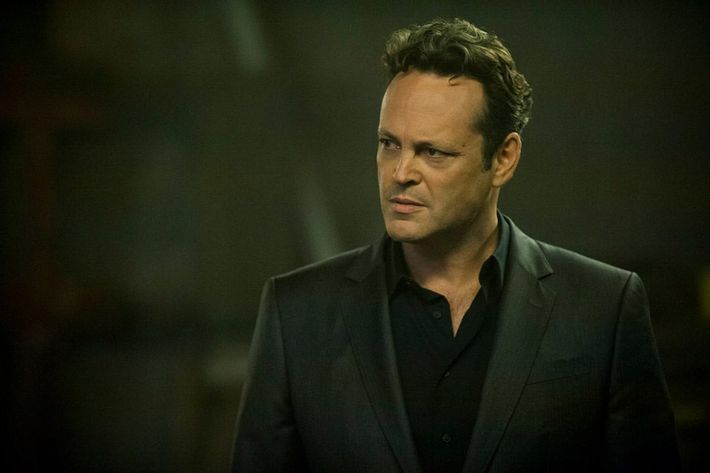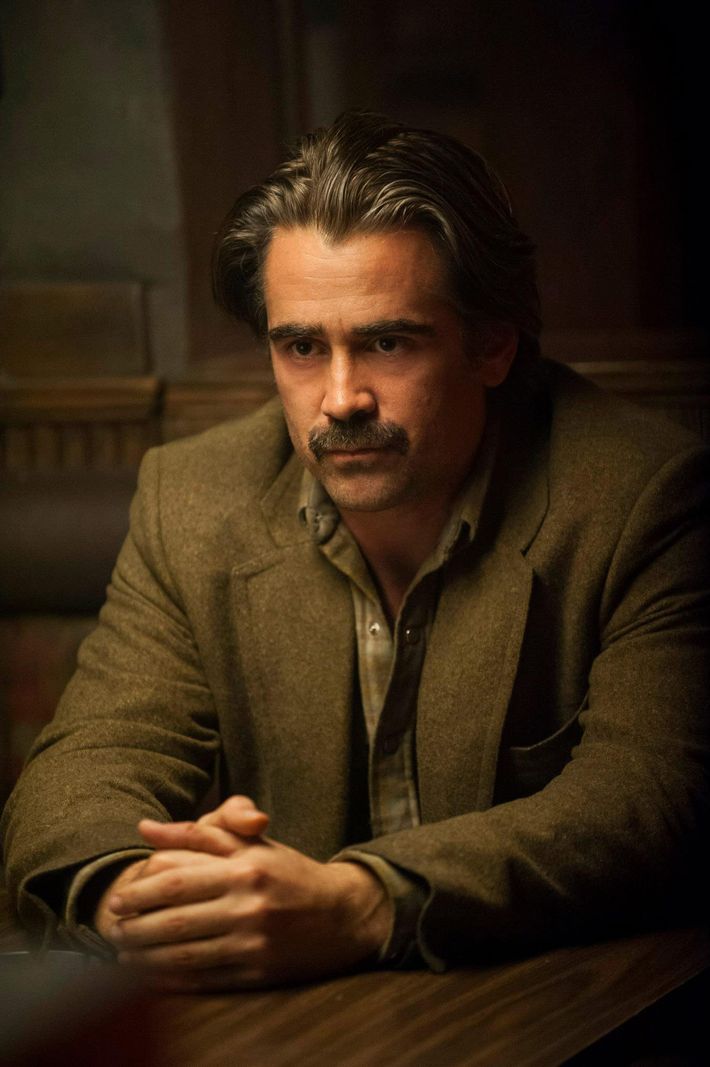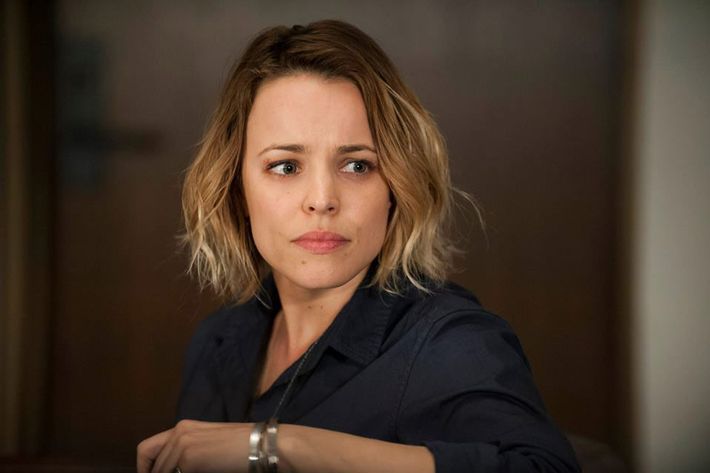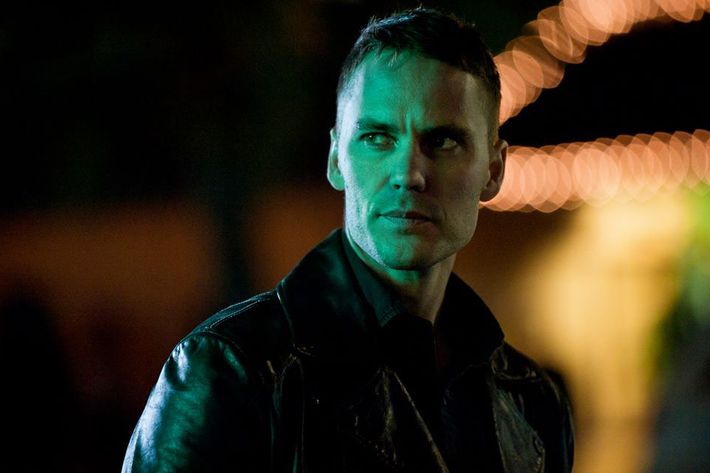 * This post originally stated that Kitsch's girlfriend would be played by Yara Martinez. Martinez is playing a different character. It also cited photos that came from the show's official Twitter account. The photos cited were from a fan Twitter account.